Start a WordPress Blog With SiteGround [2019 Complete Guide]
Start Blogging today with SiteGround WordPress Hosting.
Start a WordPress Blog with Siteground is an easy process and it is a great idea. Start a Blog on SiteGround hosting makes your blogging worthy due to features of SiteGround WordPress hosting. Let's start your be a blogger process.
Start a Blog Today, Bcz Tomorrow will never come ➡ 💡 
I promise you! This post will make you a blogger in an easy way.
9 Steps include that will make you a blogger and also help you in the next blogging journey.
This post helps you in
Start a Blog with SiteGround
Install WordPress
Suggest you Right WordPress Plugins
Free Blogging Tools
Writing your first optimized post
how to get traffic on a blog
What is Blogging?
A blog is your online diary where you can share your own experience and express your thoughts. The best part of blogging is you're getting a palace where you can share whatever you want.  😀
And if you apply monetization and some other marketing tactics you can also earn real money via blogging.
---
If you wanna start a blog with Godaddy Hosting.
Here is my another best Article for you.
Start a WordPress Blog on Godaddy
---
Benefits of Start Blogging:
Blogging has a lot of advantages for biz or personally both. you can start a blog to make money or to boost your biz.
Keep writing your passion
Share experience
Express biz services and offers
promote business online
make real money
Why Choose SiteGround Hosting?
When you land on this page this question also came to your mind. 🙄
That, why should I choose SiteGround WordPress hosting or SiteGround for my blogging?
So let me clear your doubts.
Siteground has got so many benefits like:
SiteGround Pricing is also in a budget
Lots of features
Renewal prices are the same
Best for WordPress hosting
Fast and secure hosting provider
Their best*2 customer support
So these reasons attract me towards SiteGround and you should also now.
I'm using SiteGround web hosting since Jan 18 and I'm happy with their services and support. my site always online and you can always read my posts.  🙂
SiteGround is also a leading hosting company now in Bulgaria, Australia, New Zealand, Pakistan, Vietnam, India and Also in USA.
And you also need a web host who never sleeps, where your site keep secure and it should be fast. So now let's choose Siteground hosting for your self-hosted WordPress blog.
Did you know – SiteGround hosting is also recommended by WordPress.
How to Start a WordPress Blog With SiteGround
I've explained every single detail about how to, which one and why.
I hope you will like this post and it helps you to start a blog on SiteGround hosting.
1. Choose a Hosting Plan
To start a blog with Siteground you've to choose a Siteground hosting plan.
Get 60% off on SiteGround WP Hosting 
Grab this offer to get 60% OFF on SiteGround WP Hosting.
SiteGorund provides 3 kinds of Hosting plans:
StartUp
GrowBig
GoGeek
Currently, I'm using GrowBig Hosting Plan on Siteground.
But If you're a blog beginner and just going to start your WordPress Blog.
I'd like to suggest you choose StartUp Plan.
It is best for a new blogger because in the beginning there is no need to invest a huge amount.
I hope now you've got which plan is best for you.
2. Choose a Domain name
you know that domain name is the name of your site. you have to choose a domain name where your viewers can land and see your blog content.
Get 60% OFF SitreGround WP Hosting
Now on Siteground, there are 2 situations.
you've already bought a domain name
Register a new domain name with Siteground
1. If you've already bought a Domain name
If you've already registered it from any domain registrar company.
don't worry.
Later, You just need to change the DNS(Domain name server) of the domain.
2. Register a New Domain
Still, if you're looking for domain name just register a new domain name from SiteGround. It will cost you the same as a regular price.
One advantage of buying a domain name from Siteground is that you don't need to worry about DNS and Domain name loading time and also renew tension at different palaces.
You will able to control your whole WordPress Blog from Siteground hosting cPanel.
Enter a name and check its availability, If it is available then you shouldn't waste time.
If you got your domain name keep continue on the second step.
Well done! You got your domain name.
3. Enter Account, Personal and Payment Information
3.1 Account Information
Now you've got your domain name, Its time to next step.
To start a blog with SiteGround hosting we need to enter some of our details.
Enter below two detail:
It will be your Siteground hosting cPanel login details
 3.2 Personal Information
After Siteground account information you've to enter your personal information like:
Name
Address
Mobile Number
Country
Etc…
Siteground need this details because you're registering new domain name also, so enter your correct details and fill up the form.
3.3 Payment Information
Of course, you've to pay for Siteground services.
Completely scroll down till below to see the total amount that you've to pay.
Siteground Hosting accepts three types of cards:
American Express
Master Card
Visa
Enter your card details right and move to next step.
Well Done! You've completed 3 steps well.
4. Configure Purchase Option
To Start a blog on SiteGround we have to choose Hosting options.
4.1 Hosting Plan:
Confirm your SiteGround Hosting plan, I've already recommended you StartUp plan for your new blog.
4.2 Server Region:
Siteground has 4 main servers worldwide, select one that is nearest to your target audience.
4.3 Hosting Period:
Select a hosting period.
For how long you wanna host your host on SiteGround, Siteground hosting provides up to three-year hosting service at once.
12 months
24 months
36 months
Select a period of time, Well don't think about this too much.
For a long period, Siteground is not providing us any benefits, Simply choose 12 months.
4.4 Domain Registration:
If you've not bought a domain name and registering a new domain name from SiteGround then you have to pay this new domain name amount.
On the SiteGround it is $15.
Yeah it is high so I'd like to suggest you but this domain name from another domain register where you"ll get this domain is a low range.
But I've already told you some of the benefits of buying a domain name from Siteground.
4.5 Domain Privacy:
Because we're buying the domain name from SiteGround so SiteGround offer us to protect our personal information like name, address, phone and etc.. that we've entered in personal(Client) Information section.
>> If you wanna protect your personal information you may select this extra SiteGround service.
4.6 SG Site Scanner:
Well, SiteGround is already a secure hosting palace. So you don't need to buy this service. there is no need to pay again $20/year more on this purchasing.
I'm also running unaffected and well my site without this scanner
So don't think too much about this scanner and just go with simple SiteGround security.
It is enough for your blog.
After all this finally, you're one step far from your blogging dream.
When you've completed your SiteGround hosting configurations click on:
> Welcome to the world of Blogging <
5. Create Site and Install WordPress
After your payment, you can enter the dashboard of the SiteGround hosting.
At the home section on the right side, you will see a rocket man with a 2 min set up button. this rocket man will build helps you to start a WordPress blog with SiteGround.
After clicking on this button you will enter into setup wizard.
Here you've to select an option:
Start a New Website
Transfer old Website(It is FREE)
Say Thanks Them
Well to start a new WordPress blog, select start a new website on yourdomain.com
Select your type of website is it a blog or anything.
Then Install a CMS(Custom Managment System), for blogging we install WordPress on SiteGround.
Because WordPress has got so many features for bloggers and It is easy to use.
Now you've to enter some login details that will be your future WordPress dashboard login credentials.
So Enter your:
Keep remember these login details and also keep the secrets
Congratulation, you've completed your setup.
This was the last step to start a WordPress blog on SiteGround.
6. Visit on WordPress Dashboard
Again welcome to the world of blogging.
Now you've completed your setup wizard and its time to write your first post on your new post.
For this –
My Accounts >> Go to Admin Panel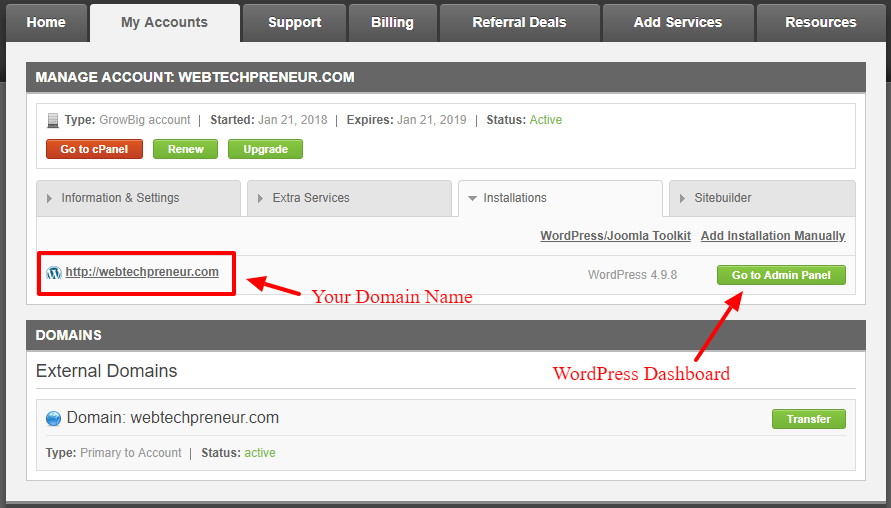 When you click on Go to Admin Panel.
It will redirect you WordPress site dashboard.
But first, let me introduce you the WordPress dashboard.
WordPress dashboard is a digital dashboard from where you can control your whole WordPress blog. to change anything or to add something new on your new site you need to visit on this WordPress dashboard.
7. Recommended WordPress Plugins
WordPress plugins give you extra features in a wp site.
There are 45000+ WordPress plugins which give you more flexibility with WordPress.
I've shared some of best WordPress plugins that will help you in blogging.
8. Recommended Blogging Tools
Tools make our life easy same as in blogging tools make our blogging easy and more worthy.
These tools help you to write a better post, find keywords, build an email list and so on.
9. Write your First Post
On the left side of this dashboard, you will see all the options and features of WordPress.
To write a new post or create a new page take a look on the left side.
Click/Hover on a new post to write a new post and same as for creating a new page.
Every time when you write a new post you've to do this same easy process.
Congratulations, you've written your first post.
10. Get Traffic on your New Blog
After writing a new post and few posts its time to get traffic on the blog.
but how?  🙄
how can we get traffic on the new blog?
So we all know guys that SEO has got more 200+ ranking factors, and for a new blogger, it is hard to rank their new blog post.
But that's not mean you won't write SEO optimized articles. You should write better as you can.
My This will help you –
But in this Social era, we have got social media sites where we can share our new post and drive traffic to our blog. Social media is a great medium to generate traffic on anew blog.
So here I've shared 2 of favourite social media that gives a traffic boost to me.
Join my Pinterest group boards
Join Facebook groups
Now you've understood that how we will drive the traffic on our new blog.
Wrap up, Make Blogging into Reality
I've shared my best with you that can helps you to start your blog on SiteGround hosting.
I hope after this post you'd like to start a blog with SiteGround and start driving traffic to your new blog.
Don't wait for the perfect it will never come so that do you wanna do. give a try to yourself and start your own WordPress blog and make real money. Not only money you will also get a lot of technical knowledge while you blog. Because in blogging there is a lot of opportunities are hiding.
bloggers are making 7 figure income from their blog then
Why you can't make till 3 figure. 💡
Give a try to yourself and start your dream blog now.
Other Post for Blog Beginners