The Ultimate Comparison of Blog Builders
A complete comparison of blog builders and who they benefit the most
Nowadays it doesn't matter who you are and what you do for a living – writing a blog is for everyone from business owners to different hobby enthusiasts.
A blog can push your business forward with digital engagement and better SEO ranking, which will be instantly shown in your website analysis.
As for blog writing as a hobby, it can connect you with fellow enthusiasts and make your days productive with a nice confidence boost.
No matter what purpose your blog will serve, we all have to start somewhere, so let's start from the beginning – the comparison of blog builders.
If you're new to this or simply got dizzy from the huge variety of different blog building platforms, you're in the right place – in this article, you will find out which blog builder will suit your needs the best and why.
We'll start by defining what the main criteria will be used to assess each of the blog builders, as well as why it's important.
Now, grab a cup of hot beverage, relax and let's investigate!
Criteria for Choosing a Blog Builder
Having criteria before committing to a specific platform will benefit you greatly because it will get your priorities straight and help you find the best blog builder possible.
Naturally, we can't really say which one is the very best, as it's very much subjective and it completely depends on what you'd like to achieve. Therefore, in order to make your process easier, we present to you the main points of criteria that you can define more specifically yourself.
1. Blog Builder's Size
In this article, we will focus on the best-known and biggest blog builders that are trust-worthy and endorsed the most by their users, as their brand speaks for itself and guarantees a positive experience.
2. Audience
Although blog builder's influence is important and has a huge impact, we will also define which audience and what kind of users will find each blog building platform the most suitable to make the blog a success. In addition, some of the blog builders even have a large audience that you could connect with through writing.
3. Easy to Use
It's only natural that the top priority of blog writers is… That's right, blog writing. Naturally, various tasks to improve website performance and do a website speed test are crucial, but you shouldn't be distracted by various complications and subtleties on the blog builder itself. That is why we will compare how each of the blog building platforms will give you just that.
4. Relevant Features
Every modern blog building platform offers features that help blog writers create and adjust a proper tone for the writing with design and well as functionality. The features must be easy to apply and pleasant for the users, but there are different ways to accomplish this.
5. Monetization
If writing a blog is more than just a hobby and you'd like to earn from your wit and knowledge, you'll appreciate the blog builders that give your more control and room to grow, meaning that you can monetize your content. You will find out which platforms will give you the opportunity.
Top 10 Blog Builders
Wix
Wix is extremely easy to get started with and offers a great deal of fantastic visual elements and templates. Furthermore, the general usage of Wix is easy and simple, as it uses the drag-and-drop concept and built-in functionality.
In addition, Wix is a fully-hosted platform, but it does have certain limitations.
Due to the limitations and great design options, it will work the best for visual bloggers and small businesses that appeal to their audience with a visually aesthetic blog.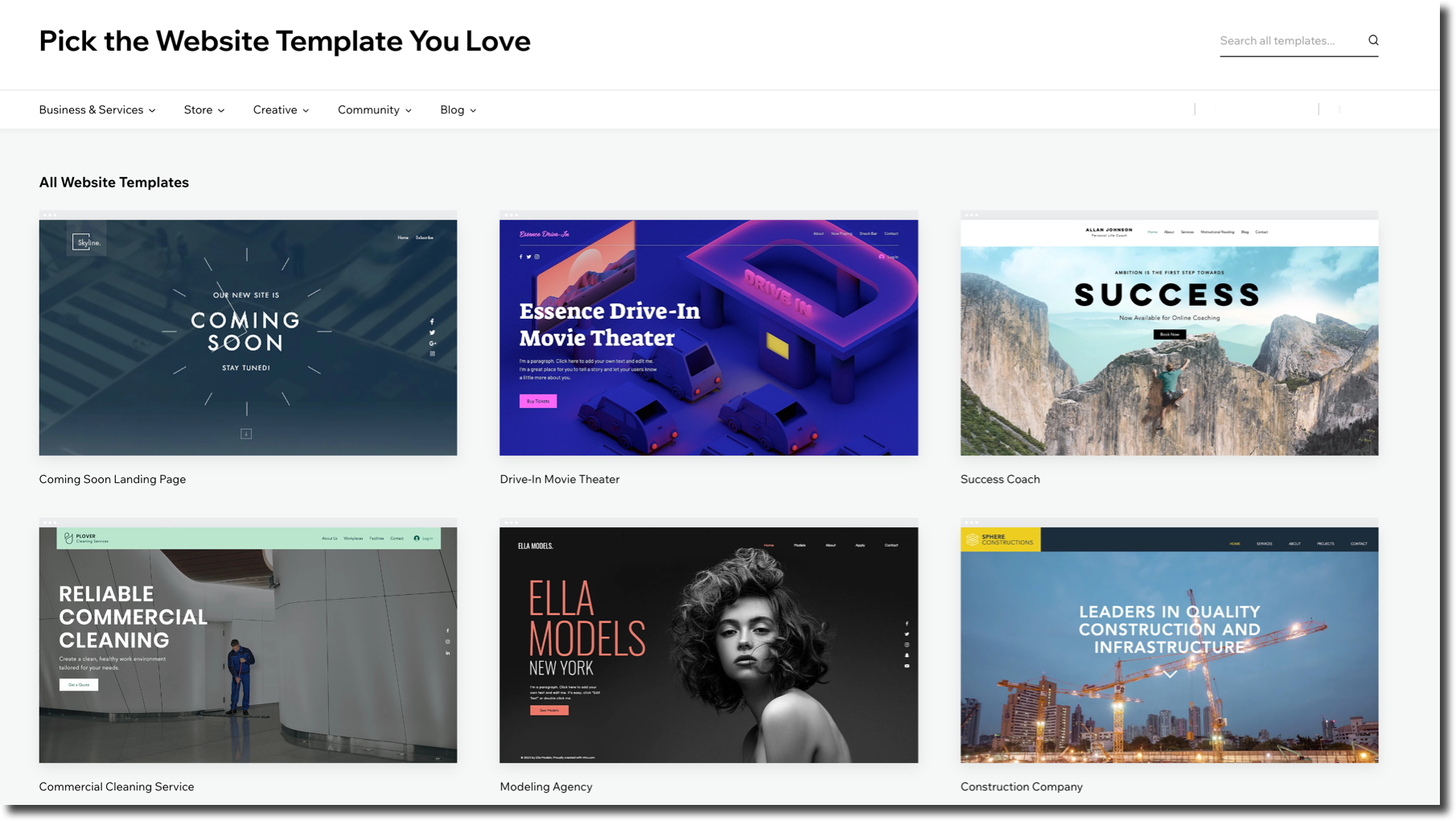 Pros
Easy to use – no coding and drag-and-drop concept
You can set up your blog fast, as it already includes hosting
Vast choice of design and templates that can be customized and include free images
Smart – design can be automatically generated with Artificial Intelligence (AI)
Cons
Migrating your website with its contents can be a complex process
Ads are being displayed on your website but the revenue doesn't go to you
Wix places its branding on your content
You can't change a template once it's chosen
Pricing
Wix offers many different payment plans and packages that include various features. Something that all paid packages have in common is that yearly payment commitments will make your monthly payments cheaper than monthly commitments.
For instance, the least costly plan costs $14 per month if you pay yearly and if you prefer to pay monthly, the same plan will cost $18 per month. However, this specific plan does not include a domain.
In comparison to the least costly one, the most costly one will cost $23 per month if paid yearly and $28 if paid monthly. With this one, you will be able to sell online.
However, Wix also has a free version to offer. It might lack some features, but it's a great starting point to look around and try it out.
WordPress.org
39% of the web uses WordPress and it's no accident, as WordPress excels in website building and it's recognized as the most popular one. The reason why WordPress.org is so successful is that it's one of the websites that give you control over your content and how you manage your website, which essentially means that with WordPress.org you can monetize your content.
In addition, WordPress is a great blog builder for absolutely everyone: from business blogs to personals ones.
Now, you might have noticed that it's WordPress.org and not WordPress.com – the two are often assumed to be the same, but it couldn't be further from the truth.
As a matter of fact, WordPress.org gives you more freedom, but we'll discuss the differences more thoroughly when we get to WordPress.com.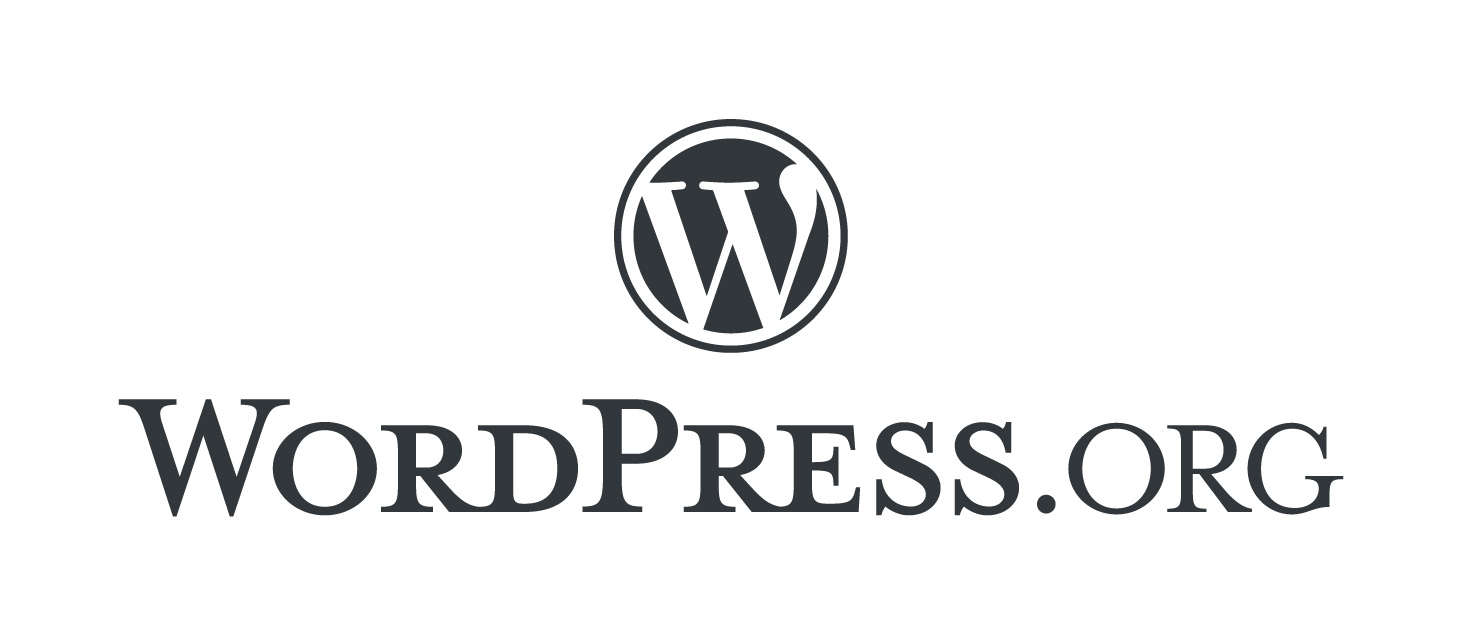 Pros
Great functionality thanks to a huge variety of plugins
Complete content ownership and control of the blog, which allows you to monetize your content
Huge variety of templates and themes for your website – easy to use and optimize for mobile users
Great customer support from WordPress and other users
Designed to cooperate with social media channels and support your SEO efforts.
Cons
With great power comes great responsibility, meaning that it will be your responsibility to maintain and update your site.
Web hosting and a domain name aren't included, so you'll need to acquire it independently.
Pricing
It's free!
Except for the web hosting and domain name prices.
WordPress.com
As promised, it's time to get to know WordPress.com better and see what makes it different in comparison to WordPress.org.
Simply put, WordPress.com gives you less control over your website, but it also means that it handles maintenance on your behalf. In addition, WordPress.com will include hosting in the different plans that they offer, as it is a hosting company after all.
Naturally, different plans will give you a different amount of functionality, ranging from basic to e-commerce plans.
Generally speaking, it's the best option for people who are getting started with blogging, perhaps a good warm-up before moving on to WordPress.org.
Pros
Easy to move your website elsewhere
Easy to set up, use, and manage
Great practice before moving on to WordPress.org, as the design and system are the same
Included hosting
The website's maintenance is taken care of by WordPress.com
Cons
Unless you purchase the Business plan, you don't own your blog, therefore your website can't be synchronized with Google Analytics
Your blog can be removed if doesn't comply with the rules of the platform
Your website can display ads
Monetization options a very few and very limited
Pricing
All WordPress plans are charged annually starting from $4 per month and increasing up to $25 per month for the most expensive one.
While the most basic plan will remove ads from your website, provide you a domain name for a year and unlimited email support, the eCommerce plan will add premium themes, advanced SEO tools, Google Analytic integration, and many other features.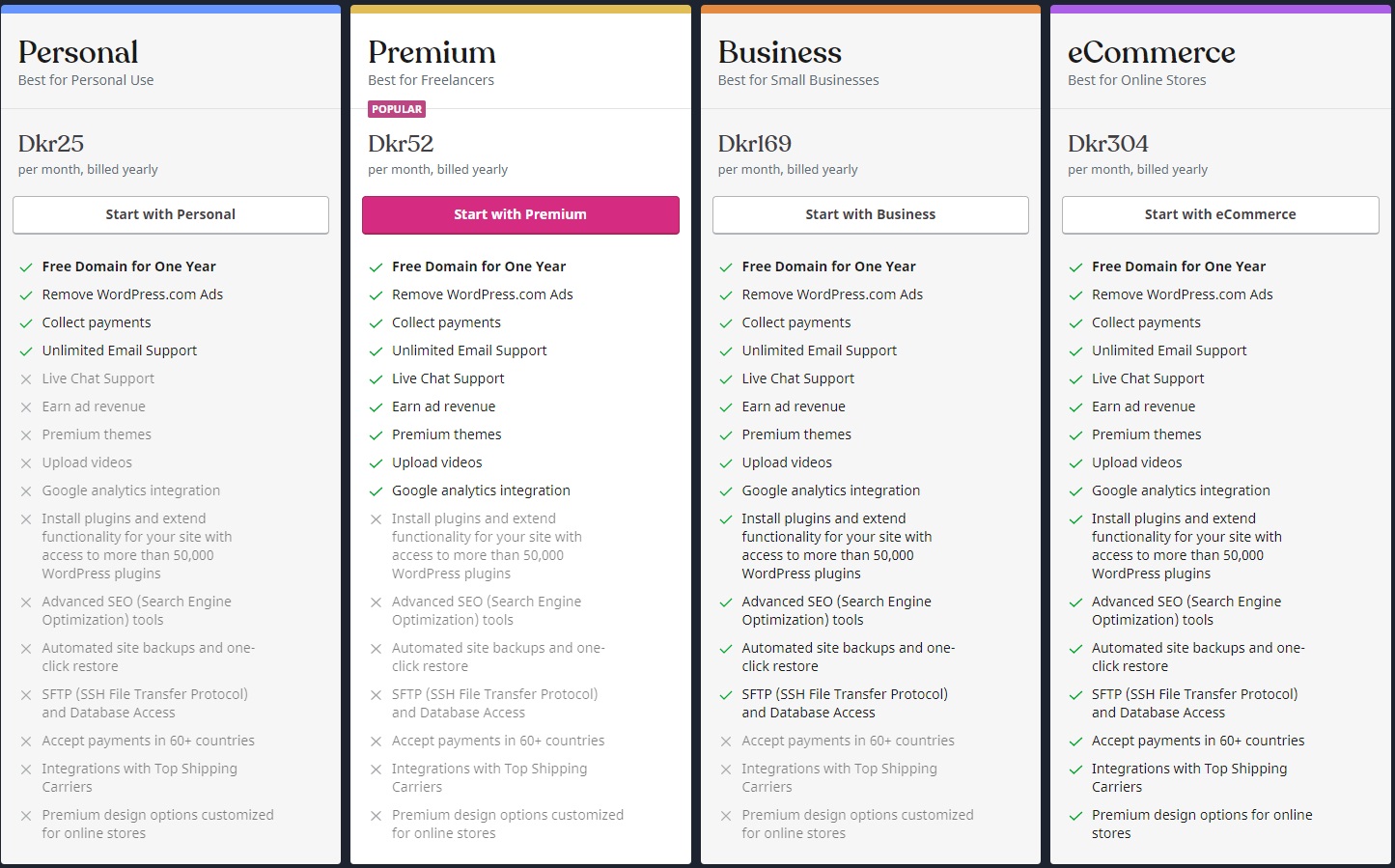 Blogger
Blogger is a completely free platform to use and it was bought by Google, meaning that it's well-optimized for Google's standards and works well with other Google's applications.
The platform might not be the best option for businesses, but blogging enthusiasts will surely appreciate it.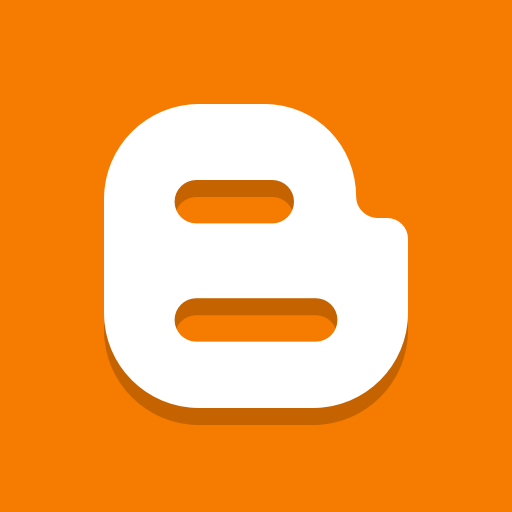 Pros
Optimized for other Google's applications, such as Gmail, Google maps, and others.
Easy to set it up and use
User-friendly templates
Free hosting
Maintenance is taken off your shoulders, just leave it to Blogger
Well-secured and safe to use
Cons
Very limited design features
Blogging tools are not very advanced
Google has the control and can suspend or cancel your website
The platform runs ads on your site
If you'd like to get a personal domain name, you have to get it yourself
Pricing
It costs nothing at all!
Tumblr
Many see Tumblr as just another social media channel, but it's more than that. In fact, it's a great platform for micro-blogging and connecting with people who share your passion and interests. Also, Tumblr works very well with other social media channels, hence your content can be shared and go viral.
Who knows, perhaps Tumblr could be a great start to build an audience?
As for the audience of Tumblr itself, the platform is mainly favored and endorsed by visual content creators, as well as writing and blogging enthusiasts.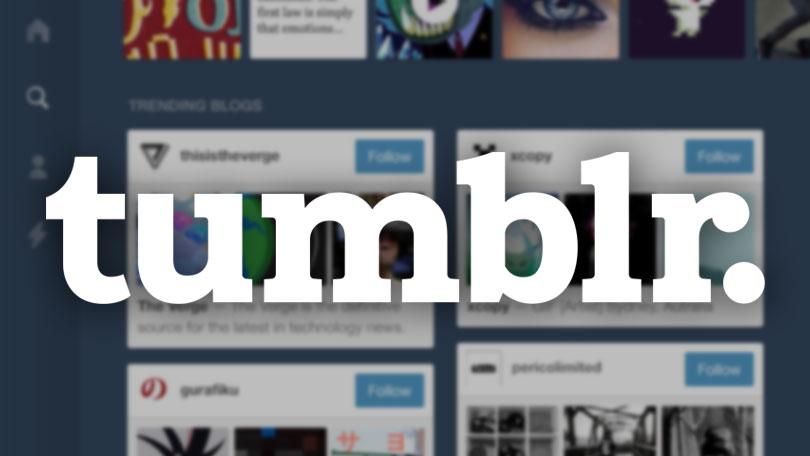 Pros
Free to use and super easy to set it up
Like in any social media, content can be made more entertaining with audio, GIF's and other elements
Free hosting
Flexible design features
Content can be shared across the platform to create an audience within Tumblr
Cons
Migrating it elsewhere could prove to be a difficult process
Limited features
Pricing
Similarly to Blogger, Tumblr is completely free of charge, but those who want a personal domain name would have to pay for it.
Medium
Now that we know about Tumblr, Medium will be easy to understand, as the main similarity between the two is that they're both offering social networking and interactions that are typical to come across in social media.
The main difference, however, is that Medium is less visual than Tumblr, more sophisticated, and offers lengthier blogs.
As Medium doesn't provide its users with the option to monetize their content, Medium as a platform is best suitable for social networking through writing, as well as writing and blogging enthusiasts.

Pros
Super easy to get started and use
Social media-friendly
Simplistic and user-friendly outlook
Freedom to create quality content without getting distracted by blog's design creation
Your content is being recommended to like-minded users
Cons
Monetization isn't possible on Medium
Your content belongs to Medium rather than you
If you want to design your blog and make it stand out visually, Medium might not be for you, as it applies the same design to all
Pricing
Completely free to use!
Squarespace
The closest comparison to Squarespace would be the previously discussed Wix. While it might not be the best option for large companies with huge workflow, Squarespace is a great option for small businesses and content creators who have a reasonable amount of workflow or who are simply exploring the possibilities of designing a blog site.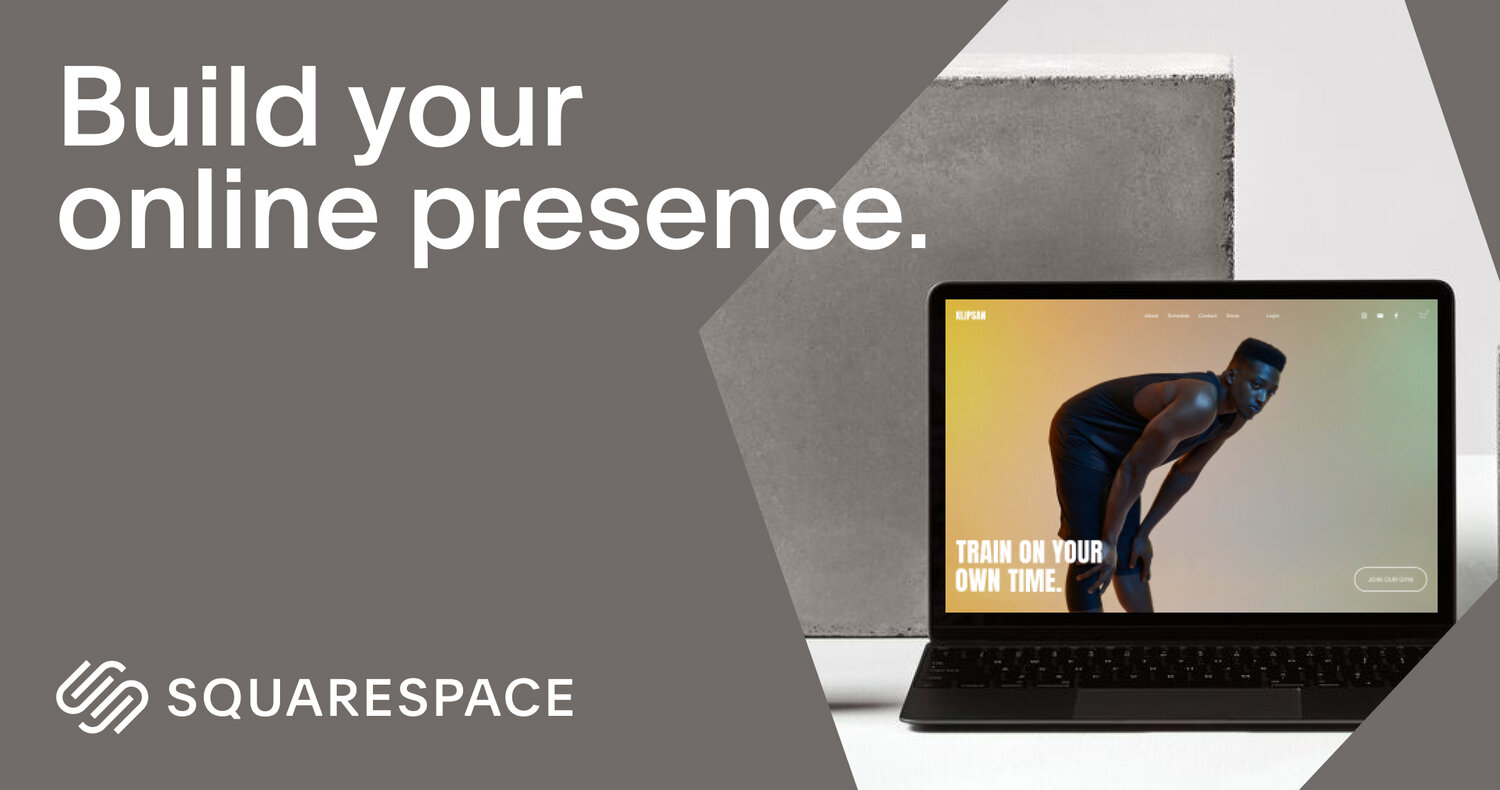 Pros
Hosting and personal domain name are included
SSL certification is automatically included
Drag-and-drop features and general concept
Professional design and various templates are available
Easy to use, even if you're a beginner
If you're unsure about it, Squarespace offers a free trial to see if it suits for expectations
Having an online store is an option
Cons
Not very flexible when it comes to collaborating with third-party services and integrating their tools
Limited features might not grant a lot of freedom to have a unique design
The Personal plan is rather narrow, as it grants only 20 pages and 2 contributors
Pricing
It will come as no surprise that Squarespace applies a common pricing strategy that was presented earlier in the article: monthly payment of a subscription will cost you less if you pay yearly rather than monthly.
The cheapest option comes with the Personal package and it costs $12 if you pay yearly or $16 if you pay monthly.
In addition, Squarespace also offers Business, Basic Commerce, and Advanced Commerce plans that come with more features.
The most expensive one, Advanced Commerce, costs $40 monthly if paid yearly and $46 if paid monthly, it offers an unlimited number of contributors, as well as marketing and e-commerce tools.
Weebly
Nowadays simplicity is preferred over complexity, no matter if you're a blog writer or a reader. If you recognize yourself in this statement, you'll enjoy Weebly and its simple ways.
This platform will work out the best for small businesses and bloggers.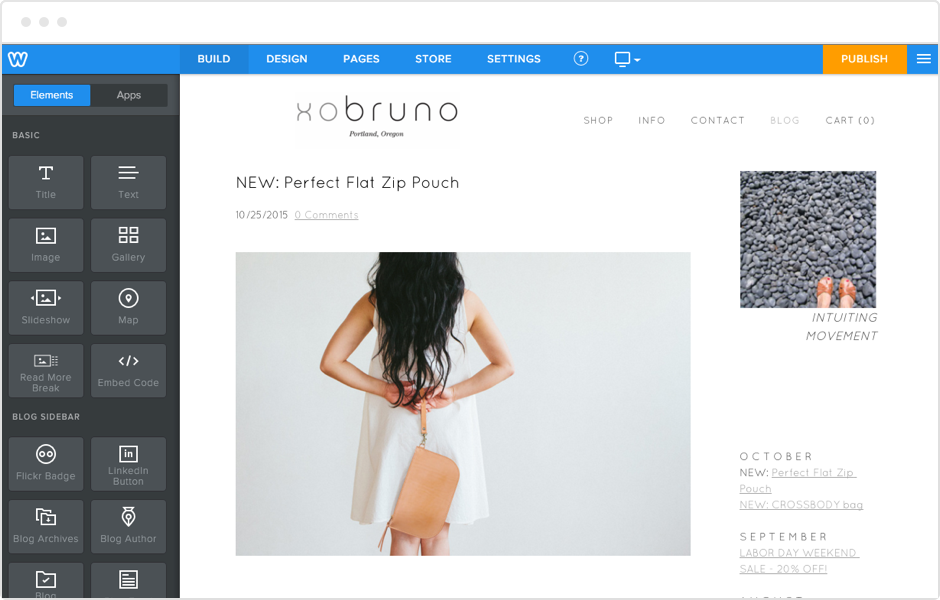 Pros
The drag-and-drop system makes it super fast and easy to use
There's a free trial for you to make an informed decision
Grants you the opportunity to analyze your blog with Google Analytics
Offers great features, such as scheduled sharing
Weebly will get you that precious hosting
Cons
Limited third-party integrations make it less attractive than WordPress.org
Migrating your website elsewhere is difficult
Customization options are lacking variety
Pricing
Weebly has many different packages to choose from for websites and online stores. The cheapest one is Pro and it costs $12 monthly if paid yearly and the most expensive one is Business Plus, which costs $38 monthly if paid yearly.
However, if you're completely new to blogging or simply would like to try it out before committing, there is an alternative.
As mentioned earlier, Weebly offers a free trial for you to try it out yourself. If you like what you see, you can go ahead and get a personal domain name, which costs $5 monthly if paid yearly.
If you'd like more features, you can choose a fitting plan and go for it. It's also worth mentioning that all plans include a free domain.
Joomla
This final example will be dedicated to bigger businesses and corporations, as most of the previous examples were mainly suitable for writing enthusiasts and small businesses.
Joomla is a bit more complex than the previously presented platforms, but it also has a lot to offer because it can help you design more than just a stunning blog page – it creates powerful websites as a whole.
If you're very new to writing blogs and your focus is having fun with the writing, Joomla is a good choice, but probably not the best one.
Joomla is, however, highly recommended for business professionals.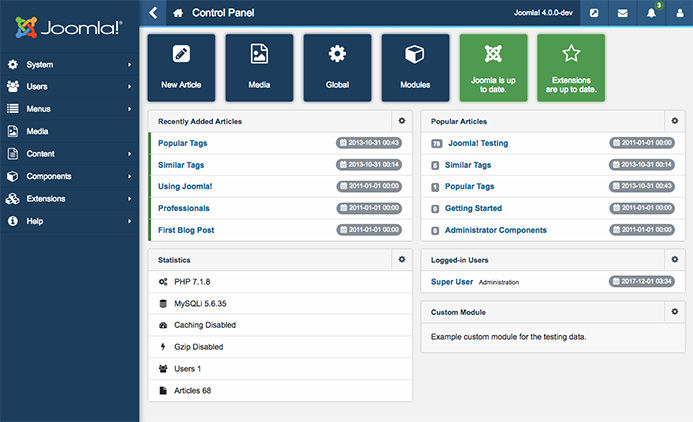 Pros
Very professional and business-oriented design templates
Great availability of additional extensions for more functionality
Flexible when it comes to creating authoritative websites and blogs
Free to use
Cons
Beginners might find it difficult to be comfortable with it – it can take time to master Joomla
Joomla doesn't maintain your site for you – backups, security, and site's performance depend on your efforts
Some level of technical knowledge will be a must to use it efficiently – HTML and CSS can't be avoided
Pricing
Completely free, all you need to do is get hosting and a domain.
To Sum Up
As you just witnessed, that's quite a list of blog builders. However, the list shouldn't be too overwhelming if you know what your blog will be used for.
After all, you, your goals, expectations, and preferences are what drives the blog builders to create and improve. If you found a couple or a few blog builders that you are seriously considering, we advise you to check them out for more details, perhaps even give them a try if they offer a free trial.
We hope that this comparison made it easier for you to come up with an informed decision and you saved some time by reading this article.
Enjoy the joyful experience of blogging and building!