Ultimate Comparison of Website Builders
Which website builder is better for you to build a website and why?
Back in the day, building a website was only for experienced, specialized developers. However, technology evolved to a point where everyone, no matter how non-technical they are, can build a website. This is, of course, possible due to the hundreds of available website builders like WordPress, Wix or Squarespace. So today we will dive into what website builders are and when to use them, ending with a full comparison of website builders available today.
What are website builders
Website builders, also known as content management systems or CMSs, are tools or software that help individuals and companies alike create professional websites without any coding knowledge. For design and UI, website builders come with themes – prebuilt user interfaces – that replace the work of designers and frontend developers. As for the website features, website builders come with tons of pre-built functionality elements called plugins or add-ons. And all of this is, is controlled via a user-friendly admin panel.
On top of that, most website builders have a free option or at least a trial version, and use drag-and-drop for editing. So, not only that they are affordable, but they are also easy to use. More importantly, all website builders support responsive design. This means that they allow users to build their websites with mobile-first in mind, scoring extra points with Google for good SEO practices. But, if website builders are so great, why isn't everyone using them?
Pros of Website Builders
Website builders have considerably lowered the entry barrier for both individual people and companies into the digital market. Creating a personal blog or portfolio, or a new landing page for a brick-and-mortar store has never been easier. Moreover, website builders eliminate the costs for development and designs. So even if a specific website builder is not free of charge, chances are they are still cheaper than building a website from scratch.
In fact, there is a plethora of plugins, add-ons, and themes that come with each website builder. Not only that they provide already built – and tested – UI elements and designs, but they are also responsive and highly customizable. This means that each theme is still personalized based on each company's brand identity.
Cons of Website Builders
However, website builders have their flaws. For one, while most website builders are based on open source tools, they have a tendency of "trapping" users within their network. As a result, if a user decides it's time to move on to a more scalable solution, they often find this is not possible. Or at least, it's not that simple. Also, by nature, website builders remove the need for designers and developers. This means that users are limited to the available UI and functionality. Therefore, if a specific feature is not readily available, users will need a developer.
Finally, not all themes and add-ons are free. In fact, many of them are quite expensive or come with a subscription. This means that using some themes and plugins can become expensive, or, if users stop the subscription, they quickly become obsolete.
This brings us to the question, when should one use a website builder?
When should you use website builders
The quickest answer is when you are pressured by time and budget, or you want a low-risk solution. While website builders are far from perfect, they are still an amazing, affordable technology for simple websites. They give full control to customers over what UI they want or what functionality. And, although some specific features may not be available, chances are this not crucial for a beginner platform.
Also, website builders are perfect for startups or personal websites, when are testing the market. So, if you're not sure your idea is viable, a website builder is the perfect starting point. They provide the perfect channel for digitalizing a business, at a low price, with minimal risk.
And if you find yourself in this category, read on as we present the ultimate comparison of website builders today.
The most popular website builder by far, WordPress, was initially launched back in 2003 and it soon won everyone's hearts. Currently powers about 37% of the total number of websites available on the internet today.
WordPress is an open-sourced technology based on PHP and is suited for both non-technical users as well as experienced developers. Their services break down into WordPress.com – suitable for non-technical users – and WordPress.org – for developers and technical people.
Key Features
All-in-all website builder, perfect for individuals and small companies;
Easy to use drag-and-drop visual content editor;
Live theme customization panel;
Thousands of free and paid themes and website templates;
Custom domain name;
Best blogging module on the market;
Support for eCommerce;
Thousands of free and paid-for plugins and add-ons;
SEO tools, Google Analytics tools; MailChimp and other newsletter integrations;
Several other report and analytics tools;
Android and iOS mobile applications;
24/7 chat, one-to-one support, community support.
Pros
With the hard work of its open-source community, WordPress accumulated over 7.000 themes and almost as many plugins. This makes WordPress extremely flexible and customizable. Moreover, WordPress comes with an easy-to-use Admin Panel from where their users can control everything with a few clicks. This includes both plugins and themes, even after a website is published.
WordPress is translated more than 65 languages, making it accessible for most of the world, and it provides desktop, tablet, and mobile views for responsive design. On top of that, WordPress.com also comes with hosting services, simplifying their customer's work even further.
Cons
WordPress plugins and themes are created and maintained by the open-source community, this means that there are little quality control and a lot of risks. So if a plugin or theme gets corrupted, it can break the website and even jeopardize sensitive data like user accounts.
Also, while WordPress is covered by the GPL license, which means that both WordPress and its derivatives have to be free, the requirements of the license only cover part of it. In other words, both WordPress and their add-ons are not completely free.
Pricing
WordPress.org is absolutely free to download and use. However, since it requires hosting and development, prices for a WordPress website vary, and it can become expensive. However, WordPress.com also comes with a free version, where users "borrow" a subdomain like wordpress.example.com.
For users who want their own domain, WordPress's paid plans are very affordable, starting at $4/month – billed yearly for the basic plan. This plan gives users their own domain with email access and live-chat support from WordPress. Their other plans range from approx. $8.50/month for the premium to $49/moth for the eCommerce plan.
Another popular website builder, Wix was initially launched in 2006 and currently powers 1.4% of the world's websites. While the difference between Wix's market share and WordPress is quite significant, Wix is still a strong competitor.
Like WordPress, Wix is easy-to-use but instead of simply providing an already "arranged" theme, Wix uses drag-and-drop. This technology allows users to play around with different elements, move them as they please, and test things out.
Key Features
Wix Editor – easy to use drag-and-drop visual content editor;
Wix ADI – an artificial intelligence assistant tool for website design;
Wix Logo maker – a tool that allows users to create their own unique logos;
Simple blogging module;
Over five hundred themes and website templates;
Best blogging module on the market;
Support for eCommerce;
SEO and social tools;
Custom domain name;
Analytic and website reports tools;
24/7 support fo English speaking users, conditional support for other languages.
Pros
While Wix is not the only website builder using drag-and-drop, it is considered the best available today. Also, Wix comes with hundreds of industry-specific templates, similar to WordPress's themes. However, unlike WordPress, Wix is more flexible when it comes to design and customisation.
Moreover, Wix comes with a logo maker and two different editors, the traditional Wix Editor and the very special Wix ADI. The first, allows users to do their own customisation. But Wix ADI does the work for them, based on a simple and quick questionnaire. Think of a WordPress theme, but personalized for each business and each customer.
Cons
Unlike WordPress, where users have control over everything at all times, once a Wix website is published, the user has no control over the template. Basically, once the website is live, users cannot change the theme.
Another downside for Wix is that it is not the most scalable solution and is not open-source. So, this website builder is great for small companies or personal platforms. But users don't have access to their code or database, which means that migrating from Wix is impossible. Therefore, Wix is not a choice for growing businesses, especially eCommerce platforms.
Finally, customisation freedom is both a pro and a con. With WordPress, users are limited by the theme, but that actually makes it easier, as it is not overwhelming. With Wix, users have to set up every detail, which is both exhausting and tedious.
Pricing
Like WordPress, Wix also comes with a free plan. Similarly, users host their new website on the Wix servers under a subdomain, wix.example.com.
However, users also have a choice between four premium plans for simple websites and three plans for business and eCommerce. The plans are affordable, starting at approximately $4.5/month for the basic plan to as much as $42/month for the Business VIP.
3. Squarespace
Squarespace was first released in 2004, and currently, it is at a tie with Wix, with an equal market share of 2.4%, or 1.5% of the total websites available today. Nevertheless, Squarespace is still a fierce competitor and a popular choice among many. This is mostly because Squarespace is extremely user-oriented and intuitive.
Key Features
Award-winning design templates;
Easy to use drag-and-drop visual content editor;
Simple blogging module;
Support for eCommerce;
Thousands of free and paid-for plugins and add-ons;
Advanced SEO tools;
Advanced report and analytics tools;
Social Media integrations;
Logo maker;
iOS and Android mobile applications for on-the-go website editing;
24/7 chat and email support.
Pros
Like Wix, Squarespace is a step-by-step website builder, where users go find the perfect theme for them by answering a few questions. Moreover, unlike Wix, Squarespace is less overwhelming. Their templates suggest different themes that make setting up a website faster and easier.
Squarespace is also customizable, comes with its own logo maker, and supports any kind of platform from personal websites to eCommerce. However, Squarespace shines brightest when used in creative industries, such as design portfolios, photography, etc. Also unlike with Wix, users can potentially add frontend elements to Squarespace, as long as they know HTML, CSS, and JavaScript.
Cons
While the frontend can be altered in Squarespace, the backend, meaning code and database, is still inaccessible. Also, Squarespace comes with a price, as users only get a 14-days free trial, after which they have to choose a premium plan.
Another drawback is that Squarespace is not as easy to use as Wix. Wix is forthcoming, and users understand they are in charge of customisation. But, Squarespace is a bit confusing at times, as only some features require customisation and it's not as clear where of how users can do that.
Pricing
Squarespace comes with 4 different premium plans, starting from $12/month when invoices annually and gets as high as $40/month for the eCommerce plan.
However, Squarespace also offers the option for monthly payments, but that is a bit more expensive. Users choosing the monthly invoices will pay 30% more, with $16 being the starting point for the basic plan.
Weebly was released around the same time as Wix, however, it didn't benefit from the same success the latter did. Currently, Weebly only powers 0.3% of the total available websites today. However, that is not because Weebly is lacking in the website building department, but because it requires a bit of technical knowledge.
Key Features
Easy to use drag-and-drop visual content editor;
Over 60 website templates;
Best blogging module on the market;
Support for eCommerce;
Custom Popup creator;
Android and iOS mobile applications for quick access to website stats and reports;
App center for third-party integrations and add-ons;
Basic SEO tools;
Email module for quick customer support;
HTML and CSS control for advanced editing and customization;
Live chat and email support for all users, phone support for specific premium users;
Pros
Weebly is extremely simplistic, with only about 60 templates to choose from. Compared to WordPress's +7.000 template, and even Squarespace's +500, this is a light summer breeze. Weebly also comes with its own iOS and Android applications for monitoring statistics and site usage on the go.
Also, Weebly supports both simple websites as well as more complex ones, like eCommerce. Also, users with HTML and CSS knowledge have control over advanced features. But the most exciting part is their email module that connects users directly with the site administrator.
Cons
While some users appreciate the minimalistic side of Weebly, others feel differently. So, one of Weebly's downside is its lack of template choices and limited customisation options. As mentioned, users who want more advanced features need technical experience in HTML and CSS, defeating the purpose of a website builder.
Pricing
The free plan offered by Weebly is very limited when speaking of both functionality and UI. But, it comes with 500MB of storage and basic SEO tools. The next tier plan starts at $5/month, with the only difference being that users can connect their own domain to their Weebly website.
Apart from the basic plan, Weebly offers five other plans for personal websites and businesses. The prices range from $12/month up to $38/month and are paid on a yearly base.
SITE123 is an up-and-coming website builder, launched only a few years ago in 2015. Aside from the fact that SITE123 is heavily advertised as the easiest to use on the market, it also boasts several key features that make it stand out.
Some examples are their built-in wizard and help features that assist users in creating a website within minutes. Weather SITE123 is really the most user-friendly website builder or not, it sure sounds promising.
Key Features
Basic content editor for text and media;
eCommerce support;
Responsive design support;
Pre-built custom website elements like About, Contact, etc.;
Pre-made hero and header sections;
Copy-right free Image search module;
Blogging module;
Logo maker;
SEO tools;
24/7 chat support.
Pros
Aside from its help features, it also comes with multilingual support and plenty of pre-built elements ready for any business type. Moreover, SITE123 promises a simple 3-step building process. Users simply choose their business type, add their domain name, and create a fully responsive website.
The selected layouts are replaceable at all times, and users also benefit from an image search module. The module provides copyright-free media for fast customisation, without limiting the users' control over their own content.
Cons
Because of its simplistic process, SITE123 limits customisation options since users only choose from a limited library of features. Moreover, there are no themes to choose from, so users are left to create their own layouts on their own.
Also, SITE123 only provides a small number of features, therefore advance functionality is also lacking. Finally, there is a lack of transparency when discussing their premium plans. On their pricing page, SITE123 only shows two options, the free plan, and the premium. However, in their FAQ section, there is a clear mention of advanced, professional, and gold plans with unknown prices. Nevertheless, this information is nowhere to be found.
Pricing
The free plan SITE123 comes with offers 500MB of storage, 1GB of bandwidth, and a SITE123 subdomain. When upgrading to the next plan, users can connect their own domain to the site, and remove the floating SITE123 flag that comes with the free account. The basic premium plan presented on the website is $7.80/month. It comes with a one-year free domain or users can connect their own domain to the website. The premium also offers 10GB of storage, 5GB bandwidth, and eCommerce options and removes the promotional flag.
However, the pricing page is actually connected with a 3-year commitment, and there is no monthly invoicing option. But, things are not that grim. If a user prefers a one-year contract, the basic premium is only a bit more expensive, at $10.80/month. In fact, compared to other website builders SITE123 is not that expensive. The prices for their more advanced plans range from $16.80/month to $28.80/month with the one-year commitment. Nevertheless, a bit more transparency would be nice.
Strikingly was launched in 2012 and has been predominantly focusing on the Asian market, with an emphasis on China. However, today Strikingly has users in 70 countries around the world. Like most website builders, Strikingly promises simplicity and speed, without compromising on features or design. In fact, their home page boasts that setting up and publishing a Strikingly website could take as little as 10 minutes.
However, this is not the key selling point for Strikingly. This specific website builder is an extremely mobile-oriented tool. When Strikingly was created, they already were focusing on mobile-first development. Today, Strikingly even comes with a mobile app that allows users to build and manage their websites from their mobile devices.
Key Features
Easy to website editor;
Blogging module;
Support for eCommerce;
Professional website templates and add-ons for personal websites and small businesses;
Social media integrations;
SEO and marketing tools;
Report and Analytics tools;
Custom domain support;
FAQ, 24/7 chat, email support for all users, phone support for specific premium users.
Pros
Strikingly uses drag-and-drop, making it easy to use and intuitive. Also, the website builder provides an extended theme library, with rich and professional-looking UI for every industry. However, what really sets Strikingly apart is the extended features they provide with their free plan.
For one, Strikingly offers 24/7 support even for free accounts, a feature that many of its competitors see as a "premium". it also provides a basic eCommerce feature, that allows users to promote one product per site, and they support unlimited free sites. Finally, even with the free account, users can add collaborators to a site, instead of limiting them to one account only.
Cons
Unlike the free plan, where users enjoy many features other competitors lack, the rest of Strikingly's plans are quite limiting. For example, the next tier, the Limited plan offers the possibility of connecting a free domain, but only allows 2 Limited sites. The eCommerce upgrade is not that great either, with the plan limiting users to a mere 5 products.
In fact, even with the Pro or VIP plans, the users are still limited. Looking again at the eCommerce features, the Pro plan only supports 300 products while the VIP on supports 500. On top of that, users cannot remove the Strikingly branding from their sites unless they choose the Pro or VIP plan. And Strikingly only offers custom emails as a separate feature, adding extra costs for their users.
Pricing
As mentioned, Strikingly comes with a free and quite attractive free plan. This plan comes with 500MB of storage and 5GB bandwidth. Pairing that with the rest of their features, Strikingly does seem like a very good starting point.
However, their other plans are more expensive when compared with Strikingly's competitors. Strikingly provides three premium plans, Limited, Pro, and VIP. If billed on a yearly base, the Limited plan costs $8/month, and as explained above is rather limited. The next two plans cost $16.month for the Pro and $49/month for the VIP. In comparison, other website builders like Weebly or Squarespace are both more affordable and more flexible when looking at their eCommerce features.
When Duda was created back in 2008, it was both a result and a predicament of how important mobile websites were becoming. Today, Duda boasts the over 16 million platforms already use their technology, and every 17 seconds another website joins the numbers.
Today, Duda's focus expands beyond just mobile websites. They now support fully responsive websites for all platforms. However, one aspect that differentiates Duda from its competitors is that this website builder focuses on agencies, instead of individuals.
Key Features
Simple drag-and-drop visual content editor;
Responsive design support;
Mobile application for quick website editing;
Tens of website widgets for Contact, Popups, online scheduling, etc.
Support for eCommerce;
Blogging module;
Professional and customizable website templates;
User action triggers like time and location triggers;
Content library for managing your clients' content;
SEO tools;
Multi-language support;
Dynamic page support;
Email, scheduled call, and customer support.
Pros
Duda has a plethora of features available for their customers. The list includes already built widgets as well as a unique widget builder. Duda also provides an extensive content library, eCommerce, and SEO tools, as well as multi-lingual solutions.
On top of this, Duda also supports team collaboration, client management, and plenty of third-party integrations to further enhance its functionality. Not to mention their on-the-go editing tool, which allows users to manage their websites from their mobile devices.
Cons
Much like Wix, once a user selected a theme in Duda, they cannot change it later on. On top of that, the vast amount of features and functions as well as design options could become overwhelming for inexperienced users.
However, the biggest downsides of Duda are their market targeting and pricing strategies. Duda only targets agencies and SAAS companies, so individuals and small companies might find it unattractive. Also, they do not offer a free plan and their paid plans are quite expensive.
Pricing
The most affordable plan Duda offers starts at $14.month, billed annually. This basic plan only supports one website hosted on Amazon's AWS and email support from Duda. However, the white-label solution where users present their brand and logo only comes with the Team plan and up.
The Team plan costs $22/month. and also supports just one website. Aside from the features included in the basic plan, the Team plan provides access to the team management for up to 4 collaborators. It also offers client management features and support via phone, chat, and email from Duda.
The Agency plan starts at $44/month and unlocks all of Duda's features and customisation options. It also ensures priority support from the Duda team via chat, phone, or email. However, this plan is also limited as it only supports 4 websites and up to 10 collaborators.
Moreover, none of the plans supports eCommerce. For users looking to add this function to their website, Duda offers three solutions ranging from $7.25/month for 100 products to $39/month for infinite products. Note, these prices are per site.
8. GoDaddy Website Builder
GoDaddy is a well-known hosting provider, that has been on the market since the late 90′. However, GoDaddy also has its very own website builder. In fact, the GoDaddy website builder is one of the most popular website builders today, powering more than a million websites worldwide.
What makes GoDaddy so popular is partially its easy-of-use, but also the fact that the company is something of a jack of all trades. GoDaddy customers can purchase a domain, host their new platform, and build a professional website, all on one go.
Key Features
All-in-all website builder, perfect for individuals and small companies;
Easy to use visual content editor;
AI website editor assistant;
Over one hundred professionally designed templates;
Blogging module;
Support for eCommerce;
SEO tools;
Integration with Google Analytics and marketing tools like Facebook Pixel, Pinterest, Instagram and Twitter;
Email marketing module;
24/7 chat and phone support.
Pros
GoDaddy, like its competitors, comes with a visual website builder, more than a hundred themes, and an online store integration. However, a truly unique feature that sets GoDaddy apart is their AI module. This service analyses each website and ranks it from 0 to 100. Then, the AI module provides the user with the results and suggestions on how to improve their score so their website ranks higher on Google and attracts more traffic. GoDaddy also provides new users with a step-by-step introduction to the tool so they get a fully immersive onboarding.
Cons
The website builder limits customization and is quite basic. Unlike other website builders, GoDaddy feels more like a puzzle where users place the "correct" piece on the right spot. This may be perfect for beginner users. Moreover, customizing these puzzle pieces is also limited and the drag-and-drop function is laggy and rough around the edges.
Pricing
While GoDaddy doesn't come with a free plan, it does provide a free one-month trial with all features unlocked. After that, users have a choice between three plans starting at approx. $6/month billed annually. The basic plan includes almost every feature within GoDaddy's portfolio, except for SEO.
Although limited, this plan provides social media marketing tools, insights, and suggestions via the AI module, free SSL, and more. However, for approx. $16.50/month, GoDaddy customers can unlock the website builder's full potential.
9. Webflow
While Webflow is less used compare with the other entries in this list, it's popularity recently grew at an impressive rate. Webflow was launched in 2013, and trough the years has accumulated over one million users. Among Webflow's customers, we see companies like Zendesk, Eventbrite, Adobe, and many other market leaders.
Key Features
Advanced website builder;
Editing based on a CSS grid for faster page build;
Supports custom code;
Supports fully responsive design;
Over a hundred free and paid website templates;
3D media editing tool;
Support for eCommerce;
CMS integration for blogs, portfolios, etc.;
SEO tools;
Google Analytics, MailChimp, Google Optimizer, and Zapier integrations;
White-label integration – agencies can build websites for their clients and bill the via Webflow;
Community support for all users, email support for specific premium users.
Pros
Because Webfloe uses Amazon's Cloudfront CDN, all of their websites are scalable and fast. Moreover, some premium plans allow uses to export their code, breaking the closed-source stigma of website builders. Webflow also provides many customization and design options, such as interactive and animated elements and even 3D elements.
Moreover, Webflow's editor is one of the most empowering tools on the list. It may take a while until users get the hang of it. But once they do, they can literally customize every single detail within the editor.
Cons
While customization freedom is a huge plus, non-technical users might have a hard time using the tool. In fact, users would have to have a basic understanding of CSS and HTML before they could benefit from the full power of the Webflow editor.
Also, like Wix and Duda, once a user selects a template, they cannot change it anymore. And their templates still need designs, which users have to do from scratch which can be difficult and confusing for beginners. Finally, Webflow only offers email support, which is slow and ineffective.
Pricing
Webflow's plans start with the "Free forever" version, where customers can publish their website on webflow.io. This plan comes with two projects, full control over the design, and over one hundred hours of tutorial for beginner users.
The premium plans split into two categories. The first, Site plans, target individual types of sites, starting with basic for $12/month, CMS at $16/month, and upwards. All site plans come with automatic backups, SSL certificates, and SEO tools.
The second category, the Account Plan, targets more tech-savvy users, or those who want to learn how to use Webflow. The free plan is also included in this category. But, for $16/month users can upgrade to the next tier plan, Lite, which allows them to download their code and create up to 10 projects. However, white label solutions are only available for Pro account, which comes at $35/month. Nevertheless, all account plans come with custom fonts, more than a hundred themes, color swatches, reusable icons, and more.
Zyro is a website builder provided by the well-known hosting company, Hostinger. This up-and-coming tool was released a little over a year ago, in 2019. And ever since, it took the world of development by storm. In fact, Zyro brings many unique, modern features into play, making it a potentially strong competitor for the most established website builders available today. Will it someday replace Wix, Squarespace, or even WordPress? We will have to wait and see.
Key Features
Easy to use visual content editor;
Over 20 professional website themes;
AI writer – an artificial intelligence copy editing assistant;
Zyro logo maker;
Support for eCommerce;
Other AI tools such as Business name generator or Slogan generator;
Basic SEO tools;
Supports responsive design;
Integration with Unsplash for quick copyright-free media search;
Integration with Google Analytics, Google Tag Manager, Facebook Messenger, Facebook Pixel, Hotjar;
Knowledgebase, email, and online chat support.
Pros
Zyro comes with a simple grid-based visual editor, with drag-and-drop functionality making it an easy-to-use tool for beginner users. Also, Zyro offers a logo maker for quick branding, it allows a fully responsive design and includes basic SEO features.
But more importantly, Zyro brings several AI-based tools into play such as the AI Writer and the AI Heatmap. The first tool helps users create content while the latter shows them the hotspots on their website. Both tools aim at improving the user experience and the quality of the site, and of course, attract more traffic.
Cons
Zyro finds itself on the list of website builders where users are stuck with the template they chose when starting out. But even more problematic, Zyro doesn't have a blogging module. Also, since the tool is so new, there are only 20 design templates to choose from.
Pricing
Zyro's free plan comes with 500MB storage and 500GB bandwidth. Naturally, this comes with a free subdomain from Zyro, an SSL certificate, SEO basic tools, and the AI helpers.
The most affordable premium plan starts at a discounted price of $1.99/month. This plan removes the Xyro ads and allows users to connect their own domain. However, advanced features like Google Analytics or Facebook pixel only come with plans like Unleashed, which costs $3.49/month, of upwards.
Another reason Zyro could be a fierce competitor is the price for the eCommerce plan, which costs as little as $14.99/month. This plan comes with almost any feature one would think of, except for abandoned cart recovery and multilingual store. Compare with other website builders for which the eCommerce pack starts at more than $30/month, Zyro is really attractive. Not to mention that all plans come with a 30-day money-back guarantee.
WP Engine is a managed WordPress hosting provider launched in 2010. Ever since the company was created, it's sole purpose was to help customers grow their businesses in a secure, scalable digital fashion. Today, WP Engine caters over a hundred thousand websites in over 140 countries around the world.
Their website building solution, called The WordPress Digital Experience Platform comes with a full suite of over 30 open-sources tools. Aside from that, WP Engine also employs the services og Google Cloud, AWS, Cloudflare, Relic and Hubspot. Together, these amazing technologies compile the four pillars at WP Engine's core – Creative agility, Ecosystem integration, Enterprise Performance, and Actionable intelligence.
Key features
Easy to use WordPress visual content editor;
Genessis Framework
Over 35 StudioPress themes;
Supports Development, Staging and Production environments;
Automated SSL certificates;
Blog and eCommerce support;
Supports WordPress multisite for specific premium users;
Supports responsive design;
Fast migration solutions;
Cloud-based managed WordPress hosting;
Scalability and security via Google Cloud, AWS, Cloudflare, Relic
Knowledgebase, and 24/7 live and one-on-one customer support.
Pros
WP Engine is the perfect solution for small and medium businesses as well as large corporations. Their team of experts are there for their customers and provide help in every aspect, from building the website to growing the business online. All of their plans come with the Genessis Framework, which includes over 35 professional website templates. And since WP Engine uses the WordPress visual editor and provides a step-by-step guide on how to get started, creating a website should be no issue for users with a bit of experience, or developers.
Cons
Since WP Engine is primarily a managed WordPress hosting provider, they do not offer free plans or trials, and they do not provide free domains. Also, just like with WordPress, non-technical users will have a hard time setting up their website, even with the step-by-step guide. And, since WP Engine services are so complex, their prices, in general, are much higher than the regular website builders. Especially as most of WP services are focused on hosting, security, and performance optimization. Thus, for an extended plugin and theme options, as well as features like SEO and website analytics or user tracking come as add-ons, making WP Engine even more pricey.
Pricing
WP Engine's most affordable plan, the Starter plan, costs $25/month if paid annually and includes 10GB of storage and 50GB of bandwidth. This plan is perfect for small companies launching their first website. The Starter pack also provides 24/7 chat support and automated SSL certificates so customers can focus on growing their business, and leave the wellbeing of their new platform in the hands of professionals.
The next plan, called Growth, aims at rapidly growing companies managing more than one site. This pack provides 20GB in storage and 200GB of bandwidth. Because of these extra performance attributes, Growth accommodates 100.000 unique monthly visitors and supports up to 10 sites. On top of that, this plan also comes with 24/7 phone support for their customers as well as imported SSL certificates for those who want to migrate to WP Engine.
Finally, WP Engine's last two plans target scale-ups and large enterprises, with prices starting at $241.67/month. But, depending on each company's needs, they can also discuss a custom plan and pricing tailored specifically for them. Based on this, they also benefit from extra services included in the base price, such as Multisite support, Geo-targeting, or even one smart plugin manager license, simplifying their work even further.
Like WP Engine, Kinsta is an award-winning managed-hosting solution first and a WordPress website builder second. However, Kinsta also provides team management tools, allowing their customers to add collaborators and even clients to a project for faster communication.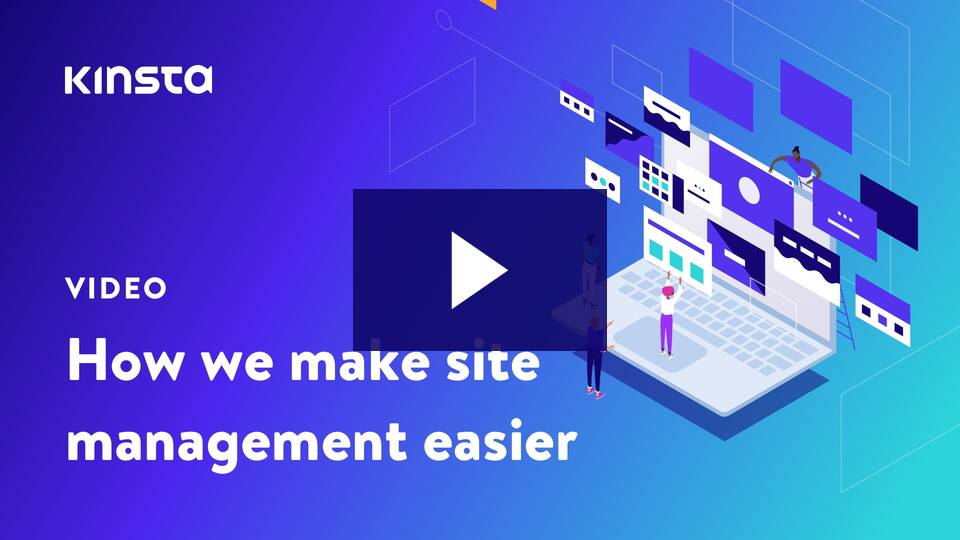 Like WP Engine, Kinsta focuses on medium and fast-growth companies and scale-ups. In other words, Kinsta is not suitable for small businesses with a limited budget or for personal websites. That said, Kinsta sets itself apart from other WordPress managed hosting providers through their incredibly vast knowledgebase, and proactive customer support. Kinsta provides scheduled demos, explanatory videos, articles, and 24/7 chat for their customers' every need.
Key features
Easy to use WordPress visual content editor;
Kinsta all-in-one management platform;
Speed oriented architecture using state-of-the-art technology;
High security through uptime monitoring, SSL support, DDoS detection, and hardware firewalls;
MyKinsta purpose-built site management platform;
Blog and eCommerce support;
Search and Replace tool;
Supports WordPress multisite, site plugins overview;
Supports responsive design;
Fast migration solutions;
Cloud-based managed WordPress hosting;
Scalability and security via Google Cloud and New Relic
Extensive knowledgebase, and 24/7 live and one-on-one customer support.
Pros
The MyKinsta dashboard is simple and intuitive, perfect for new and experienced users. It is easy-to-use and provides a complete overview of the user's account as well as statistics about the sites' traffic, data usage, and migration requests. The dashboard is also fully responsive, so users can easily access it from any device at all times. Their customer support consists of WordPress experts, ready to answer their customers' every question. Finally, Kinsta provides an extensive number of plans, making it perfect for every company's small or big requirements.
Cons
Since Kinsta focuses on businesses and agencies, it is not a solution for small companies with limited budgets or personal websites. Also, while they provide a large number of plans to choose from, this quality can quickly turn into a downside. For one, too many plans can become confusing for users, but also, there is a significant price difference between each, making Kinsta the most expensive solution we discussed today.
Pricing
On their website, Kinsta promotes ten different plans, not including a custom option that clients can discuss directly with Kinta's sales support. Their most affordable option costs $25/month paid annually or $30/month paid monthly, and supports one WordPress install. This means that the basic plan does not support the WordPress multisite feature. Also, this plan is not recommended for eCommerce websites either. Nevertheless, this plan comes with 14-days backup, self-healing technology, automatic database optimization, and more.
However, the plans can get as expensive as $1.250/month if paid annually, and depending on each plan, Kinsta supports up to 150 sites. Every plan's storage and bandwidth limitations vary, along with the support for monthly visits. There are also slight differences between the backup retention period, depending on each plan as well as the number of PHP workers. In short, Kinsta understands that each company is unique and has unique needs, so they have a plan for everyone and every need. And for undecided customers, Kinsta's support team is there to help.
Conclusion
From the hundreds of website builders available on the market, it's hard to decide which is best. All of these amazing tools have their advantages and disadvantages. While services like WordPress, and Webflow require a bit of technical knowledge, there are plenty like Wix and Zyro which are easy, intuitive, and user-friendly.
Also, each website builder comes with its own plans, some of them providing free options or at least a free trial. So, selecting a website builder also depends on your budget as well as your website needs. Nevertheless, we hope our list gives you a good overview of what are the strong and weak points of each website builder so you can choose the right one for your business.