Start a WordPress Blog with SiteGround & Make your First $1000 [2020 Guide]
Complete Guide 📚 for Beginners to ✅ Start a Money Making Blog on SiteGround Hosting.
This post has a complete tutorial of how to start a wordpress blog on Siteground with all steps that you need. SiteGround WordPress hosting is #1 host for the new bloggers due to budget and features.
Start a Blog with SiteGround easily and using the right guide.
This post is made for Blog beginners with all screenshots and blogging experience.
If you want to:
Start Blogging on WordPress form Begining?
or
Want to make money online?
or
Start a WordPress Blog on SiteGround?
Then you're on right page.
This Post will completely help you in Start your Blogging Career in the right way.
Below 10 Steps will completely help you to Start your Blogging Carrier.
This post helps you in:
Choose a Right Blogging Niche
Find and Select a Best SiteGround Plan
Pick a Correct Domain Name
Right Configuration of Hosting
Install WordPress on SiteGround
Suggest Useful WordPress Plugins
Free Best Blogging Tools
Writing your first  post
Get traffic on your new blog
Make your first $1000
[toc]
What is Blogging?
A Blog(Wiki) is your online diary where you can share your own experience and express your thoughts. The best part of blogging is you're getting a palace where you can share whatever you want.  😀
A Blog also teaches you about Digital Marketing, Social Media Marketing and so many technical terms that you use to grow your Blog.
And if you apply monetization and some other marketing tactics you can also earn real money via blogging. So here in this post, you will get a complete guide of how to start a WordPress blog with Siteground and make money from it.
Benefits of Start Blogging:
Blogging has a lot of advantages for biz or personally both. you can start a blog to make money online and as a side Income source. Blogging allows you to work freely and where you want. You can also travel the world and work from anywhere.
Some Advantages of blogging:
Keep writing your passion
Travel the World
Make Money from Blogging
Express biz services and offers
Promote your Business Online
Share your experience and thoughts
No Boss, No time only Freedom here
---
Why Choose SiteGround Hosting for Blogging?
You're also thinking why should I create my Blog on SiteGround(SG) or Why Should I choose Siteground hosting for my Blogging carrier?
I'm also using SiteGround WPhosting since Jan 18 and I'm happy with their services and support. my Blog is always online and you can always read my posts.  🙂
Siteground Hosting Benefits:
Budget Hosting for Beginners
Lots of WordPress Features
Superior Customer Support
Recommended by WordPress
Check All SiteGround Features Here
So these reasons attract me to SiteGround and I hope now you also like SiteGround.
SiteGround is also a leading hosting company now in Bulgaria, Australia, New Zealand, Pakistan, Vietnam, India and Also in the USA.
Did you know – SiteGround hosting is also recommended by WordPress.
Our choice for new blog hosting as SiteGround Managed WordPress is right due to ist support, never sleep sever and website security features.
Yes! here you get all essential features that a blogger need to reach blogging at a professional level.
After this discussion of blogging, and why to choose siteground now let's finally move towards our process of how to start a WordPress blog on Siteground.
Easy
With All Screenshots
Right Suggestion & Move
Enjoy it.
Best of Luck!
Start a WordPress Blog With SiteGround
Here 🎯 are 10 Comple step by step guide ✅ to Start a WordPress Blog on SiteGround Hosting.
1. Find a Blogging Niche
First, to start Blogging, we need a Niche or a Topic on which we will write. It specifies your Blog category and helps your audience to understand your Blog AIM.
If you already have a Blogging niche That's Superb.  😎
To Select a Blogging Niche you can choose your own experience or a new topic on which you also wanna do some research. You can also choose multiple Niche and cover all of them on your Blog.
Blog Niche Examples:
Travel or Food Blog
Finance orMake Money Blog
Fitness or Beauty Tips Blog
Fashion or Lifestyle Blog
Blogging for yourself
You can select a niche from Above niche or else write on a different topic that you love.
2. Select a SiteGround Hosting Plan
Here we're going to Start Blog with SiteGround Hosting so we will choose Its WordPress Hosting for our new Blog.
SiteGround WordPress hosting is optimized for WordPress and Earlier I've told you Its benefits.
Hosting is recommended by Hosting Industry Experts and It has got good reviews from all its users. This web hosting mostly know for its speed and quality support.
So starting a Blog with Siteground WP Hosting is a Great Idea.  😎
SiteGround is the best Budget Hosting for WordPress Blog or Sites, It is a medium Budget Hosting with Super cool features that make your Blogging more worthy. With each hosting plan, you get best and unique features that make your WordPress Blogging with Siteground super cool.
So finally Its time to Choose a SiteGround Hosting Plan.
Here below there are 3 SiteGround Hosting Plans:
SiteGround Provides 3 Kinds of Hosting Plans and they are:
StartUp Plan (Start from $3.95/mo)
GrowBig Plan (Start from $5.95/mo)
GoGeek Plan (Start from $11.95/mo)
SiteGround Plans start from $3.95/mo where you can host 1 WordPress Blog or It can handle up to 10000 monthly visits. Or the SiteGround Bigger Plans Start from $5.95/mo and $11.95/mo.
But which plan is best for you? 🙄 
2.1 SiteGround StartUp Plan
It is starting a plan of Siteground WordPress hosting, StartUp Plan cost $3.95/month and here you get 10 GB Space, up to 10,000 monthly visits and but here you can only Install 1 WordPress Site/Blog.
It is the best Plan to Make a Blog on WordPress in low Budget and also good for Blog Beginners.
StartUp Plan Best For
Blog Beginners
Wants to Host 1 WordPress Blog or Site
2.2 SiteGround GrowBig Plan
This is SiteGround's mid-range plan where you get 20 GB Disk space, 25000 monthly visits and the best part of this pan here you can host your multiple websites or Blog. Mean I you're a Blogger or a Web Developer or running an Agency you can ost your own or client's WordPress and PHP both Sites on SiteGround.
GrowBig Plan Best For
If your Blog will get High Traffic
Wants to Host multiple Blog/Sites
Web Developers
2.3 SiteGround GoGeek Plan
This is SiteGround highest Hosting plan where you get 30GB web Space and a Huge number 100,000 of monthly visits. Here you can also host your multiple websites or blogs.
The best part of this Plan is here you also get Geeky WordPress Features like WordPress Staging, Pre Installed Git and Free Backups anytime whenever you need. However, it has a cost of $11.95/mo but it is worthy if you're a Developers and making big WordPress sites.
GoGeek Plan Best For:
Create a Huge Traffic Blogs
Need more Space and Features
Best for WordPress Developers
Perfect for StartUp and eCommerce
| | | | |
| --- | --- | --- | --- |
| SiteGround WP Plans | StartUp Plan | GrowBig Plan | GoGeek Plan |
| No. Of Websites | 1 | Unlimited | Unlimited |
| Web Space | 10GB | 20GB | 30GB |
| SSL and CDN | Yes | Yes | Yes |
| Monthly Visits | 10,000 | 25,000 | 100,000 |
| SuperCacher | ____ | Yes | Yes |
| Staging | ____ | Yes | Yes |
| Site Migration | ____ | Yes | Yes |
| Git Integration | ____ | ____ | Yes |
| Price | $3.95/mo | $5.95/mo | $11.95/mo |
|   | GET STARTUP | GET GROWBIG | GET GOGEEK |
3. Choose a Domain name
you know that Domain Name(Wiki) is the name of your site. you have to choose a domain name where your viewers can land and see your blog content.
To Start a WordPress Blog with SiteGround we need a Domain name that will be a digital address of our Blog and you can also make It to the title of your blog.
Now on Siteground, there are 2 situations.
you've already bought a domain name
Register a new domain name with Siteground
3.1 If you already have a Domain name
If you've already registered it from any domain registrar company.
don't worry.
Later, You just need to change the DNS(Domain name server) of the domain.
3.2 Register a New Domain Name
Still, if you're looking for a domain name just register a new domain name from SiteGround. It will cost you the same as a regular price.
One advantage of buying a domain name from Siteground is that you don't need to worry about DNS and Domain name loading time and also renew tension at different palaces.
Enter a name and check its availability, If it is available then you shouldn't waste time.
If you got your domain name keep continue on the second step.
Now we have chosen our Hosting Plan and Domain Name, We just need to enter some of our Personal Details and payment info to use SiteGround Services.
Register New Domain on SiteGround
4. Configure your SiteGround Account Info
To Start a Blog on SiteGround Hosting we have to enter some Personal Infor and Create a SiteGround Account Login credentials.
Because, Here we are using SiteGround WordPress Hosting and Registering a new domain name from SiteGround os we have to enter our Personal, Payment Information and Last we configure our Hosting Package.
4.1 Account Information
Now you've got your domain name, Its time to next step.
To start a blog with SiteGround hosting we need to enter some of our details.
Enter below two detail:
It will be your Siteground hosting cPanel login details
 4.2 Personal Information
After Siteground account information you've to enter your personal information like:
Name
Address
Mobile Number
Country
Etc…
Siteground need these details because you're registering new domain name also, so enter your correct details and fill up the form.
4.3 Payment Information
Of course, you've to pay for Siteground services.
Completely scroll down till below to see the total amount that you've to pay.
Siteground Hosting accepts three types of cards:
American Express
Master Card
Visa
Enter your card details right and move to the next step.
4.4 Configure SiteGround Hosting Plan
To Start a blog on SiteGround we have to choose Hosting options.
4.4.1 Hosting Plan:
Confirm your SiteGround Hosting plan, I've already recommended StartUp plan for your new blog.
4.4.2 Server Region:
Siteground has 4 main servers worldwide, select one that is nearest to your target audience.
4.4.3 Hosting Period:
Select a hosting period.
For how long you wanna host your host on SiteGround, Siteground hosting provides up to three-year hosting service at once.
12 months
24 months
36 months
Select a period of time, Well don't think about this too much.
For a long period, Siteground is not providing any benefits, Simply choose 12 months.
4.4.4 Domain Registration:
If you've not bought a domain name and registering a new domain name from SiteGround then you have to pay this new domain name amount.
On the SiteGround, it is for $15.
Yeah it is high so I'd like to suggest you but this domain name from another domain registrar where you"ll get this domain is a low range.
But I've already told you some of the benefits of buying a domain name from Siteground.
4.4.5 Domain Privacy:
Because we're buying the domain name from SiteGround so SiteGround offer us to protect our personal information like name, address, phone and etc.. that we've entered in personal(Client) Information section.
>> If you wanna protect your personal information you may select this extra SiteGround service.
4.4.6 SG Site Scanner:
Well, SiteGround is already a secure hosting palace. So you don't need to buy this service. there is no need to pay again $20/year more on this purchasing.
I'm also running unaffected and well my site without this scanner
So don't think too much about this scanner and just go with simple SiteGround security.
It is enough for your blog.
4.5 Check and Pay Successful
The Last one step on SiteGround to get a Hosting Plan, after this you can able to Login on SiteGround Hosting Dashboard and Create your WordPress Blog with SiteGround.
Check carefully the Total Amount that you will pay to SiteGround after this Check both Checkbox for using SiteGround services and do agree their terms.
Now Its time to Pay for your Hosting Plan, Complete your Payment Successfully.
> Welcome to the world of Blogging <
5. Create Blog and Install WordPress
After your payment, you can enter the dashboard of the SiteGround Hosting. From its Dashboard, you can manage your cPanel, Support and SiteGround Affiliate programme.
To Start a Blog with SiteGround take a look At the Home section on the right side, you will see a rocket man with a 2 min set up button. this rocket man will build helps you to start a WordPress blog on SiteGround.
After clicking on this button you will enter into the setup wizard.
Here you've to select an option:
Start a New Website
Transfer old Website(It is FREE)
Say Thanks Them
Well to start a new WordPress blog, select start a new website on yourdomain.com
Select your type of website is it a blog or anything.
Then Install a CMS(Custom Management System), for blogging we install WordPress on SiteGround.
Because WordPress has got so many features for bloggers and It is easy to use. WordPress is using by more than 80% Bloggers in worldwide. Sowe will also start our Blog on Siteground WordPress Platform.
Now you've to enter some login details that will be your future WordPress dashboard login credentials.
So Enter your:
Keep remember these login details and also keep the secrets
Congratulation, you've completed your setup.
This was the last step to start a WordPress blog on SiteGround.
---
Visit on WordPress Dashboard
Again welcome to the world of blogging.
Now you've completed your setup wizard and its time to write your first post on your new post.
For this –
My Accounts >> Go to Admin Panel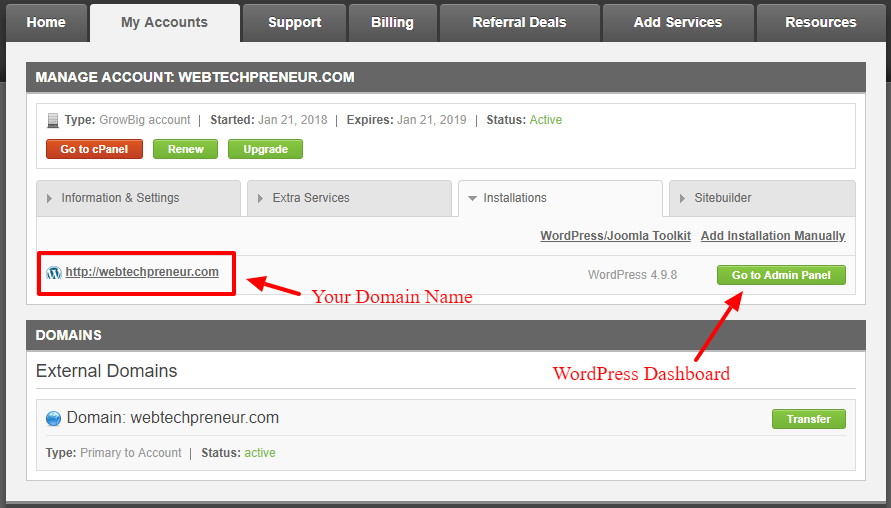 When you click on Go to Admin Panel.
It will redirect you WordPress site dashboard.
But first, let me introduce you the WordPress dashboard.
WordPress dashboard is a digital dashboard from where you can control your whole WordPress blog. to change anything or to add something new on your new site you need to visit on this WordPress dashboard.
6. Write your First Post and Create Pages
On the left side of this dashboard, you will see all the options and features of WordPress.
To write a new post or create a new page take a look on the left side.
Click/Hover on a new post to write a new post and same as for creating a new page.
Every time when you write a new post you've to do this same easy process.
To Write your First Complete Post here below are some process:
Write a Catchy Title
Edit your Slug/URL
Write your Content
Add Some Media(Images)
Add Category and Tags
Upload Featured Image
Hit on Publish Button
Congratulations, you've written your first post.
Creating new pages click on New Page and follow the above steps that we used to create a post.
7. Recommended WordPress Plugins
WordPress plugins give you extra features in a wp site. It is a kind of Tool you can Install and Use WordPress Plugins Free. To Create a Money Making Blog so need some powerful Plugins.
On WordPress for Different work, there are different plugins, you can choose a plugin based on your need.
I've shared some of the best WordPress plugins that will help you in blogging.
Well I've written so many articles on Plugins but right now in beginning of Blogging, here are my 2 best article for you that is enough and perfect for you.
8. Recommended Blogging Tools
Tools make our life easy same as in blogging tools make our blogging easy and more worthy.
There are lots of Tools in blogging, but in the beginning, you don't need so many tools while you're starting a blog. So here I've listed only best and FREE version tools that will help you in Blogging
These tools help you to write a better post, find keywords, build an email list and so on.
9. Get Traffic on your New Blog
After Writing a few posts on your new Blog, Its time to drive Traffic on your Blog so we can build our Audience and make money from our new Blog.
but how?  🙄
However there are lots of ways to drive traffic on the new way but we should mostly focus on 2 big traffic sources, That drive huge and potential traffic to Blog.
To understand it better I've explained 2 sources that really worthy to drive traffic.
9.1 Get Traffic from SERP
SERP[Wordstream] is Search Engine Result Page mean when a user searches a query on Google, Google will show the search results around the query keyword. This Search Result Page called SERP.
To Rank your Post on the 1st page of Google you've to work on both On-Page and Off-Page SEO. There are so many Ranking Factors behind ranking an article but if you only write SEO optimized Articles still you can rank your Post on 1st Page of SERP.
Probable SEO is a Long Term Process but Its Results are also High and Long.
SEO Takes time to understand and giving you the result but always try to provide valuable content and then build links of your Blog.
9.3 Get Traffic from Social Media
While more than 3 Billion people using Social Media at this time we can drive good traffic from Social Media and promote our new Blog on Social Media Platforms.
It is a fast and quick way to drive traffic on new Blog for this we can use Multiple Social Media Platforms Like Facebook, Pinterest, Tumbler and Twitter.
But I mostly recommended Pinterest and Facebook to drive Traffic on Blog
For Pinterest Create a new Pinterest Account and join some group boards, Create elegant Pins and save them on Group boards. Pinterest sharing give more visits than any other social media and from here you also get connected with new Bloggers.
Complete Guide to use Pinterest for Blogging:
You can also join my Group Board:
For Facebook just join multiple Facebook groups relevant to your Blogging niche, start sharing your latest or old posts on these Groups. Keep doing continue this 3-4 times in a day and use always peek time when most users use Facebook.
To Drive more Facebook Traffic Share Posts on Right Peek time.
You can Also Join my Facebook Group:
I hope now you've got an Idea about Blog Traffic and Social Media.
10. Make your First $1000 from Blogging
Yes, It is not easy to make your first $1000 at the beginning of Blogging.
But earlier I told you It is How to Start WordPress Blog and make money from Blogging process.  😀
If you Work Smart from Beginning and know how you can make money from Blogging It won't so much hard to make money from Blogging.
Here Below I'm adding some of my favourite ways to make money from Blogging.
10.1 Affiliate Marketing
Affiliate marketing is the best way to earn money from blogging fast and in an easy way. It is the popular way that using by every blogger and bloggers are making 6-figure income from Affiliate Marketing.
Affiliate marketing is free to join and you can easily promote other's products or services. Even you can also join the SiteGround Affiliate program and suggest SiteGround hosting to your readers and in return, you will get $50 commission. 🙂
Join multiple Affiliate platform and take the right products from there that are relevant to your Blog.
If your Blog is about Travelling get affiliates of Flight booking websites, Hotels booking sites and tour packages. So you can easily share these services with your audience and when your Audience buy service from your Affiliate link you wigg get some commissions.
Here are some best Affiliate platforms to join:
 ➡ SignUp now on ShareASale affiliate network and Get $30 Joining Bonus now! 💡
Sign up on ShareASale | Get $30
10.2 Pay Per Click Ads
Pay Per Clicks Ads are those Ads which shows on your Blog according to user interest and browsing history and when user click on those Ads you get some credits. The credit Amount depends on the Keywords that you're using in your Blog Post.
Pay Per Click is the first way to monetize your Blog but for this, you need a huge audience because more click drives more money so If your Blog is getting huge visitors Add some CPC Ads to your Blog to convert your Blog Traffic into Real Money.
Best CPC Programs to join:
10.3 Start giving Services
Now you're a Blogger and you've experienced about SEO, WordPress Setup, writing and Graphic Design. You can provide paid help to newbies in Blogging or else that you know.
Create a Page of "Hire Me" or "Services " to show your visitors that you also provide some online services, Add your services theirs like Graphic design, Content writing, SEO or else that you want to provide your users and in which you've got a great experience.
10.4 Get Sponsorship
If you have enough audience and good Blog reputation you have big chance to get sponsorship.
To show others that you accept Sponsorship, Create a Page of Advertise and Add your Sponsorship rules or terms. You can also add a Contact Form Inside Advertise Page so people can easily contact you.
The best part of sponsorship here you get content by others you just need to Add their content on your Blog. Sponsorships can be in form of Banner, Review Articles and Suggestion Tool.
10.5 Sell your own Products
Melyss Griffin and Smart Passive Income are making 7 figures per month from Blogging
But How??  🙄
Because they have their unique Products.
Selling your own products or services are the best way to make huge revenue from blogging, But for this first, you need to get master in your content that you're making for selling to your audience.
You can create products like:
Blogging Growth Course
Pintere Designs
Money Making Couser
Social Media Graphics/Growth
How to Start a Blog on Siteground – Summary
Early I told you, it is a complete process for a Blog beginner of how to start a blog with Siteground and make money from Blogging. So I tried to share my best and every possible valuable guide so you can easily start your blogging carrier.
I hope after this post you'd like to start a blog with SiteGround and from Beginning, you start getting traffic and money both from Blogging. Even If you're looking for its SiteGround cheap 70% Off deal you can also visit on Siteground Coupon Code 2020 page.
Don't wait for the perfect it will never come so that do you wanna do. give a try to yourself and start your own WordPress blog and make real money. Not only money you will also get a lot of technical knowledge while you blog. Because in blogging there is a lot of opportunities are hiding.
Start your Money Making Blog in 2020 and make your Dreams Online. 🙂
A streak of Luck for your Blog
Divesh Diggiwal