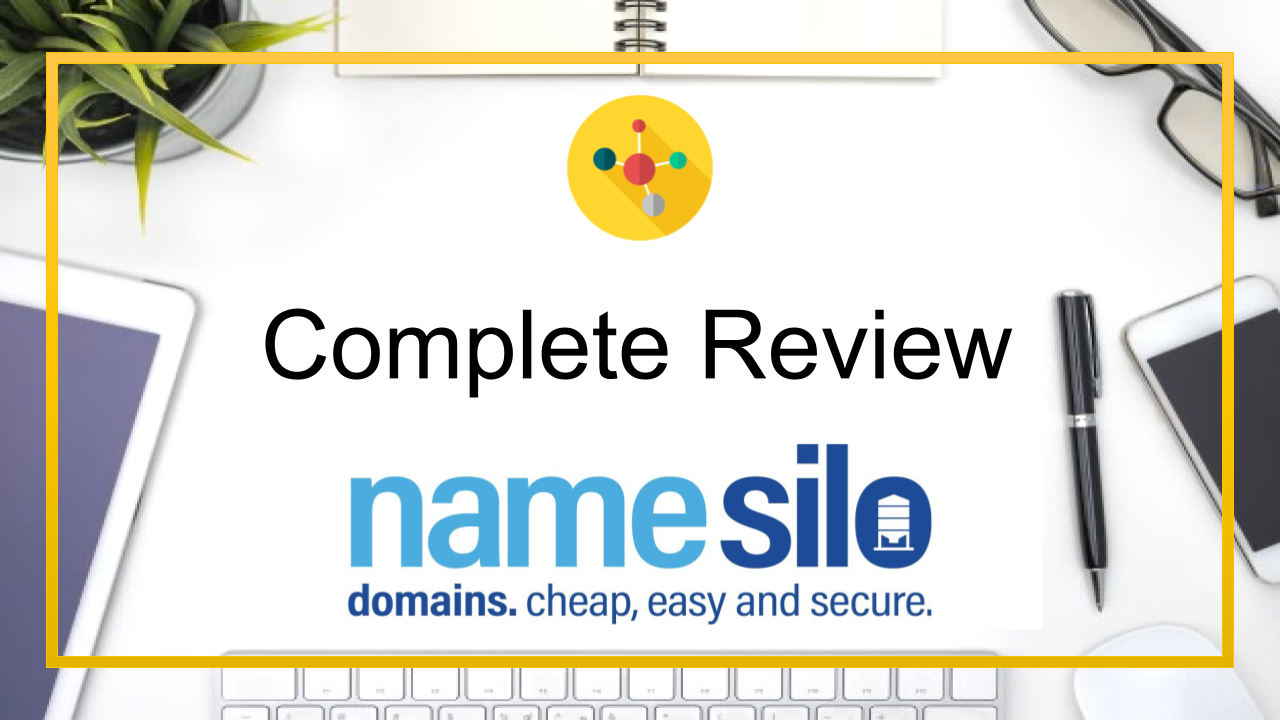 NameSilo – A Complete Review
Where to find cheap, secure and easy domains and hosting...at NameSilo!
NameSilo
Features

Uptime

Page Speed

Ease of Use

Customer Support

Value for Money
Cheap and Easy Domains and Hosting from NameSilo with 400+ TLDs for You!
Welcome to our NameSilo review 2021. However, first things first. Ever purchased a domain name(s) and web hosting services based on an amazing commercial on TV or an advertisement from a shiny and glossy covered magazine? Later, you realize that it was a sales gimmick.
That the domain company support sucks, their website a nightmare to navigate, and documentation is sketchy at best? Worse still, their tools are not user-friendly, and now you might have to look for the next viable option?
It's time to try out NameSilo as your cheap and reliable domain registrar. You will find NameSilo a wave of fresh breath. Read on through the NameSilo review 2021, we have a special 75 percent off coupon for our dear readers who want to give NameSilo a try.
We look at who is NameSilo. Who should use NameSilo and what is a domain name registrar? What are the services that NameSilo offers apart from being a domain registrar? How NameSilo fares against key benchmarks that one can use to determine if a domain registrar is worth their salt or not. The NameSilo review 2021 would not be complete without the advantages and disadvantages of NameSilo as a domain registrar. We then conclude the article.
What is NameSilo?
NameSilo is a domain name registrar established in 2009 and today has over 3 million active domains. It started by providing only domain registration. However, due to customers' calls, NameSilo is now almost a one-stop-shop with services like hosting and others that we will discuss below shortly. NameSilo's tagline is 'Domains. Cheap, easy, and Secure.'  
What does NameSilo do? The goal of NameSilo is to offer affordable domains. Also, make it easy for both individuals and businesses to easily manage the process of registering and managing acquired domains and hosting in the long-run.
NameSilo also offers TLDs in many variants, so the users choose and maintain uniqueness and curve their niche and presence online today.
NameSilo Promo Code
NameSilo Promo Code, 75% Off Discount & Coupon Code
What is a Domain Name Registrar?
So far we have described NameSilo as a domain name registrar. Who is a domain name registrar?
A domain name registrar enables one to purchase a domain name from which to host your website online. The domain name becomes your unique address online with an assigned IP address from which customers or unique visitors can locate your website.
Domain name registrars that are bonafide are recognized and registered with ICANN (Internet Corporation for Assigned Names and Numbers) or TLD (country code top-level domain like .us,.dk,.uk). Domain names are also sold in many TLDs like the most popular universal ones being .net, .com,.org, .edu, etc.
A domain name is what you choose to represent your service or product online or URL to your website. The domain name registrar enables you to register the domain name such as yourservices.com.
We must add that NameSilo is ICANN accredited. Accreditation is important because it ensures specific regulations are followed and with the consumers' interest at heart. Thus as a user, you can receive reliable service.
Who Should Use NameSilo?
1. Require easy and accessible domain account management
 NameSilo has easy navigation, a well-documented knowledge base, and different subdomains dedicated to their core services.
2. Need generous customer Support
NameSilo scores bug on support to its customers. They have a chat response time of under 5 min as well.
3. Care about the security of your domains and hosting
NameSilo offers reliable protection for its customers. They have the SSL certificates and WHOIS Privacy as an offer when you register a domain name with them. WHOIS Privacy is free.
4. Are on a budget and need low prices or bulk discounts
NameSilo prides itself in offering cheap domains. According to NameSilo, despite the low prices compared to other domain sellers, their services are 'world-class'. They also have free add-ons.
What Services Does NameSilo Offer?
1. Domains
One can buy new domain names. On the NameSilo homepage in the top menu, one can click on Domains. One is presented with a drop-down menu. In the drop-down menu, one can see everything to do with domains: Domain name search, transfer a domain, Market place, Pricing, WHOIS, and promotions.
2. Hosting
NameSilo boasts of cheap hosting as well. They have fast servers with enterprise-level security and world-class support. Also, each hosting plan is has a free website builder, email, and WordPress Installation that is easy. Has three plans that are billed either monthly or yearly. The three plans are the starter plan at $2.99 per month, premium at 4.99 per month, and Turbo at $8.99.
3. Email
Look professional with an email that incorporates your business name, identity, or brand if you like. They also offer Gsuite email and free email forwarding. Free email is included in each hosting plan.
Some of the notable features that come with the email from NameSilo are; Integrated Calendar and Contacts, Advanced anti-spam, Native desktop, and mobile apps, Inbuilt video calling, Delightful UI, 99.9% guaranteed uptime, Vacation responder, and  Advanced search and Filter rules.
4. Security
Security should be one of the first things to think about when scouting where to buy a domain name. Sadly, many discover a security loophole when they have already purchased a domain name or hosting. Purchasing a domain name or hosting with a less secure domain registrar can be a nightmare. You can always check if the domain registrar has SSL ( Secure Sockets Layer) certificates. Are the SSL certificates free or not? What about your privacy? Are there options to hide your credentials as pertains to your domain names if you don't want your address and other contact floating online?
An SSL is a technology to ensure encryption of information between a user's browser and the web hosting provider's web server. The use of SSL and encryption ensures that the information/data is private from prying eyes such as hackers.
In short, the SSL certificate helps create trust from your users in the validity of the domain name. Besides, with an SSL certificate one's website,  if it accepts credit card and email information is shielded from identity theft or fraud from cybercriminals.
NameSilo cares about your security and offers both SSL certificates and WHOIS Privacy for reliable protection.
 According to NameSilo, one needs to get an SSL certificate to create credibility with those that visit your site. Second, NameSilo gives SSL certificates to help keep users' data private and help improve website Google rankings. Also, SSL certificates will help one satisfy DSS/PCI requirements.
NameSilo also offers 2-factor authentification and Domain Defender free of charge.
5. SSL Certificate (And How to Get it on NameSilo)
On the SSL of your choice, click the get started button. Purchase the SSL. Go to the manager page, under SSL; you will find a credit added.
5.1 Activate an SSL Certificate on NameSilo
To activate an SSL certificate, click on the Get Started button on the SSL of your choice. After you've purchased the SSL, a credit for it will be added to your admin under the SSL manager page.
To assign the credit to the SSL certificate that you want, click the 'Get Certificate button'. In the SSL manager, click the activate button beside the domain chosen. Last, fill details requested, and you will receive validation in the email associated with your domain. It takes about 15.30 minutes for the SSL certificate to be activated.
NameSilo offers the following as part of the SSL Certificate package: Protect Sensitive Information, high SEO Ranking, Brand Celebrity Trusted, protection From Cyber-crime,    World's Best Encryption, and the Little lock.
5.2 WHOIS Privacy
NameSilo offers free WHOIS privacy, unlike other domain name providers who provide WHOIS privacy for a limited time.
WHOIS is a database containing the addresses of all domain names registered. It is a mandatory requirement from ICANN to make the addresses public. As such spammers, hackers and other cybercriminals have targeted the WHOIS register for their next culprits. To protect your address,  WHOIS Privacy comes in handy; for your identity protection.
NameSilo partners with PrivacyGuardian.org to give its customers WHOIS Privacy and meeting ICANN regulations.
On the downside, it is worthy to note that if you have or intend to purchase a domain name that ends with .tickets, .us, or .in WHOIS Privacy not permitted. Besides, with a domain name that ends in .ca, one cannot use privacy; however, individuals can have their WHOIS  details hidden.
6. Other Services
Other additional features that come with hosting at NameSilo are listed on their website as;
6.1 API
For those who are technologically savvy, and those purchasing domain names in bulk, NameSilo offers their free domain API. The domain API comes with a guide on how to use it. Besides, there is a sandbox in case one needs an environment to test the API operations. Before you hop to use the domain API, it is good to note that some updates can be made to your domains' settings, without these being reflected on NameSilo's web interface.
6.2 Reseller Program
One can get disk space from where to host third party websites and sell domains from NameSilo.The NameSilo reseller program package is tempting. Here's what they offer; bulk discounting, the lowest prices, a free API, and add-ons. NameSilo does not charge for add-ons such as domain parking, WHOIS Privacy, email forwarding, etc.
The more a reseller adds more domains, the more one gets even lower prices! NameSilo has ensured that with free add-ons and the low-prices, resellers can be able to get profit from selling domain names.
What to Consider When Choosing a Domain Registrar
Even though all domain registrars sell domains, that's where all the similarity probably ends. You will find that most of the domain registrars don't offer all the domain name extensions.
Domain name registrars also offer other services such as web hosting, add-ons to the domain names, reselling, and so forth.
How NameSilo Fares: The Review
1. Registration Period
The domain registration period is usually a minimum of one year or two or up to 10 years maximum. To avoid being disappointed if your domain expires, you may turn on auto-renewal or top up your account. NameSilo is no exception.
2. Add-on Services
Most of us want value for money or a one-stop-shop for all our needs either in the present or future. NameSilo offers add-on services that include but are not limited to; domain extended expiration protection, email hosting, email marketing, domain parking, website builders, WordPress hosting, etc.
3. Pricing
NameSilo offers relatively low prices compared to other domain name registrars. It is good to compare prices among domain registrars. Before you jump for lower prices, check the renewal price. That's probably where the catch is. In most cases, the renewal prices are usually higher on renewal; you want to check how much the price is raised. The fees should be reasonable and reflect the value you receive from the domain registrar. NameSilo has one of the lowest renewal prices.
How much does it cost to renew or transfer your domain name to another domain registrar?
4. Domain Transfers
NameSilo offers free one-year renewal when you transfer your domain with them. It is advisable to review the domain transfer policy for each domain registrar before you choose which one. While domain transfer should be easy and free, some providers may decide to charge you.
It is also important to note that one cannot transfer a domain name to another domain registrar in the first 60 days of registering it as per ICANN requirements.
5. Domain Expiration Policies
Check for the domain expiration policies of each domain registrar you are considering before making a purchase. Unrenewed domains expire. The domain name registrar can put the expired domain name on auction/sell, or those interested can register it.
As it has to some, a horrible thing to happen to you is to wake up one day and realize someone has taken over your domain name. How? Imagine you forgot to renew your domain name after a one-year duration? Or that you did set an auto-renewal however your credit card did expire, and you forgot to update the details of your new credit card?
Luckily, some domain name registrars have a grace period. During that period they will notify you that your domain name has expired to renew it. NameSilo is no exception.
6. Bad User Experience
Things like design and accessibility, aesthetics, and navigation of a website are essential. One needs to do their research before choosing a domain registrar to avoid a bad user experience. Think of not managing your domain name or hosting web account because some buttons are hidden, or navigation is poor. Worse still, when the button for closing the account is nowhere to be found or no options for it. That you can not transfer your domain to a new registrar if you are dissatisfied with your services in the future.
NameSilo boasts a revamped website as of 2020 with straightforward navigation and less clutter than before and a pleasant user experience.
7. Hidden Fees
Watch out for hidden fees when it comes to domain registration renewals. Since the first time, one purchase a domain, some providers make it cheap, but the catch comes in revivals when they double the price. Also one can incur extra charges when transferring a domain name. Again, some hidden fees could come in the case of email services or domain forwarding.NameSilo has a transparent pricing policy with no hidden fees.
8. Add-on Pricing
Add-on pricing is different from the pricing of a domain name or web hosting. During the checkout phase, many add-ons are checked and tied to one's immediate purchase. The domain name registrar NameSilo is no exception, usually adds these add-ons, but one has to verify and uncheck those they do not need.
9. Support
One needs to be assured that one will respond in a reasonable time in case of a situation. Also, check to see how many channels of communicating with customer support are available. NameSilo guarantees a response in under five minutes. They also have email details and a chat facility on their homepage as a way to communicate with customers.NameSilo also has a great knowledge base with the documentation for their customers.
Advantages and Disadvantages of NameSilo
It is good to note that choosing a domain name registrar and website hosting provider depends on your requirements. It also includes how much you want to pay, whether you tech-savvy or not, and your goals.
Advantages of NameSilo
Prices are cheap compared to other domain name registrars
Free WHOIS Privacy without time limitation
Specializes in domain name registration services
 For those who are technology savvy, relatively easy to follow account management and onboarding
Extensive documentation
Availability of Support
Relatively transparent pricing-no hidden fees
No annoying upsells creeping up even though they have other services other than domain name registration
Reliable domain services
Discount Program particularly for bulk domain registration
Free domain API available for resellers
A varied menu of TLDs to pick from(currently 2021, more than 400 + TLDs)
Cheap on domain registration renewals when compared with competitors in the market
Disadvantages of NameSilo
Limited plans
Does not specialize in hosting
Discounts mostly on bulk purchases
Domain transfer not free but have a free one-year renewal included in the domain transfer fee
SSL Certificate not free
The platform not intuitive as such may be challenging in the case of account management and onboarding for beginners
Conclusion
NameSilo is excellent for those on budget, doing bulk domain registration and renewals, or need discount hosting services. NameSilo also offers website hosting. For a small website and do not need many resources, NameSilo is right for you. One can do a web analysis to find the essential resources to improve website performance and speed insights.
NameSilo's plan may be limited if one looks for extra features and bonuses if one needs web hosting that offers various resources.
Remember if you need a place where you do not need any upsells, then NameSilo is for you. Also, NameSilo offers free customizable parking options, WHOIS Privacy,  API access, and DNS management.
To our dear readers, from Webtechpreneur.com, here is a NameSilo Promo Code, 75% Off Discount & Coupon Code ACNAMESILO to your success!
Here's Something More To Discover: