12 Innovative Graphic Design Tools for your Blog & Social Media*Pinterest
Design Graphic for you Blog & Social accounts.
 Graphic design tools are the need of every blogger, social marketer and biz to share their blog or services in form of visual content. Social media graphic drives traffic to the site and to convert your visitors into customers you definitely need to design blog graphics.
Without graphics, the world is so bored and that same thing happens with your blog or website. 😮
If I am not wrong. 🙄 
Most of the audience first look at images or attachments than writing content on a site.
If you agree with me that means you know the power of graphic over a website. 💡
---
If you haven't started your Blog. 🙄 
You can start it today with Super fast and secure ➡  Godaddy Hosting at just $1/month.
---
Every blogger who uses social network mostly Pinterest knows the importance of graphic designing and well know how it drives traffic. Blogger need these tools to make featured images, infographics and banners. It is a source of your creativity.
Like blogger who uses the internet to get an audience, social marketers also need graphics designing tools to create Ads and social content more dazzling and pretty that can get the attraction of viewers and also clicks.
Does blogger really need Graphic Design Tools?
I am also a blogger and when I start blogging, I ask myself divesh do you really need a graphic design tool?
But after writing some post and when I go to share them on social media, I understand the importance of graphics. because without an attractive featured image I neither get the attention of viewers and not clicks.
Graphic not only helps you to drive traffic from social media even it shows your creativity and visualization.
A blogger, social marketer and biz owner really need graphic design tools to share their blog post, dazzling ads, services and your creativity.
Benefits of Creating Social Media Graphics
There are lots of reason that moves you on a graphic design tool. Some of the points here I shared that show some benefits of social media graphics.
Keep engaging with your audience
Drive traffic from social media platforms
Share your creativity with the world
To make your profile more stunning
Benefits of Creating Infographics
Share your data-drive stories
Drive traffic with visuals contents
Grab your viewer's attention
Increase brand awareness
12 Online Graphic Design Tools
Here's some of best tool that I found of search. Some of them are free, some freemium and some premium. Well, whether kind they are don't mind. you need stunning images to grow your blog, biz and your success. 😀
1. Canva – Collaborate & Design Graphics
Canva is always on top of every graphic designer tool list. Canva is a freemium platform to create social media graphics, document templates and other design that is essential to boost a biz or a blog. On Canva you can design a logo, blog banner, social media covers and Ad banners for your blog.
Canva has a wide range of designs and pre-made templates to create designs for your biz. To create any graphics there are pre-made templates, you just need to configure them for your purposes.
What you can Design on Canva:
Social media post
marketing materials
social media & email headers
Events and Ads graphics
blogging & ebooks graphics
I prefer Canva and personally use to design graphics for my blog, you can find them some time in the right sidebar of the site.
2. Crello – Graphic Design Software
Crello is a mirror tool of Canva, like Canva there are also huge of templates that are ready to use in just a need of editing. Crello also provides you with all kind of graphic designs that is need of every blogger or a biz. It helps you to grow your social media engagement with your audience and make you more creative.
Crello is free to design tool with thousands of free templates and there are 35 formats available to create social media graphics or designs for your blog.
Here's you can also set a dimension for a new graphic design but in this case, you need a premium background image which rate is $0.99 but there is an alternate option available, you can upload an image from your pc. 😎
What you can design on Crello:
Animated &Instagram Post(Most Lovable)
Social media post
Blogging graphics
Social media covers & headers
Marketing materials
Advertising graphics
I like animated & Instagram post most on Crello they are really a creative thing on Crello, give a try to them and me sure you defiantly like them.
3. PicMonkey – Editor & Graphic Design Maker
PicMonkey is not just a tool to create graphic designs, even here you can edit images, touch up them and make a collage of your images. With a lot of possibilities, Picmonkey also gives you designs to create social media images and blog graphics.
To make easy to use, Picmonekey provides templates with a filter of category and print size. You can pick one category for which you want to design graphics it will show you templates which are ready to use and then select an attractive template to edit.
What you can Design on PicMonkey
Social media graphics
Invitation & announcement
card and postcards
Edit images
Touch up images
PicMoneky is a premium tool, but it also has 7 days free trial option to test this tool for your biz. if you like their services and graphics you can future upgrade your account. To get 7day Picmonkey trial you don't need any kind of payment method.
I have tried there this trial and honestly, PicMonkey is a great tool to design a graphic, you must try at once.
4. Snappa – Quick & Easy Graphic Design
Snappa is an online graphics tool that gives you pre-made right size templates and also a large collection of stock photo and vector & shape graphic to make the image more stunning. For sharing on multiple social platforms with different size there is also realize option available to share same design on different platforms in different right size.
One great feature of Snappa, you can also integrate Buffer with Snappa that allow you to schedule your new designs for social media accounts. 😆
What you can design on Snappa:
Social media graphics & Infographics
Blogging graphics
Ads banners
Email marketing designs
Snappa Price Plans:
 Starter
Free
1 user
570,000+ HD Photos & graphics
5 downloads per month
Limited templates
2 social accounts
Pro
$10/month
1 user
570,000+ HD photos & graphics
Unlimited downloads
unlimited templates
Unlimited social accounts
Buffer integration
Team
$20/month
5 users
All Pro features included
Team collaboration
5. Stencil – Double your Social Engagement
Stencil is another freemium great graphic design tool for blogger, social marketers and biz owners.
Stencil has more than 15000k stock images, 640+ templates, icons & graphics and 41 custom sizes to design your pretty image. Well, there are a lot of possibilities is waiting for you on Stencil.
Stencil also gives you a chrome extension, right click on an image which you want to edit and it will move on stencil dashboard where you can make a graphic on this image. As well stencil gives you the option to see the live preview of your design in stencil creator.
What you can Design on Stencil:
Business templates
Ebook covers
Social media graphics
Promotional banners
Holiday & Fitness poster
Colorful & Celebration design
Stencil Price Plans:
Stencil has 3 price plans to access all these lots of features.
 Free
$0/month
Create up to 10 images/month
Limited photos
Keep up to 10 favourites
Pro
$9/month
Create up to 50 images/month
1,500,000+ Photos
1,000,000+ Icons & Graphics
650+ Amazing templates
7-Day Money Back Guarantee
Unlimited
$12/month
All Pro Features included
Create unlimited images
Keep unlimited favourites
100 Instagram SMS / month
7-Day Money Back Guarantee
You can select a plan and make graphics with a huge choice of images, icons and templates.
6. BeFunky: Photo Editing & Collage Maker
Befundky is a photo editing, collage making and graphic design tool. Here you can produce stunning photographs and designs with fun, easy-to-use editing tools And also design visual content using this tool.
What you can design on BeFunky:
Event Graphics
Social media graphics
Blogging resources
Social media headers
Greeting cards
small business graphics
7. Postcron – Art Studio
Postcron art studio is a free graphic design tool by Postcron. Postcron is a scheduling tool like Hootsuite that allows you to schedule your post for social media networks.
This art studio is only mad for design your social media graphics, with hundreds of templates, there are lots of designs to create a stunning image for the social media account.
What you can design on Postcron – Art Studio
Design Graphics – Postcron Studio
8. Infogram – Create infographics, report and maps
Infogram is an easy and beautifully designed graphics tool to create infographics, charts and much more. all the possible things that you can visualize, can create on Infogram. it is a powerful tool with drag and drop builder, stunning images & icons.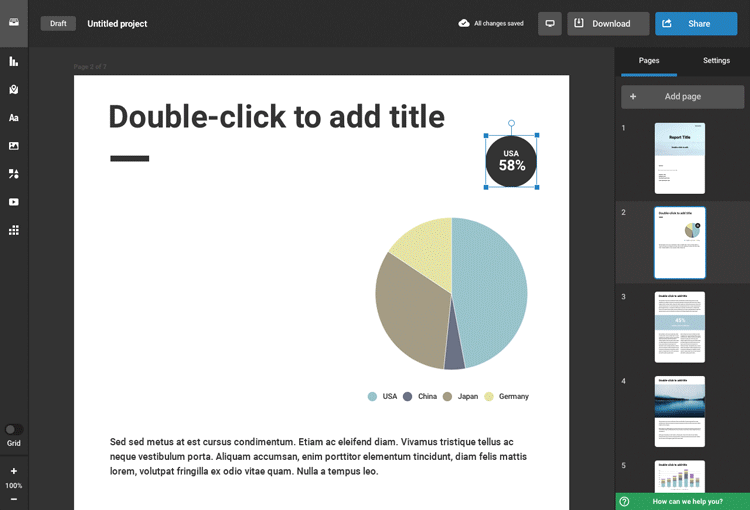 Infogram has more than 35 charts and over 500 maps to visualize your data, including charts and graphs. It's 20 pre-made dazzling themes are ready to be a brand icon for your biz. you can add them style, icons and much options to make them more creative. you can get import your data and save visual content in high-quality PNG, PDF, or GIF formats to share on social media or embed using our interactive HTML option.
What you can design on Infogram
Infographics
Chart
Reports
Map
Dashboard
Social media visuals
Infogram is a freemium tool to design your creativity on visual content. This powerful tool can create everything that you need for your biz.
9. Easelly – Create & share visual ideas
Easelly is an online graphics tool to create infographics. Easel provides you thousands of design to make an infographic and share your visual ideas.
Select a template and customize it with your ideas. There are huge of template available you can also filter them via category wise and select one to customize.
What you can design on Easelly
Easelly is a freemium tool which has some limitation of templates in free accounts. but if you are looking for a free tool to create infographic you can go with Easelly.
Wrap it, Start Design Graphics
This is the list of graphic design tools for blogger & who loves social media. Create stunning & dazzling images as you can to get more clicks, more visitors and more sales. Do something like this no one can ignore you.
I hope you have selected your graphic design tool and start making rocking graphics.
Don't forget to share them with me. add #webtechpreneur in your graphics while you share them on social media.
Here's Something More