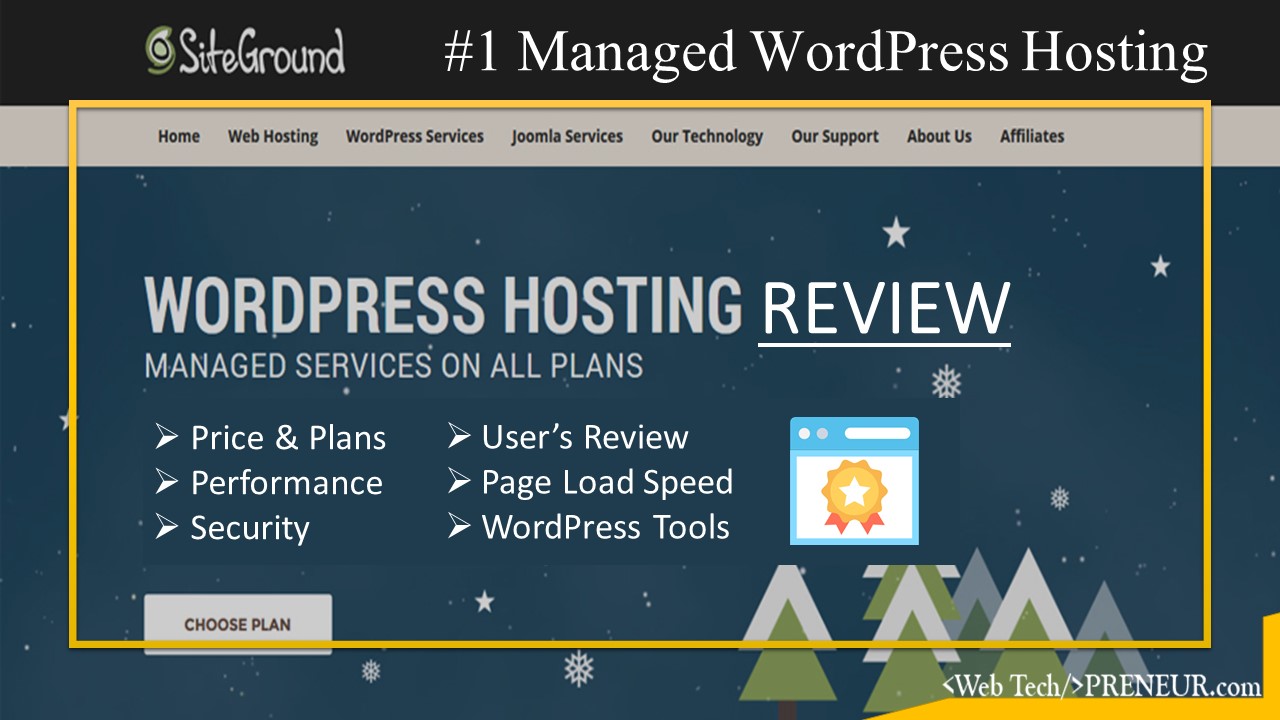 SiteGround Web Hosting Review – Based On 12 Factors(2018)
SiteGround is the most popular hosting in 2018, find out what things make SiteGround hosting Cool.
SiteGround is now a Popular web hosting among web developers, SiteGround hosting is easy to use and come with so many essential features. Siteground Web hosting review also good due to their support, security and fast loading time.
I also personally use and recommended SiteGround.
SiteGround Web hosting contains the latest technology, cool features and a big great knowledge base for their users. SiteGround hosting price range is available for all kind of bloggers and web developers.
Because of SiteGround's dedication to website speed, uptime, security and support –  SiteGround is really a superior hosting.
SiteGround has amassed 800,000 domain names worldwide, with data centers across United States, Europe and even Asia.
In this article, we will cover some topics that are essential to check while purchasing a new hosting and find out why Siteground web hosting is best.
Common Things to check on every hosting provider
Page Load Speed(GtMetrix, Pingdom test)
Hosting Uptime
Hosting Plan & Price
WordPress Tools
Customer Support
Technology
People's Review(real review with screenshots)
Website Security
SiteGround extreme features
Free Website Transfer
eCommerce Online Store
Active Blog & Knowledge Base
Video Tutorials
So let's discuss Siteground Web hosting Reviews
Calm Down & Read Article! Because you want a right palace for hosting that will be your website's future home. 
Reviews of SiteGround Web Hosting
To find out about SiteGround Web hosting and its reviews I do some research on Google, Social Media, other blogs and also on my website & its cPanel.
I hope these SiteGround Hosting reviews will help you to understand this hosting better.
1. Impressive Page Load Speed
Siteground gives a boost to a website and makes your site faster. compare to any other hosting provider siteground offer the best speed at the very affordable price and it makes your site up to 70% faster. it is my experience. and you can check my website speed at gtmetrix and pingdom.
it is a great option for rocket speed of your website.
here is the result of the Pingdom test on a WordPress siteground hosted website.
You've seen that Siteground hosting is the fastest web hosting. The load time of your site will be very less and bounce rate also very few. I will boost your website SEO and helps your article SERP ranking.
2. Affordable Siteground hosting pricing
Do something today that for future self will thank for you
Siteground provides the best affordable price for its customers. its plan starts from $3.95/month with 10,000 monthly visitor support.
Here is the Siteground hosting plans with their features.
Do you know! SiteGround Also Offer Student hosting plan at $1.99/month
First I have clear you what is inside All Essential Features, Premium Features, Geeky Advanced Features.
All Essential Features
FREE Site Transfer
24/7 Support
Free App Installs
Unmetered Traffic
FREE Daily Backup
FREE SSL and HTTP/2
cPanel and SSH
FREE Website  Builder
SSD Storage
30 Days Money Back Guarantee
FREE Daily Backup
FREE CloudFlare CDN
Unlimited DB
Premium Features
Priority Technical Support
1 Year FREE Wildcard SSL
Super cache Plugin for Great Speed
30 Backup Copies Available
Geeky Advanced Features
1 Click Staging For WordPress and Joomla
Pre-installed git for WordPress
Fewer Accounts on server
PCI compliant server
---
Find More About SiteGround Hosting Plans
1. StartUp Plan
Host
Website – 1
Price – $3.95/month
Highlight Features
10GB web space
10,000 visits monthly
Free SSL
Best For
WordPress Beginner
Personal blog
Websites that have low traffic
2. GrowBig Plan
Host
Website – Multiple
Price – $5.95/month
Highlight Features
20GB web space
25,000 visits monthly
Free SSL
Best For
WordPress bloggers
Agency, Portfolio Websites
Websites that have medium traffic
3. GoGeek Plan
 Host
Websites – Multiple
Price – $11.95/month
Highlight Features
30GB web space
100,000 visits monthly
Free SSL
Best For
eCommerce Store
Websites that have high traffic
3. Hosting Uptime – SiteGround Never Sleep
Uptime is an important thing to consider when choosing a host, and we're happy to report how reliable SiteGround's servers are in terms of keeping your site live on the internet and active on a consistent basis.
SiteGround Server never sleeps it always keepup your site or blog. Our SiteGround server experienced no downtime in the duration of our test, as you can see the 100% uptime scores in the image below.
4. Powerful WordPress Tools
1. 1-click installer
1 click installer, install all popular CMSin just one click and make your website on CMS.
2. Auto updates
This feature updates WordPress core files automatically, and you can even have it update plugins. You can also turn it off if you prefer to perform updates manually.
3. WP-CLI enabled
This includes WP-CLI, a feature that lets you perform installations and updates from the command line, among other things.
4. SuperCache
The first service is SiteGround SuperCacher, an in-house WordPress plugin that takes care of your site's caching needs so you don't need to rely on a third-party plugin. Every plan supports static caching, but this tool, which SiteGround manages for you, kicks it up a few notches.
5. WordPress Staging
This staging area lets you design your site in a controlled, offline environment. It also lets you test new changes and code without affecting the way your site operates for front-end users. All it takes is one click to go live once you're ready.
6. Git-pre installed
This feature lets you create a Git repository of your WordPress installation for easy access later on. You'll also be able to use multiple versions of PHP, from 7.0 to 5.3 and unlimited MySQL and PostgreSQL databases that can be accessed through phpMyAdmin and phpPgAdmin.
Check SiteGround Hosting Features
5. SiteGround's Helpful Customer Support
Excellent customer service is a major highlight of being a SiteGround customer. This host offers 24/7 ticket, live chat, and phone support.
SiteGround provides 3 kinds of support to their user, so they can get better solutions to their issues. I mostly use their live chat and minimum time to reply a chat is just 3min. So you should now worry about their support.
6. SiteGround use New Era Technology
Siteground have 5 data centers all across the world to speed up the website. and allow the user to choose a server region for the best loading times. because closest data center from your visitors provides more speed.
SiteGround's technology is one of the biggest reason people choose them. They use a powerful combination of NGINX servers, solid states drives (SSDs), PHP7, 1-click Cloudflare CDN, and HTTP/2 servers. And their SG Optimizer plugin and Supercacher will further improve load times. HHVM is only available on their cloud hosting but it's faster than PHP7.
7. SiteGround Customer Reviews
Siteground is started in 2004 and since 2004 many people try out and still trying siteground. here is some real review of users that are using siteground.
Twitter Reviews :
Reviews With Pages Speed AND Performance :
here is some of real users review from twitter with their website speed and performance that is their personal experience after moving their website on siteground hosting.
it helps you to choose a better hosting.
What Facebook Poll Say :
This is the result of a Facebook poll of 2017 from facebook hosting group( private hosting group). here you can see most people have voted on siteground and these votes are done by WordPress hosting experts.
8. SiteGround keep your Site Secure
Security matters and Siteground provide world-class security to your website to keep the website safe and secure from hackers.
Whether you run a personal blog, business website or e-commerce site, security is extremely important. Security is one of the most important aspects of web hosting and it should be a deciding factor for you when signing up for a web hosting service.
Again, SiteGround does not disappoint.
By default, all SiteGround's servers use the latest PHP 7 version, with the latest security fixes. They're running Apache in the chroot-ed environment with suExec. DDOS protection comes built into both a hardware firewall, as well as a software firewall that is based on tables with more complex functions and traffic monitoring
They also use sophisticated IDS / IPS systems which block malicious bots and attackers. ModSecurity is installed on all shared servers and security rules get updated weekly, which protects you from the most common attacks.
9. Free Website Transfer available on SiteGround
Siteground provides an extreme feature that gives your site zero downtime while you move your website to from one hosting to another hosting provider.
it will move your site free from your old hosting provider and your visitor don't face any site down issue. that is the most lovable feature of siteground.
10. Siteground Also Build Online Store
SiteGround has great features and performance that is essential for an online store. with SiteGround hosting, you can easily build an e-commerce store that helps you to sell your item on the website.
Let's take a look at SiteGround features for e-commerce websites.
11. Knowledge Base & Active Blog
SiteGround also has a large knowledge base filled with hundreds of articles. These articles are designed to help you navigate your way through common issues you may experience, issues that often occur through no fault of the web host.
Any time is good time to start a comapny
There are also dozens upon dozens of articles related to WordPress as well as a special section dedicated to WordPress tutorials. These tutorials include a number of different topics for WordPress novices, from How to Install WordPress to How to Improve WordPress Security. As well as siteground have an active blog that published articles related to WordPress and other CMS setup and customization.
12. Youtube Tutorials Video
SiteGround also has tutorials video on youtube that helps in set up your website. SiteGround have hundreds of videos that are related to set up a website and how to customize website on siteground cPanel.
Final Words For SiteGround Web Hosting
Siteground is best and the best place to host your website. don't think too much and don't give too much stress yourself. keep relax and believe in many bloggers and users siteground will be the perfect palace for your website.
I hope these Siteground web hosting reviews will help you to select a web hosting for your next blog or website. If you ask me to suggest the best web hosting for blog or website I'd like to recommend you SiteGround Hosting and reasons behind my choice now you know very well.
SiteGround Hosting Discount – 70% Off
Let's Disqus
Let's disqus with your web friends. share what is your experience on SiteGroung and why you choose Siteground.
if you have still some doubt about SiteGroung. share it with us, I hope we can help you.