Nexcess Web Hosting – A Complete Review
An overview of Nexcess hosting products
Nexcess
Hosting Features

Server Uptime

Page Speed

Ease of Use

Customer Support

Value for Money
Nexcess is part of the Liquid Web brand family, which specializes in delivering software solutions, and managed services in the technology field. Their purpose is to help grow businesses through their services.
If you've missed, after you finish reading this review, make sure you check out our take on both Liquid Web and the third member of the family, iThemes.
But for now, let's focus on the subject at hand – Nexcess. And, in this article, we will review their most popular products, support service, and overall performance.
Let's get into it.
Nexcess Coupon & Promo Codes
Nexcess Coupon Code, 50% Off Discount & Promo Code
Nexcess Coupon Code, 50% Off Discount & Promo Code
What is Nexcess?
Nexcess provides web hosting solutions from virtual private servers to dedicated servers, server clusters, and managed hosting for popular applications like WordPress and Woocomerce.
The company started taking its first steps in 2000 in a small Michigan garage. Since then they have grown to operate in six data centers across the United States, the United Kingdom, the Netherlands, and Australia.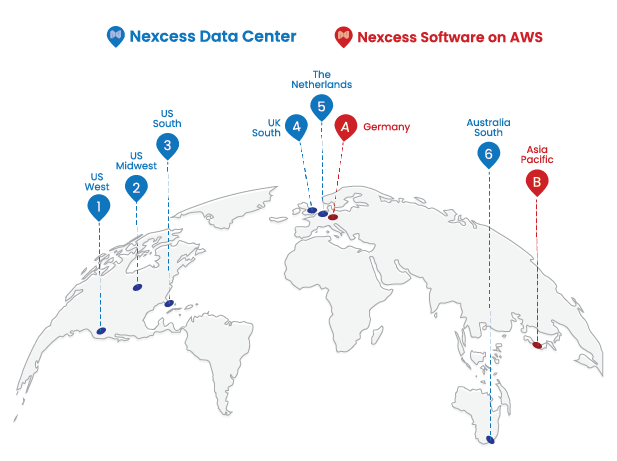 Since their first days, Nexcess wanted to become a hosting provider that empowers clients to create and grow the businesses they want.
Their focus is to use technology to help businesses become the best version of themselves possible.
Today, Nexcess is especially known for being an amazingly feature-rich web hosting provider optimized for a select few CMSs, including Magento and WordPress.
Now let's discover more about their products and the advantages they offer.
Products
The company offers a variety of products but we are going to focus on some of the most popular, which are:
Nexcess Cloud hosting
Managed WordPress Hosting
Managed WooCommerce Hosting
Managed Magento Hosting
1. Nexcess Cloud Hosting
Instead of having all of your data on a single server, cloud hosting spreads the data across a number of different servers in different places that are all connected together through the cloud.
This eliminates the single point of failure that often comes with single server setups, ensuring higher security for your and your users' data.
You then have the ability to manage your data through a "virtual machine" that accesses all those different servers across the cloud. This ensures greater flexibility and scalability.
Because Nexcess believes in the scalability, security, performance, and ease of use of cloud hosting services, they focused on developing a great solution based on those principles.
1.1. Features
Whether you're a small business or a high-traffic eCommerce store, their cloud hosting solutions are designed around your needs.
They have auto-scaling, PCI compliance, and comprehensive development tools that provide you with maximum flexibility in a fully managed cloud environment.
Some other key features are:
Secure data
Advanced User Management
All Your Cloud Hosting and Email Hosting in one place
1.2. Pricing
Their pricing plans for the cloud start with the XS for 39$ per month and go up to the XXL for 849$ per month, the price depending on the capacity and needs of your business.
2. WordPress Managed Hosting
At Nexcess they build tools on top of their Nexcess Cloud infrastructure which automatically keeps your WordPress site updated & secure.
While most WordPress hosting companies simply give you a server where you can run PHP and MySQL and let you do the rest, Nexcess is different. They have an underlying infrastructure, manage & optimize WordPress doing all of the tedious tasks like plugin updates & backups.
They have also built up an experienced team of WordPress experts who know this platform inside and out. So they provide a stable, trusted platform, deploy the latest technology, monitor servers and update operating systems.
2.1. Features
Some key features are:
Automated WordPress core & plugin updates
Unlimited email
Free SSL certificates
Intuitive auto-scaling for traffic spikes
Free migrations
24/7 support from industry experts

Improve page speeds with their built-in content delivery network
2.2. Pricing
Their pricing plans start with Spark at 19$ per month and go up to Enterprise at 999$. Their most popular plan, however, lies somewhere in between, it is the Designer plan for 27.25$ per month
3.Woocomerce Managed Hosting
With Managed WooCommerce hosting Nexcess includes automatic daily backups, plugin updates, visual testing for those updates, auto-scaling, malware monitoring, automatic image optimization, etc.
On the application level, Nexcess also created the Custom Order Table for WooCommerce to speed up queries, and they included Astra Pro, the fastest theme for WooCommerce, for free.
With all this, your site runs fast no matter how many people are on it at one time.
3.1. Features
Some of the key features provided are:
automatic daily backups
plugin updates and visual testing
auto-scaling
iThemes Security Pro
automatic image optimization
Astra Pro theme (fastest Woocomerce theme)
3.2. Pricing
Their pricing plans start at $19 per month with the Starter plan and go up to $999 per month with the enterprise plan.
4. Magento Managed Hosting
Magento was founded on the Nexcess platform and built on its servers. If you're looking for a professional e-commerce platform Nexcess definitely has the knowledge and expertise to help you.
As we have seen most host providers can offer hosting that runs PHP code & MySQL databases. What makes Nexcess special is all of the features they add on top of that:
Staging environments,
Dedicated IP addresses,
Auto-scaling PHP workers,
PCI compliant hosting.
4.1. Features
The main features they offer are:
Nightly automatic malware monitoring
Proactive security patches
Staging environments for safe & anonymized testing
Stay on your Magento 1 store after end-of-life
incredible site speed
4.2. Pricing
The prices for Magento Cloud start with the XS for 39$ per month and go up to the XXL for 849$ per month. It is pretty much the same pricing as its cloud hosting solution.
Overall Performance
Nexcess promises superior loading speeds and server performance, particularly for Magento or WordPress websites. But, one unique feature Nexcess offers is its auto-scaling platform for Nexcess Cloud.
This means that even if your website experiences a surge in traffic or e-commerce transactions, the server's resources will be automatically scaled up to handle up to double the increased load.
This ensures optimal speeds for your visitors even during crunch times, not hurting your website's performance.
Customer Support
Their support representatives are available 24/7 via phone, email, support tickets, and live chat.
You'll only be able to reach tech support after logging into your client portal and keep in mind the live chat on their main website is primarily for pre-sales questions.
Nexcess is known for having good support and their Client Showcase page features hundreds of satisfied customers. So you will likely have a good experience.
Conclusion
Nexcess provides quite some valuable services especially if you're looking for some managed solutions for the most popular applications.
They make managing your WordPress or Woocommerce sites extremely easy and efficient. In terms of pricing, they are actually very accessible for what they offer. You really do get a great deal.
We can definitely recommend their services if you're looking for a managed host for a specific application like WordPress. It's just about finding if they have the correct plan to meet your needs and expectations.
Hopefully, this review has made you more aware of what you can get with a hosting provider.