How to Buy a Domain Name in India
Explore Godaddy & its Services and Buy a Domain Name in some Easy Steps.
Godaddy is now world's most popular Domain Name registrar and now it has earned a great name in the field of Website hosting services. As Well Godaddy India is one of best Domain & Hosting provider to start your website from Domain purchasing, hosting & make it live. 😉
Godaddy
GoDaddy is the world's largest domain name registrar and the leader in the domain name industry. It boasts of 17 million customers and 71 million domains under management worldwide.
The company provides popular top-level domains (TLDs), both general and country-specific domains at the reasonable price. You can get a great domain name from GoDaddy and start an online business or personal website for the general audience worldwide or local audience with your country's domain name.how to buy a domain on godaddy is well explained here with all available services of godaddy.
Besides, GoDaddy offers easy domain transfers, auctions for bidding, premium domains and discount domain club for interesting discount offers.
Highlights of GoDaddy Domains:
ICANN-accredited domain registrar.
They also offer domain auctions, where you can get your hands on existing domain names that have been registered by other people in the past.
Domain transfers to GoDaddy are free however you must buy a one-year extension for the domain at GoDaddy.
Additional services: FREE GoCentral Website Builder
Godaddy Popular Extensions Price :
| | |
| --- | --- |
| Domain Extension | price |
| .com | ₹ 299/year |
| .in | ₹ 399/year |
| .co.in | ₹ 359/year |
| .xyz | ₹ 64/year |
| .org | ₹ 269/year |
| .net | ₹ 639/year |
| .info | ₹ 179/year |
Tip: Godaddy Also Provide First .COM Domain Name In Just ₹99/year
GoDaddy Pricing for Additional Services :
| | |
| --- | --- |
| Features | price |
| SSL Certificate | ₹ 220/month |
| Privacy Protection | ₹ 99/domain per year |
| Privacy & Business Protection | ₹ 929/domain per year |
| Linux hosting | ₹ 1499/month |
| Web hosting | ₹ 99/month |
| Business hosting | ₹ 1,499/month |
| Managed WordPress Hosting | ₹ 99/month |
---
How to Buy a Domain Name in India
Purchasing domain on GoDaddy is an easy step but in this article, there are all features explained that comes while we purchase a domain name on a registrar.
1. Make A Godaddy Account
At first,  for buying a domain create a new godaddy account if you don't have one.
Entered all the form details correctly, the important thing is email id. entered an active email id because godaddy will verify email account.
and it can also be sign in with facebook in simple 2 clicks. 😀
2. Find A Domain Name
After making a account time to finding a niche domain name. Enter your desirable domain name or find a domain name word.
Confusing About Domain Name, Niche & SEO?  🙄 
Then you should read below posts, I hope these articles can help you to choose a Perfect Domain name. 💡
Do Yo Know: WebTechPreneur.com is the third domain name that I have purchased for my bog. 😛 
After entering your name or keywords click on search button.
3. Select A Domain Extensions
Godaddy will show all of the available domain extension of the entered name. Select a domain extension according to the right of its purpose.
If you are confusing to select an extension for your domain name here below I have mentioned some extension with their purpose and what kind of behave they show.
Here is some of the extension with their common purpose :
.com (commercial) – This is the most popular extension and originally stood for commercial sites, but now it is used for all kinds of websites.
.net (network) – Originally intended for networked websites, this domain extension is used for a wide variety of purposes today. This is a good backup if your ideal choice is taken in the .com extension. It's also good for tech companies as "net" implies technology and networking.
.org (organization) – meant for organizations. Best used if your website is for a nonprofit company. Not the ideal solution if you're a business as it sends mixed messages.
.edu (education) – This one isn't typically available for public registration, and is instead used by colleges and educational institutions.
.info (information) – This is best used if your website is purely there for information or as a database of knowledge. If you're not selling anything, then this domain could work well.
.biz (business) – An alternative to .com domains for businesses, but it does have some bad connotations because of spammy sites using it.
.me (personal) – This extension is often used for personal websites or blogs that have no commercial intent.
.name – for use by individuals only.
.me – Good for personal branding, or if you can cleverly make it part of your business name (ie., kindle.me). Some of the other more obscure extensions could work that way as well.
.pro – For registered professionals only, hasn't caught on.
.tv – Technically for websites in Tuvalu, this is open to everyone and is a good option for a television-related site.
4. Continue Cart
If you have selected your domain name and sure that you want this.
Click on continue to cart.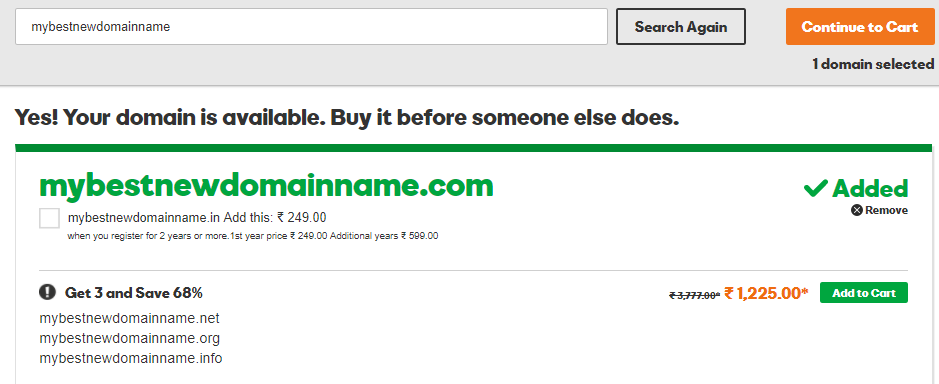 5. Select A Hosting(Optional)
Godaddy also provides web hosting. So if you want to host your website with godaddy select a hosting package and if not you can skip this step.
But you need a Hosting to host this Domain Name. You can host this with free hosting or premium hosting.
I would like to say one more thing: Choose a reliable Hosting that doesn't suck because website hosting is like our home and we should live in the best home and here this same case happens with your site.
there are three packages of web hosting
Starter
Economy
Delux
See Hosting Packages Description
6. Select Whois Privacy(Optional)
Whois Data is contain all of your submitted data while you purchase a domain name.it is including name, address, phone, email, organization details, register whois server, register whois url, DNS names, Domain expiration date etc.
So for hide this details from publicize select a privacy protection.
7. Get An Email Address(Optional)
Godaddy also provides business email account(like [email protected]). want to email account on Godaddy select an email package.godaddy provide 1EmailBox in 46Ruppes/month.
Cpanel Or Hosting Provider Also Give Business Email In Free !
8. Proceed & Checkout
9. Place Your Order
After checkout place your order and now your domain is completely registered. and it can be used for making a new site.
if you have hosting on another hosting provider change your domain name server(DNS) names. according to your hosting provider.and then add these domains into hosting provider and it is completely ready to build a website.
Good Luck *
Change DNS on Godaddy
After purchasing a new domain on Godaddy. To make a site on this name or upload a pre-built site you need to host this domain name.
There is two option to host this domain name.
Host this name on Godaddy
Host on Another Hosting Provider(Free/Paid)
Host on Godaddy
Godaddy is now one of best Hosting Provider you can host your website on Godaddy. If you have forgotten buy hosting while you purchase a domain, Don't worry you can buy hosting separately later and can host multiple/single domain name it depends on hosting package.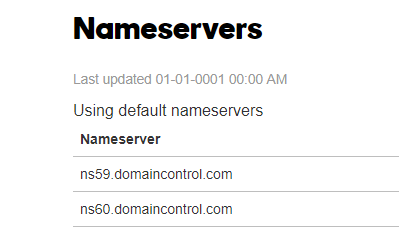 By Default Godaddy provides their own DNS to a domain name so you don't need to change DNS.
Host on Another Place
If you want to host domain at any other place then first you need to change DNS.
To change DNS
Go to My Products >> Click on DNS
Scroll down and at NameServer, section enter your hosting provider's DNS.
Now this domain name can be used at another host
Buy domain name in india
Buying a Domain Name and host its first step of making a website live. I hope you enjoy this article and now it becomes easy for you how to buy a domain and host it.
Choose a perfect name that covers your niche and makes you confident that you are right on the way of your journey. As well choose the best home for your site to keep it fast, secure and safe.