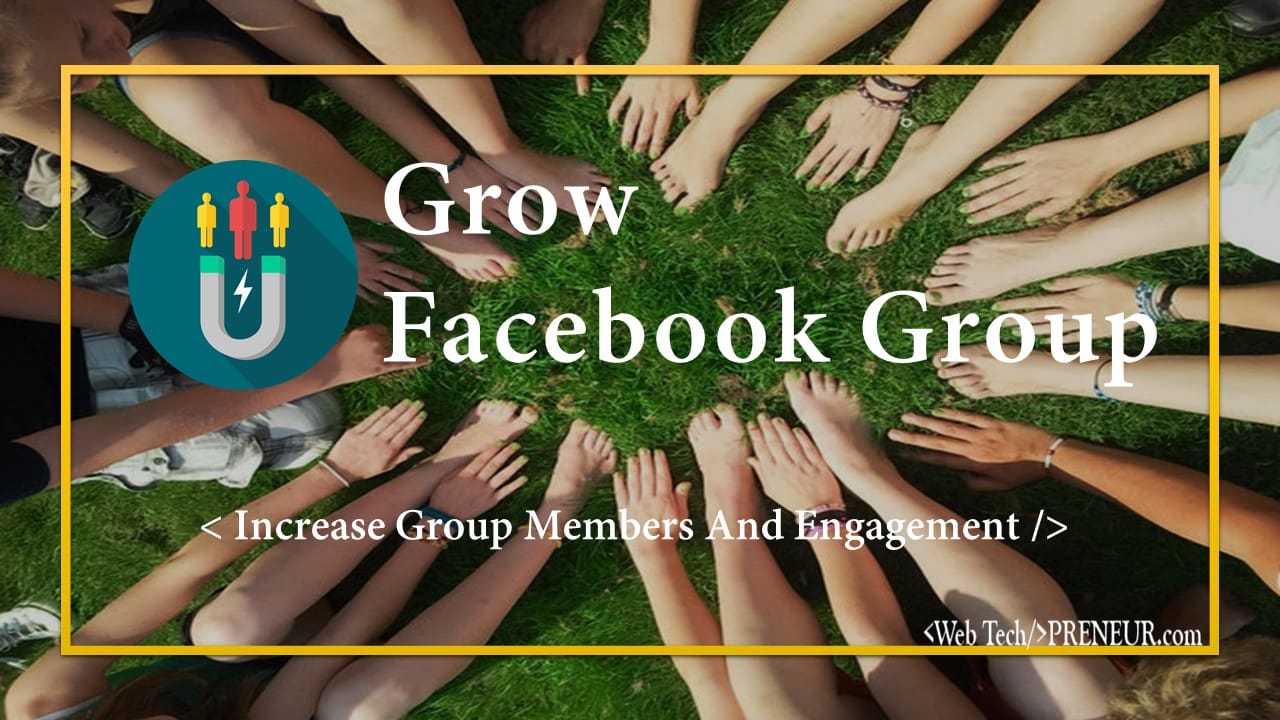 Grow Facebook Group: 22 Ways to Increase Members & Engagement 4x Faster
Increase Members and Engagement to Grow Facebook Group.
Facebook Groups best source to find a new audience. This post about how to create, optimize, manage and grow facebook group faster. Increase member of the Facebook group and keep stay with members using engagement hacks.
Facebook Groups are now essential to every biz to keep stay with their customers and build a trust. I'm also in my mail client MailerLite Group. Like this many service providers their users to keep engage with them via a Facebook group.
Hey Guys! Black Friday Sale 2018 is coming And Here are some of Best Deals for Bloggers & Web Developers. ( Take a Look )  🙂
Best Black Friday & Cyber Monday Deals 2018
I Hope you like these Deals & Offers | Click on the links to Know More.
Thanks for Giving your Time.
---
Sorry about this, But If you haven't started your money making blog yet.
Here are my 2 Articles for blog beginners, with every single detail about Blogging.
---
A blogger or website owner also use Facebook groups to live with some other bloggers and share his/her new posts, problems and any other things relevant to blogging.
This Post helps you in:
Show the importance of Facebook group
Create a stunning Facebook Group
Optimize Facebook group
Increase members of the facebook group
get more engagement with users
Free Social tools to manage FB group
What is a Facebook Group?
A Facebook Group is a Group on Facebook where Facebook users can join the group, post in the group, do like or comment on a post and start a conversation with other Facebook members.
Do I need to create a Facebook Group?
Facebook is #1 top social channel worldwide. that is using by 2.2 billion users monthly.
This image has clear that there is a huge opportunity for you to grow biz or sales with massive numbers of Facebook users. As well more than 1.5 Billion FB users are engaged with any facebook group.
You also need to create a Facebook group to grow biz, blog traffic and find a new audience.
---
Is writing your hobby?
or
Wanna extra income from Blogging?
Let's make this dream true and start a Blog on Godaddy at just $1/month and make blogging into cash.
---
Benefits of Create a Facebook Group
A Facebook group has a lot of benefits from creating a new audience to share services. Facebook group is a medium to connect with more people who are relevant to your interest and live in an active community.
A Facebook is beneficial for biz owners to keep engage with customers, share new offers/services and get regular feedback. It also builds a trust of your biz and customers find this a medium to keep with biz services.
And for bloggers, the Facebook group is a great source to drive traffic to the blog. Share your latest post, stay with your audience, helping other and a lot of things from a person to person. If you haven't started a blog, start a blog on Godaddy with FREE Domain and just $1/month hosting.
You can also create a Facebook Group, to live with people who are like you.  💡
Some more benefits of Facebook Group, I've listed below:
Drive traffic to the website
Find new audience
More personal engagement
Get feedback from polls
Expand services of biz
Announce your offers/sale
Create an amazing Facebook Group
Yet, you have got benefits of creating a facebook group and FB group is now really essential for every blogger or biz owner. Creating a stupendous FB group, make it elegant then everyone wants to become a part of your group.
So, if you not have created a facebook group. Let's make a blazing Facebook Group.
Or if you already have a Facebook group, check that you have done all the steps correctly or not.
Create a Facebook Group
Step-1 To create a Facebook Group first you need to log in to Facebook. Select the right drop-down from the top menu. Here's you find some segments to create pages, groups and manage another thing on facebook. Select Create group in this.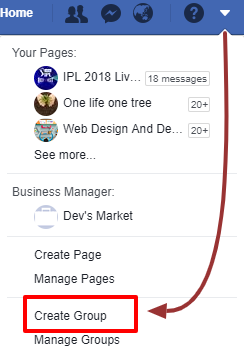 Step -2 Enter your group name, add some lovable peoples in the group. You need to add at least one member in the group. Select a group privacy.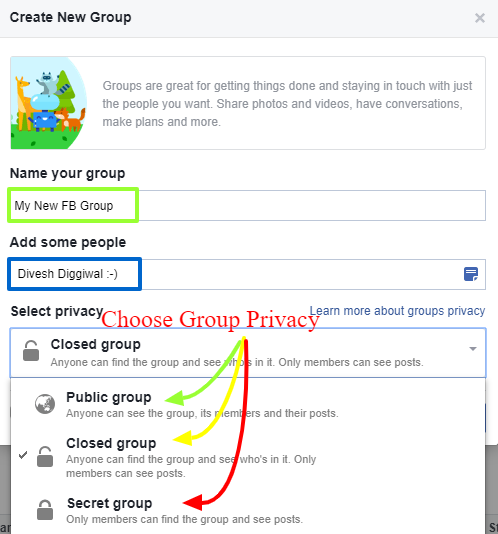 For a Facebook group, FB has 3types of privacy options:
Public Group – Anyone will able to see the group, its members and post, photos and other content of the groups
Closed Group – Anyone can find the Group, see who's in it. But Group content only visible for members.
Secret Group – Only members can find the group and see posts.
Select a choice and hit on create.
Tip-off: Don't forget to pin this FB group in the shortcut.
Congratulation your new facebook group has been created. 😎
Let's make it elegant and impactable.
To do some advance change you need to configure some additional setting of the Facebook group. for this give a look on Group menu that presents in the downside of Group photo and select More >> Edit Group Setting
Give a close attention to below checklist to configure the Facebook Group in right way, there are more option to set up FB group but below options are enough to optimize an FB group.
Facebook Group Optimize Checklist:
Upload a stunning group photo
Select a Group type
Write a helpful Group description with keywords
Don't forget to add relevant tags
Add your Biz service location (Bloggers don't need to add location)
Link your FB page(it"ll helpful for FB page)
Link it with your other FB groups
Grow Facebook Group
Growing of a Facebook Group is not just increase the facebook group members, even you need to keep engage yourself with other group members.
So here I divide the fully growing process into two parts:
Increase Facebook members
keep engagement with the audience
Explore each one by one and do things in practical, grab tricks that you love most and apply them to your group, Now without taking too much time let's start to grow facebook group.
13 Ways to Increase Facebook Members
To increase members of the Facebook group, a lot of ways there are. But for better understanding, I divide these ways into two categories:
On-page
Off-page
On-page ways are some tactics that you add to your blog or website and when someone visits the blog they get an opportunity of joining FB group.
On the opposite hand, Off-page ways are outside of your site. It is like promotion, suggestion and some request.
Info: 1-5 points are on-page tricks and rest of off-page
1. Add Facebook Group in Sidebar Widget
Website sidebar is a great palace to show Ads and anything that you wanna promote. then why don't use this paradise to grow facebook group?
My 53% blog visitors use desktop devices to explore my site. And my theme's sticky sidebar is prominent for me to show my Fb group widget for a long time until a user does not reach the end of the page.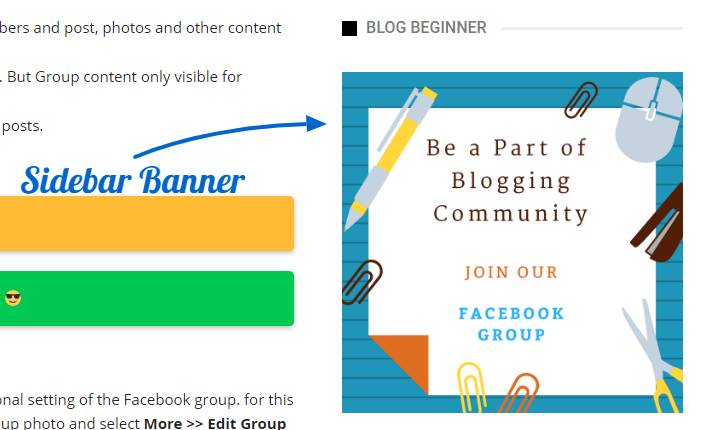 So I use, some of my innovative graphic design tools to create a stunning image and add it to the sidebar.
2. Add Facebook Group in site menu Items
Website menu is the navigation source of every visitor, using menu we can also navigate a visitor to our FB group. Your visitors also want to join your Facebook group and you got your visitors into group members.
Add your facebook group link or joining request on the menu. You can also add a join request for your Pinterest group boards with facebook group on the menu.
I've got added a new navigation item on my menu and insert FB group and Pinterest board link with titles.
3. Create some dazzling FB Ad
Ad?  😐
Yes Ads, on the site of your FB group inside posts!
Ads show on every post of the site and it will visible for all visitor. no matter of visitor devices and Adblocker.
You can easily create an Ad using graphic design tools and add this graphic to posts via your Ads plugin. Now your Ad will be shown on every post and for every visitors who come on site. It's faster ways to grow facebook members because you get more impression here.
4. Create a post about FB Groups and mention it
Create an FB post like this and any other then you got a chance to insert your FB group link there. Everyone who visit on the post, after reading your imposing post. they definitely wanna join the FB group.
Some ideas to create posts relevant to FB:
How to create an amazing facebook group.
How to create a stunning FB page.
12 ways to drive blog traffic from the Facebook group.
16 ways to increase Facebook page followers.
How to keep more engaged with Facebook followers.
Write some posts related to social networks, drive traffic to manage facebook groups, and add there your Facebook group.
5. Sprinkle FB group link all over the blog
At final, it's time to spread Facebook grow link all over the blog. Attach Facebook Group link at all possible pages on site. Try to make this cool, a user should not get annoyed by the Facebook join button.
I'm not suggesting you add everywhere this, I'm just giving you an idea where you can add this.
Add Facebook Group Join Button on:
Homepage
Footer menu
About page
Contact page
End of blog post
---
These are the On-Page hacks to request/offer a website visitor to join the facebook group. A polite request always works and a user would like to check-in group. Now we're moving on Off-Page hacks that are like promotion, promotion and promotion.
---
6. Add your Friends in FB Group
Now we've moved on Off-Page ways!
First easy and quick way to increase facebook members is just added your Facebook friends to the group. you can easily do this by clicking on Add member button or send email invitations to friends.
We all have hundreds of friends, maybe you've got more than me. To get your first group audience just add your Facebook friends to the group.
7. Share it on Other Social Networks
Like our every new blog post or new service we share it on every social network, also do the same thing with this new Facebook group. Share this new FB group on every single social media platform that you're using to get more members in the Facebook group.
Complete this checklist:
Share on Facebook Wall
Add this group in Insta story and Website
Make new status on Whatsapp
Pin it on Twitter profile
For Pinterest Scroll Below 😉
8. Show FB Group on Email Footer
We all know email noticed more than a social share or menu, agree?
And We all have the list of thousand emails excepting me 🙂 and send daily/weekly emails to our audience using our mail clients. We also usually add our social profile buttons in the bottom of the mail then why not add Facebook group join button?
To get this email listed audience into the Facebook group you just need to add a group join button in the mail. You can add a button like below example.

I got this idea from the Raelyn Tan mail, I saw the Fb group joining button from her mail.
9. Insert FB Group link in Pinterest Boards description
Pinterest is the best source to drive traffic to your blog or express your services. This visual content-based social network and used by 175+ million active users is a go-on medium for every marketers, bloggers and business owners.

Pinterest has got enough space to write a description for a board, Simply add your FB group URL there. It'll give a bang to your board followers and everyone who visits on board.
10. Comment on other's Post
Well, I don't know this method works or not?
Because approve comments are not in your hands, it depends on other blog owners. their desire they approve or remove your insert blog URL from the comments.
What loss does a trial?
Write comments on facebook or facebook group relevant posts, insert your Facebook group URL into website section or comment section. Try to write an honest comment that"ll get approve and this method to increase facebook group members work.
11. Pin Group on Facebook Page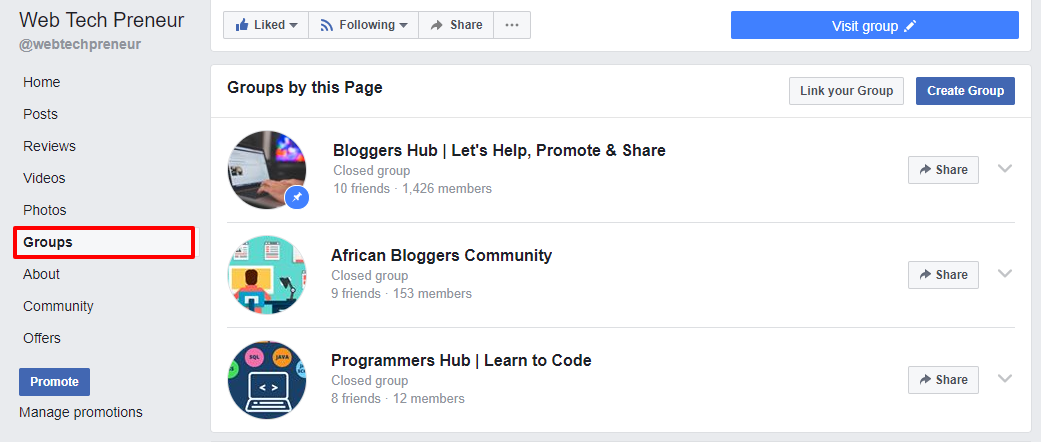 If you already have an FB page, you can attach this group to the facebook page.
After this, it will show on the left menu of your website. This will get noticed by your audience who already has like your page and they also get a new option to stay with us.
How to Pin
Open your group page select More >> Edit Group Setting.
Here's you find an option link this group with a page. that's the one click on this and attach this new group to Facebook Page.
12. Make Stunning Pinterest Graphics of Facebook Group.
I again repeat my words, to share new Group on another social media networks. but Pinterest is pivotal than any others. Because Pinterest pin gets more impression than any other social media post.
It's the fastest way to show and share more your new FB Group that really works.
Create some Pinterest graphics using my innovative graphic design tools.
13. Link new group with exit Facebook group
Facebook has got a feature to link your old FB groups with new Facebook groups. If you already have some FB groups you can link your new FB groups in the old group.
Your old group audience gets inform by seeing a linked new group. It is the best way to drive old audience in a new Facebook group.
How to link new group in exit group
Go to your old FB group and from menu select More >> Link Exiting Group
Here you found some of your Facebook group, select new facebook group. Now it will start showing on the new Facebook group on old Facebook group.
---
Increasing the member of facebook group is not the real growth, only adding massive numbers of peoples in the group is not growth.
Until you don't engage with your audience!
Engagement is just standing for how much your group active, how much people participate in the group activities. Stay with members is also a part of the growth of facebook group. That's why I added this subject here.
How to keep Engage with Facebook Group Members
Increasing Facebook members are not the real growing of FB group. You need to keep an engagement with your social group members. The real power of a social group is not massive numbers of group members, it is about how much members active, how much post, reactions and much more.
To check engagement of group select group insight from the left menu and check your group insights.
5 ways to keep stay with your Facebook group members:
1. Go Live on Facebook Group
According to one post of Search Engine Journal, Facebook live videos generate 600%more attraction.
Besides this massive attraction, I found three reasons.
We all love videos than writing content
User get notified when you go live
Usually, we like more live things
Now you've got live videos work and provide huge attraction. Let's click on Go Live and share your creativity, life moments and whatever you want.
2. Create Polls for members
Everyone wants to show their choice, opinion and suggesting something. Facebook polls work like this and drive an engagement of members to the group.
Creating a poll for the user is a really good idea, here user get a chance to show their opinion.
3. Share Useful Information On Group
I also love useful information, everyone wants it.
Share useful and fruitful info with your members. Share your past experiences and new tactics to do something creative. All the thing It just about stays together do whatever you can do.
4. keep Regular Posting on Facebook Group
Don't make your group lazy, keep posting regularly on FB group. I"ll keep an attachment with members.
If you won't able to create post regularly then you can use some social media schedule tools and schedule your post. These tools will post on social channels. These tools grow your facebook group as well other social media channels.
Social Media Schedule Tools
ViralTag – All in one Social Media Tool
HootSuite – Social Media Marketing & Management Dashboard
Buffer – Social Media management platform
5. Allow members to post in Facebook Group
This is the way, where you don't need to do anything to increase group engagement.
Just allow your FB members to create an FB post and it will automatically increase involvement with your group. here's you don't need to do any more. You can also create some members as group moderator to keep an eye on FB groups and what users are sharing or find out is it not out of topic?
Many bloggers and freelance looking for Facebook groups where they can share their new posts, problems and ask for a recommendation. If you allow members to create posts, every blogger & other wants to join and your member's list or engagement also increases.
Then, I also wanna join your Group.  😀
Wrap it, to Grow Facebook Group
Let's end this post and start creating a great community with other Facebook members at your Group.
Facebook Group, is the best medium develop a biz, a blog and live with same professional or same kinda people. Find out new possibilities with Facebook Group, however From building a trust to drive traffic to website/blog facebook group really pivotal with 2.2 billion Facebook users.
Create a optimize and stunning group, increase facebook group members, keep engaging with group members, that's the right way to thrive and expand yourself.
Here's something special for your Social Media