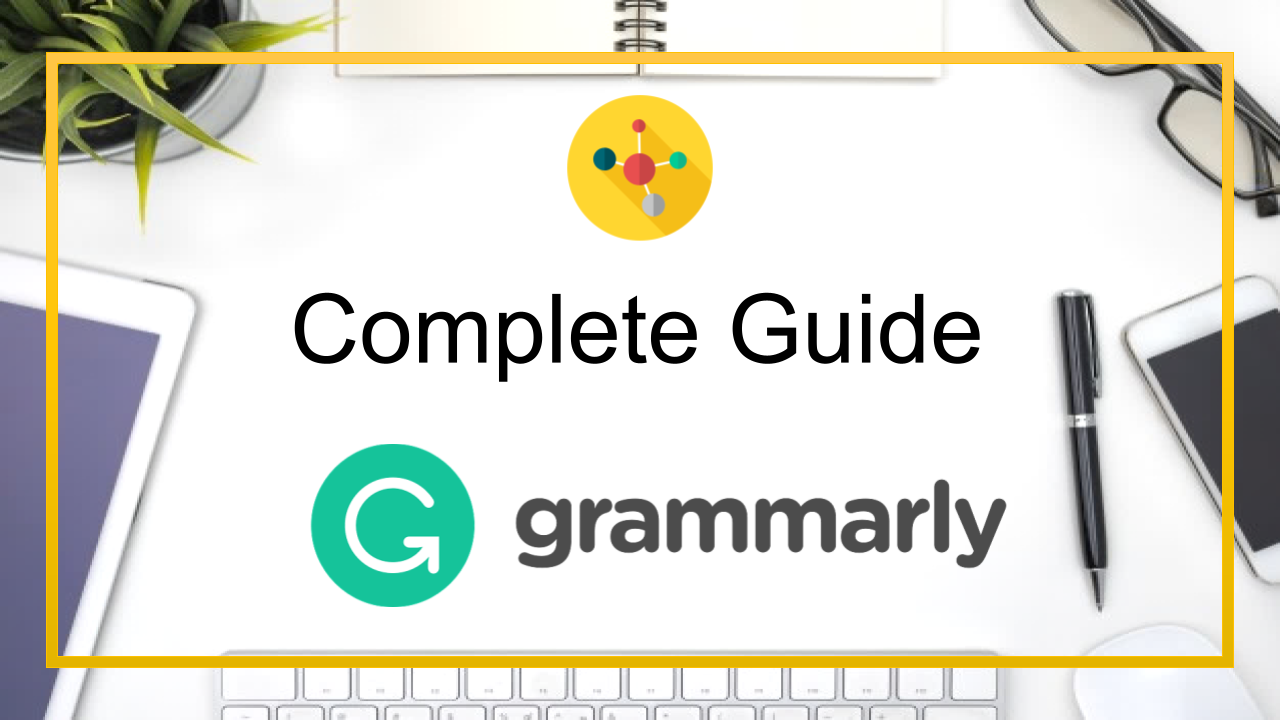 Grammarly – A Complete Guide
The A-Z to Grammarly Premium, its free version, and overall Grammarly user guide
Grammarly
Features

Uptime

Page Speed

Ease of Use

Customer Support

Value for Money
Are you familiar with the feeling of uncertainty when you're contemplating your written content?
Don't worry, doubt happens to the best of us and just like you, we despise our productivity being paused by this uncertainty.
Luckily, you're in the Grammarly user guide, so it's clear that you're on the right path to finding a solution to your little challenge. Today we'll introduce you to Grammarly Premium, Grammarly Business, the free version, and of course, we'll get you started with whichever option is the best for you.
The great thing about Grammarly is that it can be used in many different ways – from browser extension to phone keyboard and so much more.
Moreover, if you allow it, it will support you everywhere you go, be it posting on social media, writing an email, or compiling a professional report for your colleagues.
We'll get into more details very soon, but for now, let's start from the very beginning!
Without further ado, allow us to tell you more about what Grammarly is and what makes it special.
What is Grammarly?
In case you're not closely familiar with Grammarly, we're here to fix this and set things straight.
In short, Grammarly is a writing tool that is powered by Artificial Intelligence (AI) and capable of fixing grammar and punctuation errors, as well as spelling checking.
However, contrary to public opinion, Grammarly is not just about identifying grammar and spelling mistakes. In fact, the tool is capable of identifying a plagiarized document and it can even detect your writing tone with a possibility for you to choose which writing style you want to stick to. That way, Grammarly can point out when you drift away from your intended writing tone.
Finally, Grammarly is extremely intuitive when it comes to structuring the text. For instance, if you write an email, it will automatically offer its assistance if it can detect that the structure of your content can be made easier to engage with and more attractive to the reader.
What Makes Grammarly Valid?
So you might be wondering how Grammarly is capable of being your editor and what makes it accurate in the first place.
The question is a good one.
One thing worth knowing about Grammarly is that it wasn't made overnight. As a matter of fact, the creators of Grammarly began their mission to create a spectacular writing tool already back in the late 90s. Their first software called Mydropbox was released in 2002 and was initially meant for students. Fast-forward 5 years and they already had around a thousand universities as their customers.
Eventually, the creators of Grammarly noticed that their tool can benefit everyone who uses English in the written form. And then suddenly Grammarly expanded from just students to formal, academic, casual, technical, business, and general tones.
1. Accuracy
One of the strongest traits of Grammarly is the surprisingly high level of accuracy, which is difficult to compete with. Naturally, it was a long process for the tool to become the way it is today. As a matter of fact, it took time, money, and various innovative approaches.
More specifically, the creators of Grammarly are regularly using advanced machine learning and deep learning to break new ground in natural language processing (NLP). The constant effort to make Grammarly better and better earned the company the title of one of the world's most innovative AI companies by Fast Company.
2. Dedicated Experts
Artificial Intelligence and Machine Learning are great and do get the job done, but they wouldn't be as almighty as they currently are without people behind them.
Grammarly has a strong team of linguists and deep learning engineers at its disposal not just to maintain and manage the AI but facilitate the improvement of the tool. These professionals dedicate their time, skills, and energy to improve the writing algorithms, which they accomplish by studying huge amounts of written content on research databases. This way Grammarly is capable to improve itself for all types of writing.
3. Easy Functionality and Suitability For Everyone
Grammarly is defined as a writing assistant tool by many for a reason. The word "assistant" in particular implies that it's there to assist you, not slow you down.
And that is why Grammarly is designed to be easy for everyone to use – you don't have to spend hours reading about it trying it out to get the hang of it. In fact, all you need to do is just click on it when it has a particular suggestion for your text.
Really, it's that simple!
Moreover, although it was initially meant for students, soon it became an essential tool for everyone. Grammarly is a fantastic tool for anyone, be it a blogger, a student, or an academic writer. As long as you have anything to do with written text, you can benefit from the tool.
30 million people and 30,000 teams must use Grammarly every day for a reason, right?
Grammarly's Free Version, Grammarly Premium, or Grammarly Business?
It's time to talk about Grammarly's free version, Grammarly Premium, and Grammarly Business, as well as the differences between them, different features, and capabilities.
1. The Free Version
That's right, you've read it right – Grammarly has a free option!
But wait, it gets even better – it doesn't expire, meaning that it's not free for a limited time and it doesn't work as a free trial.
You might find this too good to be true and question the quality of the free version. If so, we're happy to prove you wrong.
The truth of the matter is that Grammarly's free version is still an amazing assistant while it is basic. These are the features that you can expect from it:
Grammar, spelling, and punctuation
Conciseness
Tone detection
As you can see, the free version is focused on the technicalities of your text and doesn't include many of Grammarly's other spectacular features like plagiarism checker, engagement features, and the option to set up which tone you want Grammarly to keep you in.
However, Grammarly's free version is great for those who are either perfectly content with the features offered or those who wish to try out Grammarly first.
We know that the free version already sounds really good, but stick with us and discover even more outstanding features that Grammarly can improve your work with.
2. Grammarly Premium
Now, this is where you get to experience the true capacity of Grammarly and its powerful features. Grammarly Premium will help you stay consistent in your writing style, while also writing engaging content that is error-free and will surely fasten your writing pace.
Grammarly Premium includes all the features that the free version offers, as well as:
Consistency in spelling and punctuation
Fluency
Clarity-focused sentence rewrites
Formatting
Compelling vocabulary
Lively sentence variety
Confident writing, politeness, formality level, and inclusive language
Plagiarism detection
With a tool like that your writing is guaranteed to be effective, engaging, and comprehensive!
However, one final thing worth noting is that Grammarly Premium and its features license 1 user only. So, if you'd like to use Grammarly together with your team members, you may be more interested in the Grammarly Business option.
3. Grammarly Business
If you want your team members to stick to the writing style that suits your organization, receive statistics, and have multiples members aboard, this is the plan for you.
Naturally, everything from the free version and Grammarly Premium is included. Here's what additional features you can expect from Grammarly Business:
Style guide
Admin panel
Centralized billing
Team usage statistics
Priority email support
Account roles and permissions
SAML SSO for accounts with 50+ users
Getting Started
Now that you know more about Grammarly and what makes it an excellent writing assistant tool, let's set you up with it!
Trust us when we say it – getting started with Grammarly is super easy and it's only going to take a moment of your time.
Before we get started, you should know that there are many ways to use Grammarly, so allow us to guide you through each and every one of them.
1. A Browser Extension
Perfect for social media posting, email compiling, and any other writing endeavors that you might have using your favorite browser. The extension is available on Google Chrome, Edger, Firefox, and Safari.
Follow these steps to get the Grammarly browser extension:
Type in "Grammarly" in your browser's extension store or simply type in "Grammarly extension" on Google
When you get there, add it to your browser
That's it! Now you can test it anywhere on your browser.
2. Web Editor
Now, in this case, you don't need to install anything. All you need to do is go to Grammarly's web editor, write or paste your text, and click on "Check your text". In addition, the text doesn't have to be typed in there or pasted in, you can also simply upload a document there if that's what you prefer.
Finally, after a moment of processing, the web editor will present a conclusion about your text and identify which part, if any, could use some improvement.
Also, if you have Grammarly Premium or Grammarly Business, you can expect feedback and suggestions.
It's worth remembering, however, that to benefit from web editor you will need to be logged into your account, which can be set up using Facebook, Apple, and Google accounts.
3. Microsoft Office
Yes, we're not just talking about Microsoft Word in this one. You can also use Grammarly when you're arranging your PowerPoint presentations or do anything else with Microsoft Office.
Unfortunately, Grammarly does need the internet to function, but no worries! If all of a sudden your internet decides to abandon you, you can simply save your progress and get it checked when the internet is back.
For this to work, you simply need to:
Go to Grammarly's website
Choose "Apps" on the left side menu
Click Install
When Grammarly pops up, click on "Get Started"
Install it on your device
Log in using Facebook or Google account (or create an account)
And that is all. After you log in, Grammarly will suggest a tour that you can take if you're uncertain of how it works. If you don't need the tour, you can simply go to any Microsoft Office program, type in the text, and check it with Grammarly.
4. Desktop App
The Grammarly desktop app works the same way as Grammarly's web editor. Except the desktop app is closer to your reach – it's on your computer's screen.
The steps to get are the following:
Go to Grammarly's website
Log in/sign in to your account. You can use Facebook, Google, and Apple accounts
Go to "Apps"
Install Grammarly for Windows/Mac
Voila!
5. Phone Keyboard
Don't worry, even if you're not using your computer, you can still construct engaging and error-free sentences!
That's right, you can install Grammarly on your phone (be it iPhone or Android) and use the tool on your phone's browser, apps, and of course keyboard.
Here's how you can get started:
Go to Apple Store/Play Store
Search for Grammarly
Install it
Open the app and continue using Facebook, Google, or another account
Set up your Grammarly account
6. iPad
Again, don't worry if you're not currently using your computer or your phone – you can also get Grammarly on iPad!
Just follow these steps:
Go to App Store
Search for Grammarly
Install it
Open it and log in
Grammarly Pricing
If the free version of Grammarly is a bit too limited for you, you already know about Grammarly Premium and Grammarly Business. The two plans are not free of charge, but they definitely show a big difference when it comes to features and the ultimate experience.
As it is with most subscription-based services nowadays, Grammarly is no different and generally sticks to the same pricing strategy.
More specifically, if you decide to go with Grammarly Premium, you'll save up money by committing to an annual payment. This means that you'll pay only one time a year. With $139.95 you'll cover the whole year and it's $11.66 if you for each month.
However, if you choose to pay quarterly or monthly, the monthly amount can reach up to $29.94.
Now, when it comes to the Grammarly Business package, the monthly price is $12.50 per person with a requirement that a minimum of 3 people is included in this package.
In other words, your organization won't be paying as a whole, but rather per person.
Conclusion
Are you ready to dedicate yourself to the quality of your content and forget about the details of the text? Grammarly is here to help you become the best writer you can and it doesn't even matter if you're an academic, a business owner, a student, or a blogger.
Thanks to advanced machine learning, you'll be a Grammarly expert in no time and save yourself some uncertainty about your written structure.
Now you know how to get started with Grammarly, so go ahead and get it – it's free! And if you want more than just basic features, there's a blue button below and it's ready to serve!
More to Discover: