GeneratePress Theme – A Complete Review
A review and guide to one of the most popular Wordpress themes.
GeneratePress
Features

Uptime

Page Speed

Ease of Use

Customer Support

Value for Money
What is GeneratePress and why should you consider it for your website?
Once you have determined the solution to use for building your website, choosing a theme or a template to create its design is the next important step.
Why is it important? Well, the design of your website can directly affect how long a visitor will stay on your website, whether they will return or become a customer.
The website theme should thus be pleasant to look at and simple to navigate, both for you and the customer.
GET STARTED WITH GENERATEPRESS
It should not become a hindrance to the functions of your website and instead of helping you to highlight your content.
Read on to find out whether GeneratePress meets these criteria and could be the solution for you.
GeneratePress Coupons
Get the best offers from GeneratePress right here:
Generatepress Coupon Code, 65% Off Discount & Promo Code
Generatepress Coupon Code, 65% Off Discount & Promo Code
1. What is GeneratePress?
In short, GeneratePress is one of the most popular themes in WordPress. It was made by Tom Usborne and initially released in 2014.
As of this writing, it has over 300 000 active installations and over a thousand 5 star ratings.
WordPress, as you might know, is an open-source content management system (CMS). So, if you've chosen to build your website with WordPress, this theme could be the tool to help you take the next step and elevate its design.
When customizing this theme, you will find that it uses WordPress's native customizer and interface, which means that you do not need to learn to navigate a new user interface (UI).
Essentially, if you are comfortable with using WordPress, this should transfer over when using GeneratePress.
The theme is free to install, however, there is a Premium option also available. The Premium version is actually a plug-in called GP Premium and includes additional features such as premium support and full access to the site-library.
2. General Features of GeneratePress
Now, let's look a bit more closely at the features, which could be the reasons behind this theme's popularity.
Lightweight and fast
Free version
Responsive
Very customizable
The goal behind GeneratePress is to provide a stable solution through a simple code and thus it has a size of less than 30kb. This also makes the theme very fast loading.
While the Premium option can be recommended due to its vast amount of powerful features, the core functions of this theme can be accessed for free.
GeneratePress is fundamentally responsive, which means that it continuously ensures that the site will present itself properly no matter the device and its screen size.
This theme has also been highlighted due to its customization options – from headers to colors, you have extensive choices helping you to play around with the look of the site.
If you do not have a technical background and want to avoid coding, using a Page Builder might be the best way to design your website. GeneratePress is compatible with many of the popular page builders, such as Elementor or Beaver Builder.
GeneratePress also has an active and rather comprehensive support forum, where you can pretty easily find the topic you have questions about. The creator, Tom, also makes frequent visits there to answer queries.
3.Getting started with GeneratePress
So, if you have decided that this is the theme for you, let's go through how you could begin your journey with GeneratePress.
3.1. Installation
You can install GeneratePress through the Appearance section of your WordPress Dashboard. After logging in, just go to the Themes subsection, click Add New, and search for GeneratePress.
Then click Install and finally, don't forget to activate.
The free version will grant you access to some of the features through the Appearance > Customize, however, you might notice that there are functions that appear unusable.
These are activated through the abovementioned paid version – the GP Premium.
3.2. Edit the Basic Information
If you are just setting up your site the next step, after installing and activating this theme or any theme for that matter, would be to check out and customize the basic, but nevertheless important information.
While still on your WordPress admin Dashboard, visit Settings > General. There you can find fields such as Site Title, Tagline as well as URL.
Customizing these settings can help ensure that you are getting the most out of the foundation of your website and that other users are able to find you through search engines.
3.3. Modify the Layout
As indicated by the name, the layout section allows you to control the layout of most elements of your site, including header, primary navigation, sidebars, and footer.
For instance, you control how many sidebars should appear (the maximum is two columns in addition to main content), the width and layout of the menus as well as change the width and the height of the elements.
Under the Sidebar Layout you are presented with the following combination options:
Sidebar / Content
Content (no sidebars)
Sidebar / Content / Sidebar
Sidebar / Sidebar / Content
Content / Sidebar / Sidebar
The Primary Navigation section allows you to position the said navigation onto the following areas of your site: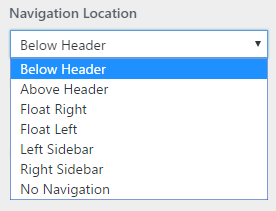 The first subsection you should set up is the Container. The Width option is part of the free version, while you'll have to upgrade to GP premium to manage options such as Separation Space and Content Separation.
The reason this is a customizable option is due to the previously mentioned responsiveness of this theme.
So this way you can set how the size of the website is presented on an average computer screen, GeneratePress will then be able to adjust accordingly when it comes to another screen size.
Both Header and Footer sections come with the option to have their width Full or Contained, which means they can either be stretched to cover the full page or be contained to the width you have chosen in Container Width above.
The Widths of these elements are further divided into the general Width and Inner Width.
General Header Width is tied to the header background color or image, while the Inner Header Width represents the more specific area that has your site title, logo, and so on.
Similarly for Footer, the Inner Width refers to the content, which can for example be copyright information.
It should also be noted that some of the functions depicted are only available with GP Premium – for instance, the option to use navigation as a header.
3.4. Colors and Typography
When it comes to colors and typography, the GP Premium comes with significant advantages  – it unlocks over 60 color options as well as allowing you to change the color and font of all the elements, such as headers and footers.
With the free version of GeneratePress, your customization options are limited to background, text, and links.
3.5.

Considers the Extra Modules
While GP Premium comes with a large selection of additional functions, here are a few we would like to draw your attention to:
Blog – lets you have advanced control over your blog, such as the visibility of date and tags as well as the display and length of the excerpt
Disabling elements – further customization option by disabling certain elements on a post or a page
Site library – grants you access to pre-made site templates and thus speeds up your website building process even more
Conclusion
GeneratePress has remained a popular WordPress theme since its launch in 2014 and its features make it obvious why.
It is continuously considered as a fast, lightweight foundation to a WordPress site with significant flexibility when it comes to customization.
Furthermore, it is very compatible with other WordPress add-ons, such as WooCommerce as well as Page Builders, making expanding your site and its purpose a straightforward process.
While its core features are free, GeneratePress's premium version – GP Premium, unlocks even more possibilities for your website.
Hopefully, with this article, you got an overview of what GeneratePress is and we have inspired you to use it in your website design.