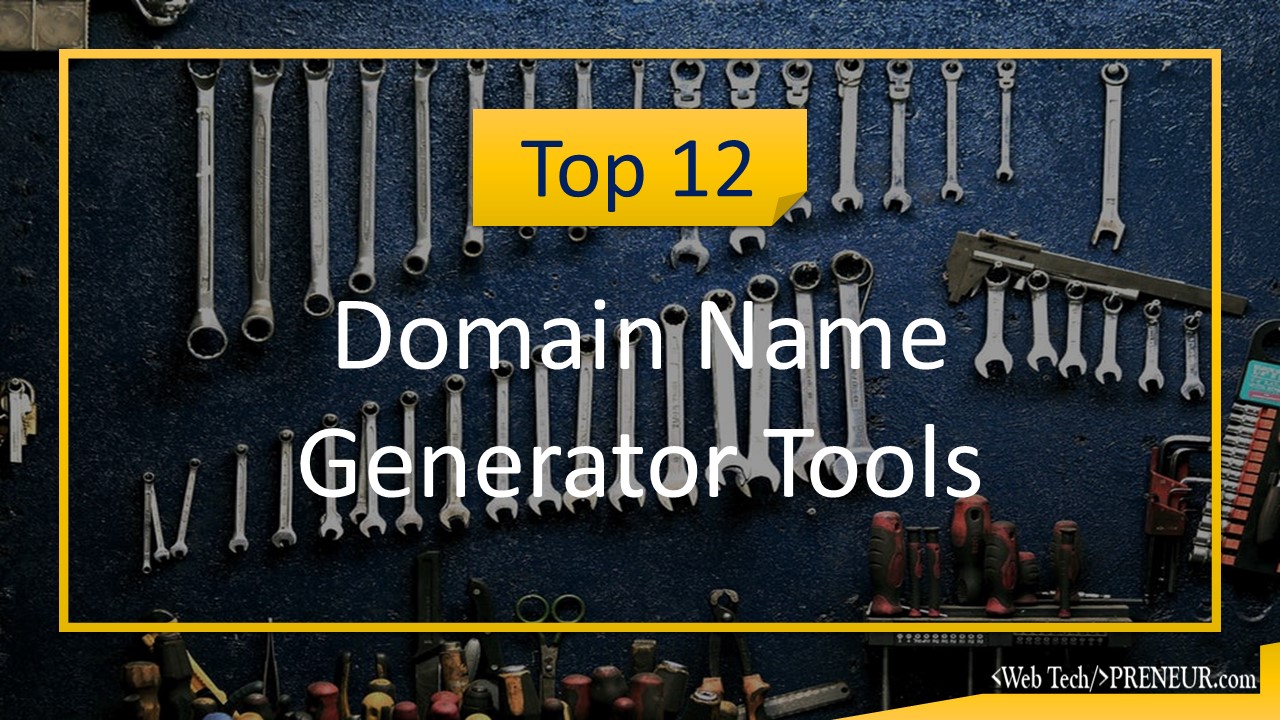 12 Random Domain Name Generator Tools in 2020 [Free]
Create new and unique Domain Names using these Online Free Random Domain Name Generator Tools ✅ of 2020. These tools will help you in 💥 Catchy and Business Name. Best Domain Name Creators.
Sometimes finding a new Domain name is become harder. ➡️
Create new names become hard while we have 365 pages dictionary.
It's full of confusion process how to select a domain name from thousands of names and ick a right domain name.
But these Domain Name Generator tools will help you in creating new names.
How to use Domain Name Generators?
Here's how you can use those Domain Name Generators and create a fantastic name for your business and blog. Even using these Domain me creator you can check availability of the name. And if it is available you can buy.
These tools are very simple in use and some tools also provide filters which make it easy for creating a new domain name.
To create a new domain name you just need to enter 2 or 3 words that you want into you Domain Name.
For Example –  I want to start a travel blog and I wish that my domain name must have a "wander" word. So using these tools I will enter wander word and another word can be something travel.
Then these tools will show us 1000's of results with new and unique Domain Names that haven't used. And we can register then from a Good registrar.
Heres a list of 12 best and cheap registers.
These 12 Domain name providers will help you in creating your online fortune
Now let's dive in the best Domain Name Generators which will help in creating new domain names easily.
12 Best & Random Domain Name Generator 2020
Here is a list of best free and random Domain name creators of 2020.
1.  Name Mesh
Name mash domain name generator is good for generating new domain name or new startup name.
it works with new domain extension and searches domain name that is suitable with SEO & shortness of domain name.it also allows search with 2-3 domain keywords.
2. Lean Domain Search
Lean Domain Search is a domain name generator that helps you find great available domain names for your websites.this generator search domain name with popularity, length and alphabetical.it accept one keyword that can be aligned left or right of suggestion words.
3. Panabee
Panabee domain name generator tool find all the possible domain name with every extension and with their prize and their availability.it also generator thousand of the domain name with their extension.it also find social media username with the entered keyword.
4. Name Station
Name Station Comes with some of the cool features that are keyword suggestion based on semantic relations, combine and blend 196 niche wordlists, create custom wordlists.it also check 4.6 TLDs with a keyword.
5. DomainsBot
DomainsBot has been operating since 2004, taking your ideas and turning them into names; showing available domain suggestions; alerting you of expired, expiring and for-sale domains; and providing a Whois search.
It also offers corresponding Twitter and Facebook identity suggestions. Use the accompanying iPhone app to find great domains from the palm of your hand.
6. Instant Domain Search
Instant domain name searches new available domain name and allow to buy searching domain names with GoDaddy.this provides whois domain lookup to check whois data of domain name.
7. Name Jet
NameJet™ is a domain name aftermarket company that consolidates an exclusive inventory of expired and deleted domains from top domain name registrars and makes them available for auction.
NameJet provides solutions for customers who are attempting to acquire the domain name registration rights to expiring domains or domains that have not been registered again by their current registrant. NameJet is the only provider with access to the domain name inventory from the industry's leading registrars—Network Solutions, eNom, and Bulk Register.
8. Dot-o-Mator
Dot-o-Mator lets you create domain name suggestions by selecting a list of words (e.g., colours and shapes) for the beginning and end of the domain. If you see a name you like, you can combine the two and see the result, which can then be moved to the Scratchbox to check its availability.
Dot-o-Mator is also available as an iOS app for use on the go.
9. BustAName

 
BustAName helps you find the perfect domain name by using its word combiner, finding similar words and checking for available domains.
You can save domains for review, switch the word order to create new domains and combine up to three words. You can also create groups of words to craft domain names, use hyphens, plurals or even drop the last vowel.
10. Domain Hole
Domain name searches expired domain, instant availability check, complete check & bulk domain check.it also alert when domain whois data changes.
Domain hole has a brainstormer feature that discovers new domain and ideas using our ultimate brainstorming tool.
11. Domain Puzzler
Domain Puzzler lets you search and discover domain names with "easy," "advanced" and "magic" options. The "magic" option takes your keywords and combines them with popular words, while the "easy" option just lets you check for availability. The advanced option allows you to combine words and choose from your selected extensions.
12. NameBoy
NameBoy is a domain name generator and database allowing you to perform a keyword search with either one or two words, allowing for hyphens and rhyming words.
It's simple to use: Just enter the words that describe the domain name you're looking for, and NameBoy will generate a list of potential domain names, showing which ones are available to purchase.
Best Free Domain Name Generators, Finish
I hope you like us our list of best and random Domain name generators 2020. Use any above tool for creating new names and ideas for your blog or website.
Enter your desired keyword and perhaps that you want to you see in Domain Name. Run the Domain Name Creator and check results. Among the 1000's of result you'll definitely get which belongs to you. This process is really simple and quick.
And if your desired domain name is available then you can register it through best domain name registrar at a fee.