How to Add Disqus Comment System in WordPress[Pros/Cons]
Disqus Comment System – WordPress Plugin
Disqus is now web's most popular commenting system trusted by millions of publishers to increase reader engagement, grow audience and traffic, and monetize content. Disqus helps publishers of all sizes engage directly with their audiences to build loyalty, retain readers, and foster thriving communities.
The Disqus for WordPress plugin lets site owners and developers easily add Disqus to their sites, replacing the default WordPress comment system. DisqusA installs in minutes and automatically imports your existing comments.
Disqus Features
Bring users back to your site with web and email notifications and personalized digests
Single profile for commenting on over 4 million sites including social login support for Facebook, Twitter, and Google accounts
Syncs comments automatically to WordPress for backup and flexibility if you ever decide to switch to a different platform
Monetization options to grow revenue
Flexible login options – Social login with Facebook, Twitter, and Google, SSO, and guest commenting support
Moderate directly in the discussion, via email, or moderation panel
Email notifications for newly posted comments, replies
Recommended Articles: Kroger Sweepstakes Winners
How to Add Disqus Comments to WordPress
1 Install WordPress plugin
for installing WordPress Disqus plugin, first install the Disqus plugin from the WordPress plugin directory.
2 Make Disqus Admin Account
3 Create a New Site
Enter your website name in the form, it will generate a subdomain using your site shortname like  shortname.disqus.com, it is your Disqus subdomain name.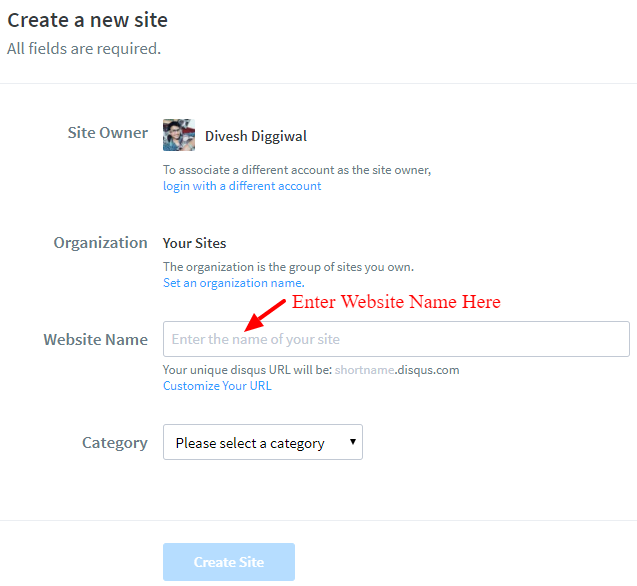 4 Select Plan
After creating a site on Disqus, select a plan for your Disqus comment system.
There are three types of plan on Disqus comment system Basic, Plus and Pro.
you can choose that is suitable and helpful for you, here I am going with the Basic plan that is totally free.
5 Choose Platform
After selecting a plan, time to select platform of your site.
Here we are adding Disqus comment system on WordPress so choose the WordPress.
5 Login With Disqus
Now after all setup on Disqus Admin site, login into Disqus with same username/email and password that you have used on Disqus Admin site.
After login successfully it will show you all sites that are connected with Disqus system. Select your site.
Well done! you have successfully installed Disqus comment system on your site.
There are more to learn 
Export Existing WordPress Comments
Disqus has a system for exporting comments from your WordPress default comment system.
To do this go to Comments> Disqus and click on Plugin Setting here you will find export comment button. click on this button to export all your previous comments.
Configure Disqus Plugin
In WordPress default comment system, we have right to edit user's commets. if you want this on Disqus comment system you can do it by again visiting on Disqus/Admin site.
Select your site from top menu and click on site.
settings >> community page.
Disqus plugin also has an option for moderation of comments. there are two options for pre-moderation you can choose what you want if you want to edit and approve comment by yourself then choose All
So yo have all set and now your site comment system is Disqus
Pros of Disqus Comment System
Because Disqus accounts are global, users will get notifications of comment replies even if they're browsing other sites.
Disqus remove spam comments and accounts.
Comments can be moderated via email, instead of WordPress dashboard.
Disqus doesn't save comments in your database, which improve your database performance and reduce the working of database
Disqus has a huge community, so there are decent chance users will already have a Disqus account.
Cons of Disqus Comment System
Recently, there was talk of Disqus requiring payment to disable ads. Currently, it appears small publishers still can remove ads for free after all – but it's something to keep an eye on.
While Disqus does reduce your database's workload, it does so at the expense of adding a heap of external requests (though the requests are asynchronous).
If a user doesn't already have a Disqus account, it makes it more difficult for them to leave a comment than the native WordPress comments.
While some webmasters report more engagement, WP Beginner actually tripled their engagement when they stopped using Disqus.
There are legitimate privacy issues given that part of Disqus' monetization model is selling your commenters' aggregate data. Chris Lema has written about this specific issue in the past.
Conclusion
Although Disqus has some pros as well as some cons, it is such a great WordPress plugin with its features. it reduces your website database workload and improves performance while its free version shows Ads on your site that is bad for you. Because after clicking on those Ads your visitors will leave your site and you get lost of your visitors.
Let's Disqus
Disqus has now become the most popular plugin for WordPress with its great features and some of the limitations.
Let's Disqus with your interweb friends what changes have you face when you use Disqus comment system on your site. share your experience with us.