Crypto.com Exchange – A Complete Review
Learn about the Crypto.com platform now!
Over the past decades, technology had a major impact on how people buy or sell things. Cryptocurrencies had indeed a significant influence on such a progressive shift.
More and more people gain interest in crypto trading and there are several platforms that offer crypto trading services. In this article, we will overview one of them – Crypto.com. 
If you want to know whether Crypto.com is a good fit for you – continue reading this Crypto.com complete review article to figure out if this is what you are looking for! 
Get started with Crypto.com Exchange
[toc]
What is Crypto.com?
Crypto.com is a cryptocurrency hub, also known as Monaco, Foris LTD,  established in 2016 by Bobby Bao, Gary Or, Kris Marszalek, and Rafael Melo. The company is located in Sai Wan, Hong Kong Island. 
Currently, the Crypto.com platform serves over 5 million customers offering them alternatives to traditional financial services that we are all used to.
A platform serves its customers with services, such as Crypto.com App, Crypto.com Exchange, Crypto.com DeFi Wallet, and Crypto.com Visa Card!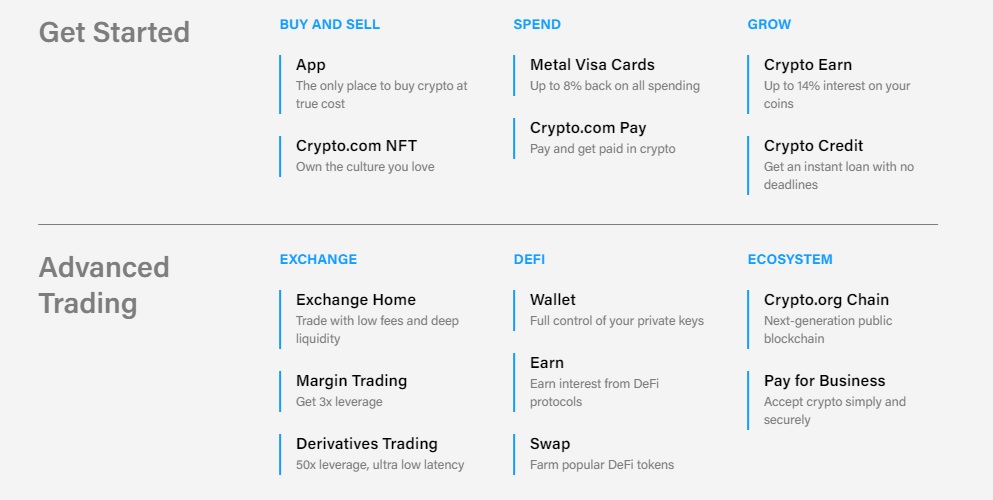 Crypto.com is a digital platform, but it works perfectly on your mobile. The company specifically focused on improving the mobile version to be as convenient as possible. So, the app is available for iOS and Android too. 
When you download the app, you are able to access all services as you automatically receive access to the whole ecosystem of Crypto.com. 
Get started with Crypto.com Exchange
Why Start With Crypto.com?
As we already mentioned, Crypto.com offers a vast range of services that allow you to sell, buy, store and exchange 100+ cryptocurrencies together with 20 fiat currencies – EUR, GBP, USD, JPY, SGD, and more. 
Moreover, it is suitable for everyone, as you have everything in one app and can easily navigate or track your numbers. 
Let's overview Crypto.com's key features!
Crypto.com Visa Card
Despite a fulfilled ecosystem, one of the best Crypto.com features is its Visa Card. The debit card is well-known as it is one of the best ones around. Currently,  Crypto.com Visa Card supports cryptocurrencies such as BTC, LTC, EOS, XRP with a perspective to support more in the future. 
However, the card does not only offer you a convenient trading opportunity but also has many benefits. Cardholders can get up to 8% cashback on every purchase, and benefit from collaborations with partners that provide discounts if purchased through Crypto.com (e.g. Booking.com). 
In January 2021 Crypto.com announced its partnership with an online travel agency Booking.com. This collaboration will allow Crypto.com Visa Card users to book an accommodation through the app with up to 25% discount!
This partnership made it possible for Booking.com to accept crypto payments and it is indeed a great step further in adapting crypto as an acceptable payment currency.
In addition, users who own Crypto.com Visa Cards get a bonus, every time they make a purchase with a Crypto.com debit card.
The platform offers benefits, such as free ATM withdrawals all over the globe, zero foreign transaction fees, users can have unlimited access to  LoungeKeyTM when traveling through different airports.
Most importantly, when Crypto.com Visa Card-holders get up to 8% cashback with each purchase. 
It sounds great, isn't it? However,  users have an opportunity to choose from five Visa Card tiers with a variety of benefits, cashback rate, and stake rates. 
Get started with Crypto.com Exchange
Crypto.com Visa Card Fees And Benefits
This Crypto.com Visa Card enables customers to make payments in cryptocurrencies within different online and physical stores.  Cardholders are allowed to use a metal Visa Card anywhere it is accepted.
Talking about Crypto.com Visa Card fees and benefits, let's make it clear – the more CRO you lock up, the better tier of Crypto.com card you can get.
So, if users want 8% cashback (which is the highest), then they will have to lock-up 400 000 USD worth of CRO coin in the Crypto.com app, to receive the Obsidian card.
On the other hand, Crypto.com offers a range of cards that provide you with a lower cashback, yet it's still competitive and more accessible to users, as such cards require a lower stake.
The "cheapest" Visa Card is Midnight Blue and costs nothing, but accordingly, a user gets almost no benefits from holding this card.
Crypto.com only offers 1% cashback and users can only withdraw 200 USD per month without any ATM fees.
The next tier is Ruby Steel Visa Card that you can get if you stake an equivalent of 400 USD. This tier offers 2% cashback for payments made with this Visa Card.
If you decide to go for Ruby Steel, then you'll receive 100% reimbursement on Spotify and free ATM withdrawals for an amount up to 400 USD per month. 
Up next is Royal Indigo & Jade Green Visa Card, which offers more benefits but you have to stake significantly more CRO coin to get access to all benefits and a relatively high payback.
One of Royal Indigo or Jade Green cards require to stake CRO equivalent to 4000 USD.
With such a stake, cardholders are entitled to a 3% CRO reward (a cashback from every purchase), 100% reimbursements on Netflix and Spotify subscriptions, and access to the airport lounge.
In addition, with this card users can cash out up to 800 USD per month without any ATM fees.
One of the most expensive Crypto.com Visa Cards is Frosted Rose Gold & Icy White options. Users can get the car for CRO equivalent to 40 000 USD and get a 5% CRO reward for each payment made with a card.
Also, Frosted Rose Gold or Icy White Visa Cardholders receive 100% reimbursements on Spotify, Netflix, and Prime monthly subscriptions, reimbursements on Expedia. 
With this card, users can cash-out 1000 USD without ATM withdrawals fees and get access to Airport Lounge for +1 guest, and additional benefits, such as Crypto.com Private (which offers OTC block trades of CRO, priority customer service, research reports, industry events access and inheritance service), earn bonus interest and exclusive merchandise welcome pack. 
And as we mentioned, one has to stake CRO equivalent to 400 000 USD to get the most exclusive Crypto.com Visa Card – Obsidian Black.
Basically, it offers the maximum amount of benefits. Next to all the gains users are able to access, they also get an 8% CRO reward and free ATM withdrawals for up to1000 USD per month.
However, after 6 months you can take back the CRO that has been staked. So, if you have decided to get a Ruby Steel card, you'll have to stake 400 USD in your Crypto.com App Wallet for 6 months.
After 6 months, you can take your CRO back. Although such a service allows you to take back your staked CRO, it also has some consequences. For example, your cashback rate will decrease and you lose access to some of your Visa Card benefits.
So, before you stop staking your CRO, make sure you want to do that and lose some of the benefits Crypto.com Visa Card offers.
Get started with Crypto.com Exchange
Crypto.com App
Another feature that is worth taking a look at is the Crypto.com app. Over 5 million users have downloaded the Crypto.com app and sure enough – this app allows its users to buy, sell, exchange, and transfer over one hundred cryptocurrencies, such as BitCoin, CRO, Ethereum, etc. within the app.
In addition, the app gives a possibility for its customers to track the performance of each cryptocurrency. So, it is a great opportunity for users to have everything in one app, without tracking crypto performance on other platforms.
App users can make transactions in the app using a debit/credit card, but the most common way is to make a fiat deposit and use it to operate your cryptocurrencies within the Crypto.com app.
Making a fiat deposit will not require fees, meanwhile using your debit or a credit card, will have additional fees.
On Crypto.com, users can't buy cryptocurrencies at a true cost. They appear with around a 1% higher exchange rate.
However, the Crypto.com app offers a wide variety of cryptocurrencies and the list is expanding. Currently, users can choose from more than 100 cryptocurrencies, and here is a list of the top 50 cryptocurrencies you can buy, sell, exchange, transfer:
When you set up an account on the Crypto.com app, it allows choosing from 26 fiat currencies for your payments. So, Crypto.com takes into consideration its users all over the world.
Overall, the Crypto.com app is a convenient platform for all the crypto-related operations you might want to do. Although the exchange rate is not so competitive with its increased exchange rate.
Get started with Crypto.com Exchange
Crypto.com Earn
Another feature users can look into while choosing a platform for trading cryptocurrencies, is Crypto.com Earn.
If you start staking on Crypto.com, it allows you to receive an accumulated interest every 7 days.
All you have to do is to deposit crypto of your choice into Crypto.com Earn (it could be found in Crypto.com app) and it will start accumulating interest to grow your crypto assets.
The interest is paid out in the same currency as the deposit currency – if the user deposits in CRO, the interest will be paid out in CRO as well.
This Crypto Earn Demo shows how does it work:
Crypto.com Pay
Here comes one more feature that Crypto.com users can access within the Crypto.com app. Shortly said, this feature enables users to:
Buy gift cards/certificates;
Send crypto to friends for free;
Pay a merchant with Crypto Pay Checkout;
Top up Mobile Airtime;
What is really beneficial for the user is that with this feature you can get up to 10% cashback, which is paid out in CRO.
DeFi Wallet And DeFi Swap
With DeFi Wallet you can easily control your cryptocurrencies and private keys. A user connects DeFi wallet with the Crypto.com app and can manage funds on the go.
According to Crypto.com, it is the most secure crypto wallet that allows users to control their funds, import an existing wallet with a word recovery phrase, manage 100+ coins and send cryptocurrencies at the user's preferred speed.
DeFi Wallet can be connected to DeFi Swap, so with such a feature, a user can swap between tokens.
DeFi Swap allows farming and swapping DeFi tokens. It could be done directly from your DeFi Wallet and it is indeed one of the most convenient features the Crypto.com platform offers its users.
Crypto.com Exchange
Shortly said, Crypto.com Exchange allows users to trade their digital assets. You can easily trade your cryptocurrencies with a very low trading fee.
Basically, this feature provides customers access to a deep liquidity pool and the best possible execution prices. Moreover, trading fees are very competitive, offering accounts with high volume trade for free.
Get started with Crypto.com Exchange
Crypto.com Fees (Pricing)
It is absolutely FREE to download the Crypto.com app, set up your account, and maintain it together with a wallet.
Despite staking requirements, customers can order and get their card delivered FOR FREE, as well as there are NO FEES when a user wants to add money to the issued Crypto.com Visa Card.
However, if you haven't used Crypto.com Visa Card in 12 months period, there is a fee and you might be charged approximately 5 USD.
When it comes to trading fees, Crypto.com actively communicates the message: "Stake more to earn more." Platform's trading fees are fully volume-based. Customers can receive more discounts as their staking volume grows.
Overall, Crypto.com Exchange does not require any additional fees for depositing or withdrawing your crypto assets. Only the standard blockchain fee applies, which depends on the coin and network load.
Crypto.com uses maker and taker fees and these constantly vary as they are calculated based on the trade volume in 30 days. 
Basically, the withdrawal is free, but you have to pay a blockchain fee, which is fair, but of course – not as good as a free withdrawal!
There is a recommended option to stake in CRO to save up more, as the trading fees might be reduced if you stake in CRO and additionally you are able to receive more discounts.
In addition, you can also receive 10% p.a on the CRO stake.
But other than that, major fees were discussed in the Crypto.com Visa Card fees and benefits sections. Shortly said, you can pick a tier according to the amount you are willing to stake.
If you do not want to stake anything, there is an option to get Midnight Blue Visa Card that does not require any investment, but accordingly does not offer many benefits.
Keep in mind, that if there is still a balance in your Crypto.com Visa Card, you have to pay 50 USD to close the account. If you spend the card's balance, no fee will be added.
Get started with Crypto.com Exchange
Crypto.com Advantages And Disadvantages
Advantages
Suitable for beginners and advanced crypto-enthusiasts
Opportunity to trade local CRO coin
Trading CRO reduces fees and increases the number of discounts
100+ cryptocurrencies available
Ability to trade with fiat currencies, cryptocurrency, or debit/credit card
Easy to control, swap and navigate your app and crypto assets
Possibility to get up to 8% cashback, according to the card trier you own
Staking accumulates your interest
100% FREE to open an account
100% FREE to issue, deliver, and maintain Crypto.com Visa Card
Collaborations and discounts in places, such as Booking.com
Disadvantages
Crypto.com Visa Card is debit and works as a pre-paid debit card!
Low TrustPilot rating (2,3 stars from 1000+ reviews)
Poor customer service
Crypto.com Visa Car cancellation fee
The highest rebates are accessible with big amounts of CRO staking
Conclusion
Crypto.com looks like a great platform that enables its customers to use the service as easily as possible.  Most importantly, buying cryptocurrencies, such as BitCoin is really quick and easy, accessible for everyone who has a mobile phone.
So, shortly said, the Crypto.com platform is a fulfilled concept, that enables users all over the world to bridge the gap between crypto and conventional currencies.
There are some things that you should look out for before using this platform. Currently, users are dissatisfied with the poor customer service.
Also, there are some cancellation fees that are not commonly promoted, so make sure you are aware of them before you dive deep into the crypto world!
Ready to try?
Get started with Crypto.com Exchange
More To Discover: